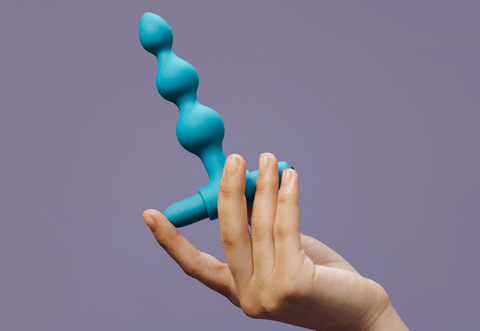 Now more than ever, we have a wide array of sex toy options available to us. That, in turn, means that all sorts of folks are experimenting with a ton of different toys. So, it makes sense that some new things may (or definitely) have piqued our interest. It also makes sense that we may have some questions about said things. What is it? How does it work? What should I look for when buying it? How do I use it? It's  A LOT of info to sift through.
With that in mind, today, we're breaking down everything you need to know about something I think is one of the most underrated anal sex toy options- anal beads. Let's talk about what they are, how they work, how to pick out a set, how to use anal beads, and more!
What Are Anal Beads?
Anal beads are a type of adult sex toy designed to stimulate the many extremely sensitive nerve endings in the anus. This anal toy typically consists of a series of orbs on a flexible cord like PinkCherry Graduated Beads Anal Beads. Still, it can also be a series of orbs on a solid shaft or stacked directly atop one another to form a solid toy like PinkCherry Vibrating Pleasure Beads. Anal beads can be made with various materials, including jelly, rubber, latex, plastic, silicone, steel, or glass. Like all quality anal toys, anal balls should have a looped handle or flared base to prevent them from slipping all the way into the anus. 
What to look for when choosing anal beads
When shopping for anal beads — especially if you are doing it for the first time– it's a good idea to look for ones that are beginner friendly. For example, the spheres on a set of silicone anal beads will be softer than a steel set and that can make for a more comfortable experience. Additionally, it can be beneficial to start with a set that features small orbs that increase in size along the cord as that can make insertion easier and more comfortable. 
If, after experimenting, you want to try something different, you will find you have lots of anal bead options to choose from! Some feature balls that are uniform in size, others have beads of different sizes with larger beads and small beads, others still feature unique shapes, and there are even some vibrating anal beads that offer fun features like vibration.
Preparation
As with any form of butt play, there is always the potential for a bit of messiness and a lot of sexual pleasure. If you are concerned, you can shower before anal play and lay a towel out during. If you want to reduce the chances of encountering some rogue poop, you can give yourself an enema, but that is, by no means, something you have to do.  If you are experimenting with anal penetration for the first time, you might consider a warm bath to help relax the body and mind. It takes some anal training!
How to insert anal beads
So you are ready to insert your anal beads? Great! I have one word for you: LUBE.
Okay, maybe that was dramatic, but, seriously, always use lube with any kind of anal play. The anus cannot self-lubricate so you want to have plenty of the slippery stuff on-hand. For easy insertion, apply a generous serving of anal lube inside and around your anus using your fingers, or if you really want to get serious about it you can use an applicator.
Remember that each type of lube has its benefits and its drawbacks. Water based can be thick and comfortable and is safe for use with most anal sex toys, but it can dry out fast. Silicone lube lasts and lasts, but it can deteriorate silicone toys. Skip the oil-based lube, it can weaken condoms and some sex toy materials and doesn't always play great with vaginas.
Once you are lubed up, take your exploration slow and consider sticking with just the first couple of beads. Inserting the first two or three beads can allow you to try out and get used to the unique sensation of anal beads. For best anal pleasure, you can also take some time to play with the different motions as inserting and removing anal beads can result in different sensations.
What to know about using anal beads
As you embark on your anal bead adventure, there are a couple of things you should keep in mind:
They feel different than other anal sex toys
What do anal beads feel like? Even if you have already experimented with a butt plug, you will have a completely different experience with anal beads. This is because butt plugs provide a feeling of fullness and pressure on the tissue surrounding the anus, while anal beads provide extra stimulation to the anal sphincter muscles while in motion. The sensation is less " full" and more of an enjoyable series of pops.
You can use them during solo or partnered play
Anal beads are great for cranking any sexual activity up a notch and, as such, they can be used during masturbation or while playing with a partner. Either way, think of them as a seasoning that adds flavor to your experience rather than the main dish. It can be fun to insert your booty beads as you are getting turned on, continuing other anal stimulation, and then pulling them out as you approach climax. What's great is that you can pull them out yourself, or a partner can do it for you. It works great either way.
If you do choose to use anal beads with a partner, be sure to maintain clear and constant communication. Remember that consent is needed for any form of partnered sexual activity, and you can always stop at any time. Finally, experimenting with anal beads does not mean either partner has consented to any other form of anal play.
You must wash anal beads after every use.
Like we said earlier, when it comes to butt play, there's always the possibility of a little mess. Even if your tush is as clean as a whistle, it is still where feces lives, so toys that go up your butt must be well-cleaned after every use.
Know what material your toys are made of and follow the instructions for keeping that material clean. Lucky for you, we have a whole guide to doing just that! Check out How to Clean Anal Beads: A Step-By-Step Guide.
To keep your anal beads clean, bacteria-free, and in good shape, you definitely want to wash them every single time you use them.
Everyone should have their own set.
When it comes to anal toys, sharing is definitely not caring. Unless you are stopping to thoroughly clean your booty beads in between every single use, if you and your partner like anal beads, you should each have your own. 
Don't pressure yourself
With something like a wand vibrator, the process can be pretty straightforward: you use it, you have an orgasm, you know it works, huzzah!  Using anal beads is a bit different, though. There's not really a goal beyond enjoying them so let go of the expectation that they are "supposed to" make your sex life explode or whatever and just see what feels good. You might find a way to use them that you enjoy that differs from what we've discussed, and that's awesome. Heck, you might find you don't like even the best anal beads at all, and that's okay too! Don't pressure yourself to have a certain experience and maintain good sexual health. It's okay just to explore and enjoy.
So there you have it! Anal beads can be a fun, low-pressure introduction to butt play. Whether you use them to explore with your partner or to level up your masturbation, they make a more than worthwhile addition to your toy box. Speaking of your toy box, if you are curious about anal toys, PinkCherry has a huge selection, including anal beads, butt plugs, prostate massagers, dildos and tons of lube to keep you comfortable! Head on over and start exploring!