Ready to have a different kind of orgasm? Want to get off in a new and exciting way? Remote control vibrators offer more control and fun, whether you're getting off alone or with a partner.
Here's what you need to know when you use this kind of sex toy.
Choose Your Vibrator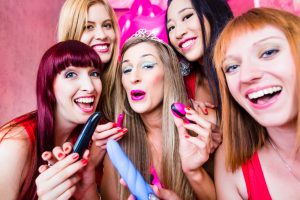 Bullet vibrators often include a simple button remote. It's connected to the vibrator by a wire, allowing you to insert the bullet where you want it. Other types of vibraotrs use wireless remotes that have a specific range, from 10 to 20 feet or more. This allows you to play in public or with a partner, as long as you're close to each other. Still other vibrators, like the We-Vibe Sync, work off smartphone apps, allowing someone to control a vibrator from anywhere in the world, as long as they have WiFi.
The type of remote control vibrator you choose determines how you can play with it — and who can play with you. Sometimes the decision is less about the type of vibrator or remote you want and more about whether you'll use it alone or with a partner.
Decide How Quiet Your Vibrator Should Be
Some people always want a discreet vibrator, regardless of how they use it. Others only care if they plan to use it in public. If you're looking for a remote control vibrator to enjoy alone, noise may not matter as much. But if you plan on wearing your new vibrator in public for a bit of kinky play with a partner, it needs to be as quiet as possible. Panty vibrators and other insertable toys tend to be very discreet.
No matter how quiet your vibe is, if it makes you want to scream, it might be better left at home where you can get as loud as you want.
Test It Out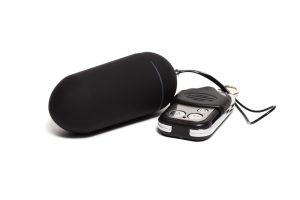 Before you strip naked and place your new vibrator in the perfect spot — or before you hand the remote to your partner, take a moment to test things out. Make sure your vibrator and remote are properly connected before you masturbate. That way you have a better chance of orgasmic success. Before handing the remote to a partner, use your vibrator alone. This will give you an idea of what you enjoy and what you don't.
If nothing else, test out the buttons, cycle through the different vibration patterns, and learn how your new vibrator works before you use it.
Pick Your Fun
Once you have your new vibrator, it's time to decide how you want to enjoy it. This is the adult version of a choose-your-own-adventure story.
Solo Fun
No matter what kind of vibrator you pick, it's bound to be great for masturbating alone. Take it into the shower (if it's waterproof) or prop yourself up on pillows in bed. The point is to be as comfortable as possible so you can really enjoy the moment. Once you position your vibrator in the perfect spot, you can use the remote to find the right pattern and intensity allowing to focus on the pleasure.
Let Your Partner Take Control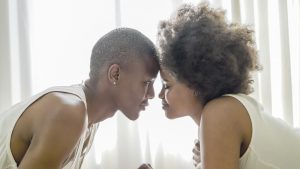 The great thing about a remote controlled vibrator is that you can hand it over to someone else and let them take control. They might tease you or find out how much you can take. Maybe they'll force a few orgasms or edge you. The entire point is that you're no longer in control of your pleasure. They are.
Public Play
Want to have a sexy moment in public without drawing attention to yourself (or violating other people's consent)? A wearable vibrator with a remote control is a great option. In most situations, your partner will control the remote, but there's no rule that says you can't keep your public pleasure in your own hands.
Play with Strangers
If your vibrator runs off a smartphone app, check to see what kind of "community" option the app offers. Some let you make "friends" with other people and even give you the option to allow others to control your vibrator. If you have a fantasy about sex with a stranger, this can be a safe way to play. You can cut off contact at any point and only play when you want to.
Conclusion
If switching settings on your vibrator takes you out of a blissful moment, there's a better way to play. Remote controls let you go hands-free and still control the sensations. They also let you put the power of your pleasure into someone else's hands. Ready for a new kind of orgasm? Try a remote control vibrator!
Have you used a remote control vibrator before? How did you play with it? Let us know down in the comments!