Have you ever seen a double-ended dildo and wondered how people play with them? You're not alone, and we've got the answers you need. Whether you're ready to play solo or you want to bring one of these extra long dildos to bed with you and your partner, there are a few things to keep in mind before you play.
If you've never used a double-ended dildo before, here's what you need to know.
Solo Play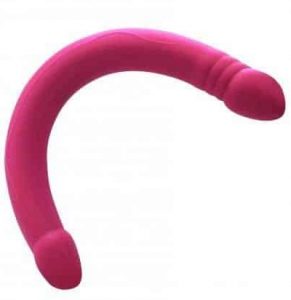 If you're going solo with your double-ended dildo, look for one that's more flexible. This will allow you to do more with it. While masturbating with it, you can penetrate yourself far deeper than you would with a typical dildo. But make sure you only do so if it's comfortable. Don't force a longer dildo further in just "because you can" if it hurts. The other option for solo play is to bend your double-ended dildo in half for double penetration. You can penetrate both your vagina and your anus at the same time with a single toy.
Couples Play
Double-ended dildos are most commonly thought of as a lesbian sex toy, but they're not the only people who enjoy these longer dildos. Look for one that's firmer and less likely to bend if you're playing together. You've got more options for two-sided play than you realize.
Vagina to vagina

Vagina to anal

Anal to anal

Oral to oral, vagina, or anal
Basically, if both partners have a place where a dildo can go, you can both play with a double-sided dildo together.
Positions for Couples
The key to enjoying a double dong is to find the right position. The right positions depend on what's comfortable to your body and what you're both penetrating.
Doggy style is extremely common, and it allows you both to get on all fours and back up into your dildo.

Lying on your back, propped up by a wedge or other piece of sex furniture while your partner either faces you or gets on all fours is another option.

The one you're most likely to see in porn is when both partners face each other and move their pelvises in tandem with each other.
Ultimately, play around with your position and go with what works for both of you.
Communicate
Any kind of sex with a partner requires communication in order to be good for both of you, but using a double dong is pure teamwork. You've both got to find a rhythm, a good position, and angles that feel good for both of you. This means you should both check-in with each other while you play and be willing to adjust and switch things up if something no longer works for one or both of you. Ask how the other feels and be honest in your responses. This is only going to work if you're communicating with each other.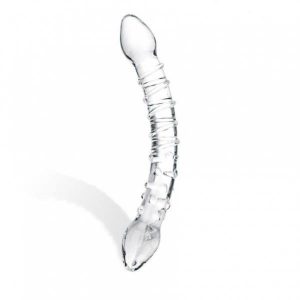 When you're first using a double-ended dildo, don't forget the lubricant. For silicone, rubber, or TPR/TPE dildos, make sure you use water-based lube. If you're using a glass or metal dildo, feel free to use silicone-based lube. The point is to decrease the friction and increase your pleasure. This is especially true if you're doing any kind of anal penetration with your dildo. But even vagina to vagina, lube is often necessary.
Add Pleasure
For some people, all they need is the thick firmness of a dildo, and they're happy. But if you're looking for more pleasure with your double dong sex, it's time to add to the fun.
Bring in sex toys like

vibrators

to increase the sensations you feel. Press your favorite vibe against your most sensitive parts (clitoris or testicles are two popular options).

Touch your partner or yourself. No sex toys nearby? Use your hands and fingers. The position you're in might make touching your partner difficult, but if you can touch yourself, go for it.
Not only will this added stimulation increase your pleasure, but it'll also make you want to play with your double-ended dildo more often!
[w153_th_products title="Best Selling Items" orderby="bestsellers" categories="double-dongs" count="12″]
Conclusion
Using a double-ended dildo isn't for everyone. It requires patience — with yourself and your partner — and a willingness to feel not-so-sexy while you find the right position. If you're completely new to these kinds of dildos, try using it solo first so you can figure out what feels good to you before you bring it to bed with a partner. Don't be intimidated by these extra-long dildos, though. With a little practice, time, and effort, you'll be thrusting in tandem with a partner in no time.