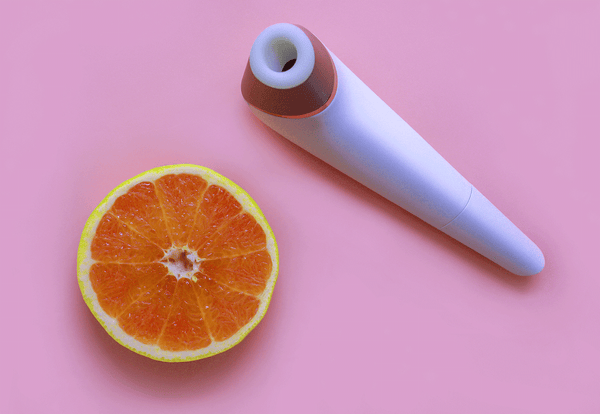 Ever wanted to maximize your alone time? Okay, we'll be clearer: have you ever wanted lots more sensation, stimulation and pleasure when you're masturbating?  Yes? Good! A vibrator is your go-to toy, no matter what you've got in your pants. That said, when it comes to women and people with vulvas, by far the most popular type of vibrating sex toy is the clit vibrator. 
Maybe you've already had the pleasure of playing with a perfect clitoral stimulating vibe, or maybe you're still in the market for The One. In either case, maybe you're wondering if you've been getting all the pleasure possible from your toy. Is there a trick to learning how to use a clitoral stimulator? 
Luckily, PinkCherry has you covered with amazing tips and tricks for clitoral vibe newcomers and experienced users alike. By the time we're through, you'll know exactly how to use a clitoris stimulator, and you'll be well on your way to having the time (or orgasms) of your life.
What Is A Clitoral Vibrator?
Before we can get started explaining how to use clitoris stimulators, we have to begin at the beginning. A clitoral vibrator is a vibrating toy that is made to target your clitoris directly. As we said before, there are all manner of sizes and shapes out there for you to look at. Just because it targets your clitoris doesn't mean that's all it targets, either. In fact, just about any sex toy, vibrating or non-vibrating can be used to stimulate the clitoris! That said, there are definitely some vibes meant specifically for clitoral stimulation.
Some clitoral vibrators are small in size, and feature special textured areas or swells that easily target the clitoris and other outer sweet spots. Others are larger, and some have attached penetrators for simultaneous inner outer stimulation. From a traditional vibrator like a magic wand to a g spot vibrator, both internal and external vibrators will help increase sexual satisfaction and stimulate nerve endings. 
These days, some of the most popular clitoral stimulating sex toys don't even vibrate! New air pulse or pressure wave technology has sexily spawned an entire genre of clitoris-adoring play tools that we, and many, many others, are very much enjoying. More on this below! 
The type of clitoral vibrator or other type of clitoris stimulator you prefer depends on when and how you plan to use it.. If you're with a partner, you may want something small and more discreet, something that leaves plenty of room for penises, mouth, fingers, or strap-ons.
If you're by yourself, you have a little more room to breathe, so to speak. You can feel free to try out larger vibrators that target multiple areas or even one of those clitoral suction toys we mentioned.
Start Slow
If it's your first time using a clitoral vibrator (or any new sex toy, for that matter), go slowly. It is helpful to know where the clit is located or even how to massage your clit to have the most pleasurable experience. It's hard to describe the sensation of vibration on your clitoris, and even harder to know whether you'll enjoy the sensations or not. You probably will, though! Try to avoid going straight for the clitoris, as over-stimulation is definitely a thing. Tease over and around your vulva before zeroing in on the clit.
Most vibrators have different intensity or rhythm settings, which gives you lots of options. Maybe you like a more leisurely buzz, but maybe you're after a super-powered throb. In either case, most vibes will give you options. 
Go Ahead, Be A Tease
The sensation of a vibrator on your clitoris will feel way more intense than normal pressure, massaging fingers or a partner's tongue. You might need a break, and that's fine! Position your vibe over your clitoris for a few seconds, see how it feels, then remove for another few seconds.   
Of course, when you get close to climax, you might not want to change a thing, and that's cool, too. Listen to your body, go with the feeling!
Try Your Vibe With Underwear On
For some people, the clitoris is just too sensitive to be stimulated directly. Having a bit of a barrier between your vibe and your clitoris, like a pair of underpants or leggings, is a great way to overcome that challenge.  
Speaking of underwear, some clitoral vibrators were specially designed to be worn inside your panties, and some panties are specifically designed to be worn with a vibe inside. In the case of the latter, there will be a small pocket or pouch that holds the vibe in place against your clitoris, and in the latter, there will often be magnetic wings or a special shape that helps keep everything in place.
Ride with Style
When you change your position, your experience can change dramatically. Laying down on your back with your legs spread open might be enticing for some, and it's the easiest when you're first learning to use a vibrator, but there are plenty of other ways that you can vibe.
Try laying down on your stomach and wiggling with the vibrator. Or place it in position on a firm pillow or arm rest and ride it like the cowgirl you are. Laying on your side and using your legs to squeeze the vibrator exactly where you want it can also make you squirm. 
 If you're using a vibe with a partner, they might also request a different position so that everyone can be accommodated while you vibe.
Change Up the Pressure and Speed
You can press the vibe lightly against your clitoris or bear down on it. The choice is yours! Changing up the pressure can help you continue to charge that sexual energy when you're getting ready to be with someone else or are rewarding yourself for a good day.
As for the speed factor, the vast majority of clitoral vibrators come with several (or dozens) of speed, rhythm and intensity options. 
Don't Limit Yourself to One Area
It's easy to get stuck thinking that you can only use your clitoral vibrator on your clitoris, but that's simply not true.  Yes, the clitoris is super-sensitive and yes, many people love having their clitoris stimulated directly, but don't neglect the rest of the vulva! The entire area is an erogenous zone, so experiment with positioning your vibrator over, under and around the clit, too. If your toy is large and long enough, you can certainly try out some penetration. This will also help you find out the difference between a vaginal vs. clitoral orgasm, and which one works best for you. 
Edging
Once you've gotten the hang of how to use a clitoris vibrator, you might be ready to try something a little more adventurous. The process of edging is when you bring yourself very close to cresting over the climax, but back off right before you peak.  
With edging, you can keep yourself horny for hours at a time, bringing yourself close and then backing off again right before you get there. When you finally bring yourself to orgasm, you'll likely find it to be much more intense than normal.
Clitoral Sucking Vibrators
These unique sex toys work by surrounding the clitoris with gentle pulses, puffs and sucks of pressure. Most have a soft silicone cup or treatment tip that fits over the most sensitive part of the clitoris as air pressure works its magic – you could literally call clitoral suction toys the 'new wave' of clitoral stimulators. 
Many users compare the sensation to perfect, patient oral sex. Clitoral suction, air pulse and pressure wave technology is simultaneously more direct and less intense than vibration, and usually don't over-stimulate, making the chance of multiple orgasms much more possible. Yes, please!
In Summary
Long gone are the days when society frowned upon sex toys. Whether you want to use a clitoral vibrator for your personal time or with a partner, we have plenty of tips and tricks to keep you busy. Remember to experiment with what feels good and always chase that pleasure. There's really no wrong way to vibe! Shop vibrators for sale from PinkCherry.
Sources:
https://www.webmd.com/sex/clitoral-vibrator
https://www.healthline.com/health/healthy-sex/how-to-use-a-vibrator
https://www.womanandhome.com/us/health-and-wellbeing/heres-the-best-way-to-use-a-vibrator-if-youre-with-a-partner-or-going-solo-383964/