BDSM has become far more mainstream in the last several years, with a helping hand from the 50 Shades books and films. Whatever your opinion on the franchise may be, it's clear that a little bit of domination and pain in the bedroom department is becoming much more acceptable and enticing.  But where do you start if you've never thought about pain and pleasure before?
Here are some tips and a few kinky toy ideas if you're new to this part of BDSM.
Pain and Pleasure in BDSM
While it might seem common, combining pain and pleasure isn't required in BDSM. If you do want to try it, you don't have to go to extreme lengths to do it, either. As with everything in life, pain exists on a vast spectrum from a little to a lot, and everyone will have their own unique experience with pain.
If the experience or thought of pain turns you on, you might be a masochist. But you don't have to use that label for yourself if it doesn't fit.
If the excitement and taboo of the pain does more for you than the pain itself, you're still kinky, even if you might not think of yourself as a masochist. No matter what about the sensation of pain turns you on, there are plenty of ways to explore this side of yourself and find what you enjoy most.
Use What You Have
A good place to start is to use what you already have on hand like, well, your hands. You can use your fingernails to run down your partner's flesh, digging deeper if they like it.  What about pinching? Areas like nipples, balls and labia are all sensitive areas you can try.
Try hand spanking. Use the flat of your hand on a soft, giving area of your partner's body – butts are perfect but you can spank thighs too. Just start lightly. Increase the pressure and tempo if you want, and keep checking in with your spankee to see what they like. Go where the pleasure-pain leads you.
Safety note: Remember to get consent before adding something new to your sexy times. Talking in advance about what you want to try and what you will do or say to bring the action to a stop is essential. You might just agree to say 'no' to stop what's happening or maybe you want a safeword but make sure you have this in place before you play. Remember, both the top and the bottom can say stop if they're not enjoying what's going on.
Pervert the Domestic
Want to try out something harder than a hand spanking but not sure you're ready to buy kinky gear? Then see what you've got lying around the house. Wooden spoons and spatulas make great paddles. Clothespins also fit on nipples and a rolled-up hand towel can deliver the sting of a flogger. Give them a try and if you like what you feel it's time to invest in some fun BDSM toys.
Buy Beginners BDSM Toys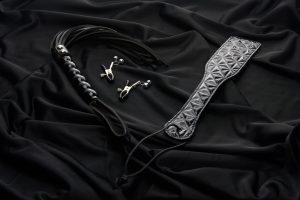 Don't know what to buy? Here are some common kinky sex toys people enjoy from a beginner option if you're still new to an upgraded version once you get some experience.
Paddles
Paddles are often seen as the next step up from your hand. They provide a solid impact but at varying degrees, depending on what you choose.
Beginner: Paddles can be made from all kinds of material but to start out you want to stick with something soft like leather or faux leather like the Enchanted Heart Paddle. Having a fur-coated side gives you additional sensation play, where it can be used for gentle soft strokes where the other side delivers the stinging slaps.
Upgrade: Want a bit more pain or a different sensation? Try a studded paddle like the Panamorphic paddle, or one made of wood. Slimmer paddles are stingier than wider ones so maybe go for a long thin one over a wide, circular type.
Floggers
Floggers are versatile and can be used for soft, gentle sensation play or to impart a lot of pain.
Beginner: The Kinx Tease and Please is a small flogger that can be used to tickle across the skin but the hit will leave a bit of sting. They're great for hitting tender areas if that's what you're into as well.
Upgrade: If you want more from your floggers go for something in a different material. Rubber is very stingy, while leather floggers like the Enchanted Flogger, generally give a heavier, deeper thud. The more falls, the thuddier the flogger.
Wartenberg Wheels
If you want pain but without the impact, try a Wartenberg wheel.
Beginner: The Rouge Stainless Steel 7 might look more intimidating but the more wheels the less intense the sensation because you're spreading the pain over a bigger surface area. Press only gently so you don't break the skin.
Upgrade: Try one wheel on its own or look for a wheel that has thinner, more needle-like spikes like the Fetish Fantasy Wartenberg Wheel.
Restraints
Restraints don't add pain themselves but can ramp up the fear for the person tied down which intensifies all sensations.
Beginner: Start out with material ties like Silky Sash Restraints. They're soft, silky, easy to tie and to get out of for beginners. Use them to fasten hands together or as a blindfold or to secure someone to the bed.
Upgrade: Try rope, if you are interested in all things knotty or invest in some restraints that hold the person more rigidly in place. You can also get restraints in leather, silicone and metal. One option is the Sex Mischief Shadow restraints. Choose what you like best but remember the more solid the restraint, the less give it has. Be careful to avoid injuries.
Conclusion
It's not so scary to add a little BDSM to your sexy times. Remember you get to decide your personal limits and what BDSM means to you. As long as you play safe, you can enjoy pleasurable pain your own way!
Are you into pain as part of your kink? How do you like to play? Share with us in the comments below!