Is strap-on sex with your partner on your bucket list of sexy fun? Is it on your must-do list for this year or in this relationship? It takes two to strap up and strap on, so before anything can happen, you need to talk to your partner. No matter how excited you are, don't surprise your partner with a new dildo and a harness — not until you've had this important conversation.
Here's what you need to know.
Pick the Right Time to Talk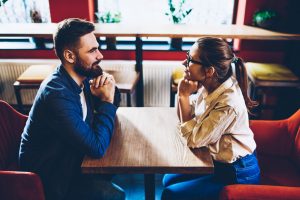 Anytime you want to have a deep, meaningful, and potentially sensitive conversation with your partner, timing is everything. Because of the nature of this particular discussion, you want your partner focused on you and what you're saying. While you're getting ready for work or when a child is screaming in the background isn't the best time. And you probably don't want to drop a revelation about strap-on sex as a bombshell either.
Let your partner know you have something important you want to talk to them about. Pick a time when you're both able to sit down and chat quietly. Maybe you talk at home, over dinner, or at night after you go to bed. Maybe it's something you discuss on your next date night. Whenever it is, make sure you find a good time to have this conversation before you say anything.
Be Clear in What You Mean
Depending on who you are and the nature of your relationship, "strap-on sex" isn't always clear. If you're a cisgender man in a heterosexual relationship, any mention of a strap-on will likely involve a discussion on pegging. But if you have erectile dysfunction, you might want to try a hollow dildo, in which case, you don't want to be on the receiving end of strap-on sex. See how this distinction becomes important?
If neither of you have a penis, you're going to want to be clear about who's using the dildo on who. And if you want to both give and receive, let your partner know. Ideally, you want to avoid confusion about what kind of strap-on sex you want to try from the very beginning. This makes the conversation much easier to have.
Listen and Give Your Partner Time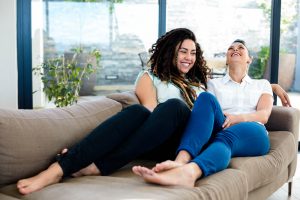 This is true in any discussion about sex, strap-on or otherwise, but it's especially true if you're discussing pegging for the first time. There are a lot of misconceptions about what "it means" to have strap-on sex in a heterosexual relationship. Some people think anal penetration is gay. They might think "letting" their female partner penetrate them is emasculating. Neither is true.
Whether your partner thinks any of these things or they seem surprised by what you're telling them, you need to listen to them and answer questions as best as you can. You also need to give them time to process what you've told them. Some partners will be all in right away; some will need to think about it first; and, to be honest, some partners won't be into it at all.
Shop for Your Dildo and Harness Together
Assuming all goes well, and the conversation leads to a plan to try strap-on sex, continue the conversation by shopping together. You can go into a local adult shop or browse online. Either way, talk about what looks good, what intimidates you, what you like, and what you don't like. This helps you both become more comfortable talking about sex with each other, and it's always exciting to buy couples sex toys together.
Shopping for your sex toys together also creates another form of intimacy and excitement. Once you place your order or pay at the register, now you get to plan how to use it once it arrives or you get home. That can lead to more excitement and arousal before you've even begun.
[w153_th_products" title="Best Selling Items" orderby="bestsellers" categories="strap-ons-harnesses" count="12″]
Conclusion
Conversations about sex can be a little scary, especially if it's not something you've ever done with your current partner. But the best way to have the sex you crave and build a strong relationship is to talk about what you want. Who knows? Once you confess your strap-on desires, they may share some of their kinky fantasies with you, and you'll get to try even more sexy fun together!