Traveling for business with a packed schedule and short turnaround time? You can still relax a little. Traveling with family? Every second doesn't have to be about the activities and what everyone else needs or wants to do. The next time you travel bring your favorite sex toys and remember these tips so you can unwind, relax, and enjoy yourself — at least a little.
Make Time for Hotel Sex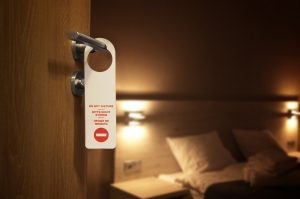 There is little better than hotel sex. It's a different location, maybe with a nice view, and an opportunity to explore a fantasy or two. Hotel sex with a partner is great, but even when you're traveling solo, you can enjoy it. Best of all, no matter how wild you get, you don't have to worry about changing the sheets.
If you're loud, turn on some music or the TV. Make sure the "Do Not Disturb" sign is hung on the door. If your door has a deadbolt, go ahead and lock it, too. Not that strangers will just wander in, but if your hotel sex is early in the morning when housekeeping comes through, that kind of interruption could kill the mood.
Bring Your Sex Toys
Maybe this isn't a vacation trip. You might have one night in a city and back-to-back meetings. Throw a favorite sex toy in your luggage (yes, even your carry-on) so you have something to look forward to when you get to your hotel room. If you have a go-to toy that gets you off quickly in a way that satisfies, that will do.
When you pack a vibrating sex toys, remove any batteries or find the travel switch so it doesn't turn on in the airport or while you're walking through a hotel lobby. Leave toys that could be mistaken for weapons at home (we're looking at you, BDSM toys). If your toy comes with a cap, bag, or box, store it there before putting it in your luggage. This will keep it discreet and protected.
Do What Feels Good
Want to soak in the jacuzzi tub in your hotel room? Love walking along the beach to relax and unwind? Prefer to find a hometown restaurant or dive bar and eat like the locals? Whatever helps you unwind and de-stress in a new city, go for it. Yes, even if it means telling the rest of your group to go on without you.
Sometimes sitting in the middle of a big bed, eating take-out, while watching cable TV is exactly what you need. The pillows are sometimes better. You might even have access to a hotel bathrobe.  For one evening or a day (or an entire weekend), you can do what feels good, even if that means doing nothing at all.
Make Time for Indulgences
Sometimes we have to travel on a budget. Maybe it's a work trip and you'll have to show a receipt for every purchase. Maybe it's a big family vacation and you've planned it down to the last penny. When you can, make time and space in the budget for at least one indulgence.
You might love room service but don't want to overspend on your food budget. Plan for a single meal — breakfast, lunch, or dinner — to indulge. Maybe the hotel has a spa that's kind of pricey. Budget for a single service, even if it's just a 10 minute neck massage. You may miss out on something else, but if the indulgence makes you feel good or pampered, it's worth it.
Focus on the Now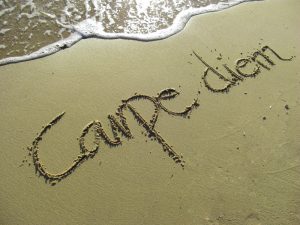 Ever gone on a trip and spent the entire time thinking about how it's almost over? If all you can think about is how much time you don't have left, you're going to miss out on a lot of fun. Do your best to focus on the here and now. Yes, it's important to do whether you're traveling for business or pleasure.
Try not to count down how many days or hours you have left. When possible, put down your phone, and find a local spot to enjoy. Immerse yourself in whatever the city has to offer — museums, beaches, tourist attractions, and enjoy the moment. When all else fails, have hotel sex with a partner or yourself — with or without a sex toy.
Conclusion
Just like you pack toiletries, clothes, and other necessities for a trip, don't hesitate to throw in your favorite sex toy and plenty of lube. You might only be able to snatch a few moments for pleasure, but at least you'll be prepared when you do. And even if sex can't be the focus of this trip, there are other ways to relax and unwind, no matter what kind of traveling you do.
What's your favorite way to unwind and relax while you travel? Share with us in the comments below!