You've done a little spanking in bed, maybe some light bondage. It's a turn on for you and your partner, but you want something more. Maybe you've read 50 Shades of Grey or watched a little BDSM porn. Whether you want to be on the giving or receiving end of a kinky scene, you're ready for it.
Before you greet your partner at the door in head-to-toe latex or leather (not a requirement for getting kinky, by the way), stop, take a deep breath, and think about this. If your partner isn't prepared for a kinky scene, you may scare them off. Not sure how that works? Check out these tips to plan a full kinky scene with your partner that won't freak them out.
Talk to Your Partner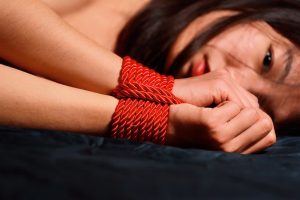 Communication is the most important step in any kinky play you do, whether it's temporary fun or you're ready to embrace the full BDSM lifestyle. Sit down with your partner and find out what they're interested in or what they hate (these are hard limits). Share what you enjoy or are curious about. Find common ground in your kinks. You need your partner's consent to get kinky, so it's better to make sure whatever you plan is something they'll get off on too.
Tip: Ask your partner directly what they want. Be patient if it's difficult for them to express their fantasies or desires immediately. This is a very intimate conversation.
Be Clear in Your Intentions
Don't make your partner guess what you mean or what's going on, especially if it's your first kinky scene. Say very clearly, "I want to do this kinky scene with you. What do you think?" It could be paddling and flogging. Maybe you want to try some bondage ties you've learned. You might act out a fantasy of pirates and captives or teachers and innocent college student. It doesn't matter what the kinky scene is, but it is important that you partner understands what's going on so they can give informed consent.
Tip: Don't use vague language. It can be difficult to say these things out loud, but if you can't say, "I want to tie you to the bed" then you shouldn't do it to someone either.
Make a Plan
Some people think that planning to the last detail a kinky scene takes the heat out of it. Not at all. What ruins your moment is not preparing your partner for what you want to do or asking them to do things they don't want to do or can't. While you can and should go with the moment once you're in the scene, it's important to have an idea of how that moment will progress. It's all part of the communication and consent process, too.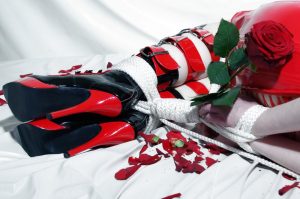 Tip: Describe, in intimate, sexy detail exactly what you want to do with or to your partner. You'll clearly communicate what can happen while getting them in the mood.
Test Toys Before You Play
When you use impact adult toys for the first time (think crop, flogger, paddles, etc.) there's a typical progression that many kinksters take:
Hit a pillow or the bed first. This gives you a chance to test the weight and heft of the toy.

Next, hit yourself on the forearm or thigh. You need to have an idea of what it feels like before your partner does.

Third, test it on your partner – bottom, leg, or forearm – to allow them to decide if it's a pain they'd be willing to take further.

Finally, if your partner agrees, you can use it on them. Start slowly and

build up to higher impact

.
That's just for impact play. In rope bondage, you should practice ties on inanimate objects before you tie up another person.
Tip: Experiment with the speed, angle, and weight behind the impact. Some toys can feel different depending on how you use them.
Talk About Safety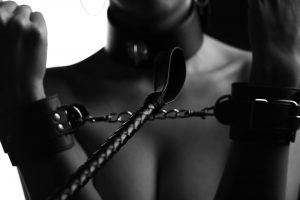 The more you get kinky with your partner, the easier it will be to read their body language, sounds, and facial expressions during a scene. Until then (and even when you get to this point) it's important to discuss safety. Talk to your partner about whether they want a safeword or if they'll say, "No!" or "Stop!" A safe "gesture" will be necessary if you're using a gag of any kind. With rope, make sure you have scissors nearby to cut your partner out if necessary.
Tip: If you don't agree to a safeword, no always means no. If your partner is in distress, even if they haven't used their safeword, always stop.
Conclusion
Kinky scenes are supposed to be sexy, sensual, and a major turn-on, whether it ends in sweaty sex or not. You can only do that if both of you are fully informed on what will happen, especially if it's new to you. Talking about the scene and your limits can be sexy as long as you approach it with a sense of fun and adventure, not dread. Once the scene begins, you may need to change the plan. No problem. Check in with your partner, ask if you can continue, and have fun!
Are you ready to get kinky with a partner? Comment below!