The idea of a threesome is hot. Naked writhing bodies, hands, and mouths everywhere, and at the end, three satisfied people. That's how it should be, but too often, that's not what happens. When you and your partner decide you want to get adventurous and have a threesome, make sure it doesn't suck. A little planning and plenty of communication can make your first or next threesome the satisfying and sexy time you want it to be.
Talk About What You Want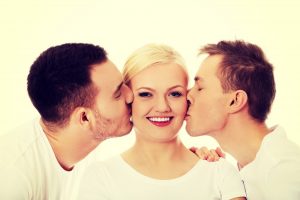 You and your partner should have a fairly in-depth conversation about what you want out of this threesome. Be open and honest about what you want done to you, and what you want to do with everyone involved. On the other side, you need to talk about what isn't okay, too. If seeing your partner kiss another person is too much, speak up.
Threesomes shouldn't just be planned between you and your partner. When you're deciding if the third person is a good fit, find out what they want, what they like, and what they don't. The experience is supposed to be good for everyone. You want someone who is compatible with you.
Set Some Ground Rules and Expectations
Is your third person staying the night? Will you get a hotel? When is this happening and where? Those are just the basic details. Once you've talked about what each of you wants, it's time to set the rules. No penetration or no anal play is perfectly acceptable rules to set. There's no one right way to have a threesome, so make sure everyone is clear on what will and will not happen.
Between you and your partner, create a signal of some sort – like a safeword – if you get overwhelmed, nervous, or start to have a bad feeling. You can and should talk to your partner in private if things get weird for you. If it means you have to sit down with your third and set new rules or expectations, do it. Understand that they can choose to agree and stay or decide this isn't working for them.
Always Get Consent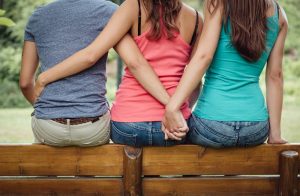 Consent isn't just the yes or no you get from everyone that you're going to have a threesome. If you want to touch someone in a way you didn't discuss, ask, "Is this okay?" If you're dying to bury your face in their groin and give them oral, ask first.
Don't demand that either partner do anything unless that's part of some kinky power dynamic you have. Ask for them to touch you here or stroke you there. And if you do want to bring your third into your kinky play, explain what it is, how it works, and what they can expect so they can give informed consent.
Play Safe
Don't forget the condoms! Whether this is a person you met through an app or you've known for years, unless you're looking at their most recent blood test results (as in, completed the day before), have condoms on hand. Check the expiration date especially if it's been awhile since you or your partner have used condoms.
And if anyone says they don't want to use protection, either adjust your play so there's no penis-in-vagina penetration or cancel the threesome. Condoms aren't the only way to play safe. Ask about birth control methods, too, if penetrative sex will be involved. Unless you're actively trying to get pregnant, that's not the reminder you want of your threesome.
Don't Neglect Anyone
Part of what can make threesomes suck so much is that someone usually gets left out. If the one being left out is you or your partner, that can cause some serious hard feelings in your relationship. Your third may be the one left out, and if that happens, no matter how great of a time you had, it'll likely be your only threesome with them.
Talk about this during the communication, rule-setting phase of your threesome. Make it clear what you want to do to and with each other in your threesome, and then remember to do that. Remind yourself while everyone is naked to put your hands and mouth on both people. Do a gut check after you have an orgasm or a really fun moment. Did your third have a good time? Make them the center of attention at some point.
Conclusion
Good threesomes aren't just about the sex positions you try, the sex toys you add to the fun, or how many times everyone orgasms. It's also about communication, setting expectations, and taking care of everyone in your threesome. If you set things up right from the very beginning, you may even find yourself having threesomes more often.
Do want to have a threesome one day? Did you have one that sucked? Share your thoughts down in the comments!