From the moment the first rabbit vibrator came on the market, it was a sex toy designed to maximize pleasure in multiple ways. Over the years, it's changed and adapted in style and features, offering more sensations and pleasure, continuing to provide sexual satisfaction from multiple angles.
Given all that, it's no wonder that the rabbit vibrator continues to be one of the most popular sex toys of all time. They might have achieved fame through certain television shows and notorious flirty characters, but you don't have to be a New York socialite to own one.
Keep reading to learn how to maximize your pleasure with a rabbit vibrator.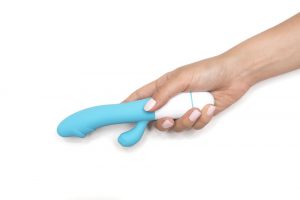 Top Tips to Make Your Rabbit Vibrator Feel Amazing
There are more than a few ways to enjoy rabbit-style vibrators. Personal preference and experimentation will play a major role. That being said, there are a few starting points that can jump-start your exploration if you're new to using a rabbit. But even the most experienced rabbit lover can find new ways to play with these tips.
Start Slow
If you're new to any vibrator, it's important to take your time and figure out what you like about them. This is especially true for rabbits. They are designed for both vaginal insertion and clitoral stimulation, helping you achieve a blended orgasm — orgasms through both internal and external stimulation.
But it's possible to focus on one or the other instead of both when you first use your rabbit. If your vibrator offers separate controls for the shaft and the ears, take advantage of that to slowly figure out what you like from each side. When you do, you'll have a better experience and more pleasure.
Enjoy the Bunny Ears
What makes rabbit vibrators different from other styles is the classic "bunny ears" made to bring plenty of pleasure to your clit. As that's a part of the body that doesn't often get a lot of attention, this tends to be the allure of this style of vibrator. Take time to try out all the different features included with your rabbit. Every model is different but some variations include multiple speeds, intensity levels, and even a number of rhythmic and pulse settings.
You may find that the ears are enough to get you off without the shaft. This gives you another way to enjoy your rabbit when you're going solo or during sex with a partner.
Try Different Positions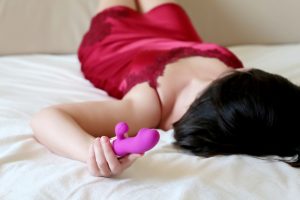 During sex with a partner, you likely switch positions every so often. Variety is the spice of life, as they say, even with go-to, preferred positions. If you do it with a partner, you can do it with your rabbit vibrator, too. Using your sex toy in a new position creates new sensations and experiences — and keeps you from getting bored with the same old way to play.
You may start by lying on your back with your legs spread. Roll to your side and let the weight of your thighs close around the rabbit. It definitely feels different, and it might even feel amazing. Another position to try is to get on your knees. You can stay on all fours or come up to your knees — almost like you're riding on top during sex. Position your rabbit in and against your vulva. How does that feel?
While you're switching your physical position, don't be afraid to hold your rabbit at different angles and play with the settings. You may find that a new position requires a new vibration or another way to insert your toy.
Use Your Rabbit with Your Partner
Rabbit vibrators are perfect for solo sex. They're great for single people and those in an established relationship — because masturbation is a healthy part of any sex life. However, you don't have to keep your rabbit to yourself. If your partner is open to it, your vibrator can add a bit of orgasmic heat to the bedroom.
Put on a show for your partner or play with mutual masturbation and encourage them to pull out a favorite sex toy! You can also bring it to bed when you're ready to get it on with your partner. They can focus on other parts of your body — neck, nipples, wherever — while the ears get to work on your clit!
Playing with a rabbit-style vibrator before sex can be a great warm-up. It's also amazing after penetrative or oral sex. Give yourself (and your partner) explosive pleasure and more fun in the bedroom with your rabbit.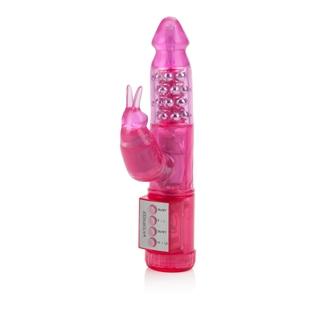 Styles of Rabbit Vibrators You Need to Try
If you think there's only one type of rabbit vibrator to use, think again. For those who love their rabbit, it's never a bad idea to try new styles to see what else you might enjoy. And if one bad experience made you think you're not a rabbit lover, maybe these other options will convince you to give the bunny ears another chance.
Finding what suits you best is an important part of finding the right sex toy for you. Try any or all of these styles out for yourself!
Standard Rabbit
When you picture a rabbit vibrator, what do you think? Probably a stimulator with two well-defined bunny ears that surround the clitoris attached to a several-inch-long shaft. If that's what you imagined, you're thinking of the more standardized "common" style.
Once inserted and turned on, you experience vibrations or pulsations both inside and out. Two motors are typically included so that both internal and external sensations can be controlled independently. The shaft may or may not have texture or beading for added stimulation. When beads are included, they may move independently to offer a third possibility for sensation and hit more sensitive spots. We like the Wall Bangers Deluxe Bunny.
Rotators and Thrusters
While not a common style, rotators and thrusters can be powerful vibrators. They rotate, thrust, and sometimes both bringing the sensation and stimulation you experience to a new level. This style often has many of the same features as a standard rabbit vibrator. Multiple motors, added texture, the size, and the bunny ears – but it includes an added function of thrusting, rotating, extending movement for a special touch.
As a user, you can enjoy a more realistic and all-encompassing sensation with this type of rabbit. The rotation or thrusting isn't typically very fast but it doesn't have to be. All it has to do is make you feel good in multiple places and in multiple ways all at the same time. Give yourself a treat with the Fantasy for Her Ultimate Thrusting Clit Stimulate-Her.
Mini Rabbit
In most cases, mini rabbit vibrators are a smaller version of the standard. The shaft continues to be longer than the "ears" although the entire toy is smaller overall. It may be smooth or textured. You still experience vibrations and pulsations based on the built-in settings.
One big difference, though, is the motor function. Many mini rabbit vibes usually only have a single motor. This usually means the mini isn't as strong as its larger counterpart. Mini vibrators are a discreet option that usually fits in the palm of your hand. It also doesn't seem as intimidating as the standard rabbit vibe for newer users. For people who find penetration uncomfortable or difficult, the smaller size may be a better option. Try the Happy Rabbit Mini Rabbit and decide for yourself!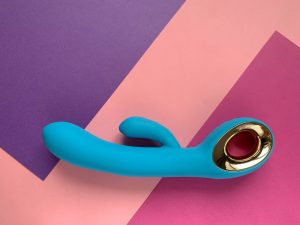 Luxury Rabbit Vibrators
In the past decade or so, the rabbit vibrator design has come a long way. While you can still find the standard rabbit ear and shaft style, as well as the mini versions and other animals, high-end rabbits don't look like a rabbit. But they function like one.
Often made of body-safe silicone, these vibrators feature the shaft and external stimulator like any other vibrator. But they don't look the same. Consider LELO's Soraya Wave. It looks more like something out of this world than a "rabbit."
Other manufacturers, like Womanizer, have taken the rabbit concept and applied it to their own technology and style of vibrator. The Womanizer Duo gives you the internal pleasure you expect from a rabbit and their signature air pressure stimulation for the clit. This definitely isn't your mom's rabbit.
Double Penetrators
Not all double penetration sex toys are members of the rabbit vibrator family. For a DP toy to fall into rabbit territory, look for triple stimulation – vaginal, clitoral, and anal. This kind of sex toy offers an extra layer of pleasure for those who enjoy anal play but don't have or want a partner to join in on the fun.
The anal stimulator is often long, thin, and beaded. It may or may not vibrate as well, but if it does, it's usually a very gentle sensation. Treat this kind of vibe like any other anal sex toy and use plenty of lube. Anal penetration will never be comfortable without it, and lube helps the shaft and rabbit ears glide more smoothly in and across your vulva, too. One to try is the Total Ecstasy Triple Stimulator.
Other Animal-Like Vibrators
The original rabbit vibrator was an attempt by Japanese sex toy manufacturers to get around the censors in their country who wouldn't allow pleasure products. This rabbit design seemed to say, "This isn't a sex toy! Look at those bunny ears! This is a motorized rabbit." Yes, we too have questions about how they could be fooled so easily but that's a discussion for another day.
What's important to know is that while the rabbit version may be the most well-known, it's not the only style available. A dolphin vibrator has a long snout nose instead of bunny ears. The beaver vibrator uses a snout shape as the clitoral stimulator. Over the years non-animal options have been designed – cups, nubs, artistic bulbs, and several other shapes meant to hit the clitoris just right. What we call a "rabbit" may not be an animal at all, but the principle is the same – feeling good inside and out. For a non-rabbit version, try the Jelly Eager Beaver.
Conclusion
The beauty of sex toys, in general, is that you have so many ways to experience pleasure and get off. Plenty of people adore their rabbit vibrators. Millions of purchases a year can't be wrong. The variety among rabbit vibrators offers lovers or haters the opportunity to find a sex toy that gives you a new way to get off and feel good. Finding the best rabbit vibrator for you might not be easy, but it'll be fun to try.
Do you love rabbit vibrators? How do you like to play with them? Share with us in the comments below!
Share your love of rabbits by sharing the infographic below!