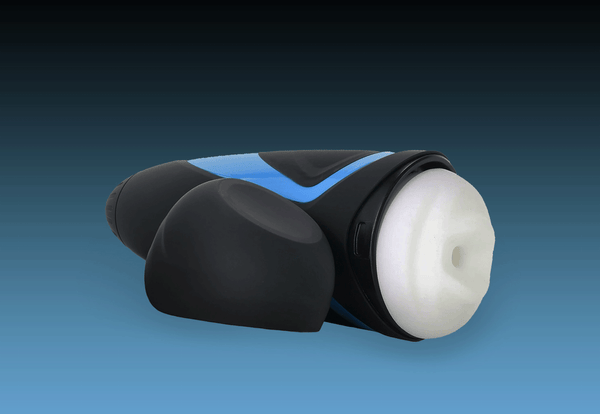 Knowing how to clean your pocket pussy (also known as a male masturbator, sleeve or stroker), is super important, especially if you are going to be enjoying it regularly – and we sincerely hope that you will be! Why, you ask? Well, it's essential to keep any sex toy clean, as it's going to in close contact with some very intimate areas, but proper care and cleaning will make sure that your pocket pussy lasts as long as it possibly can. Needless to say, a longer lasting pocket stroker means more pleasure for you, so really, it's a win/win scenario!
The good news is that when you invest in a pocket pussy, you're putting your money toward a toy that can provide pleasure for years to come. With that said, taking care of your pocket pussy or stroker is key— the fewer cleanings you do and the more basic maintenance that you avoid, the shorter life your toy will most likely have. However, if you simply treat your pocket pussy with a little sex toy TLC, your pleasure will be plentiful! Read on to learn how to properly clean a pocket pussy.
When to Clean Your
Pocket Pussy
It's usually best to clean your pocket pussy before and after you use it. However, if you play with it regularly and clean it thoroughly after each use, you may not need to clean it beforehand, but extra cleaning never hurts! A good rule of thumb is that the more often you use it, the better you have to be about cleaning it out. Makes sense, right? 
Pocket Pussy Cleaning Instructions 
To clean your pocket pussy, you don't have to do anything special. There are also a few different ways you can clean it:
With Mild Soap & Warm Water:

Simply flush

warm

water and

anti-bacterial soap

through the interior of the pocket pussy. 

With a Sex Toy Cleaner:

Spray with an antibacterial sex toy cleaner, and rinse it well. If you want to spring for the cleaner, it will help to avoid or slow the degradation of your toy. 

If

your pocket pussy

has two openings (ie: a pussy and a butt), you'll need to  clean both of them, even if you didn't use both. It isn't  because it isn't uncommon for

bodily fluids and lube

to migrate from one hole into the other. Better safe than sorry, right?
You'll also want to clean the outside of your pocket pussy using the same techniques. Softer materials tend to attract lint and dust, which definitely won't put you in the mood when you pull it out of your top drawer.
How to Store A Pocket Pussy
Most strokers can be stored safely in a drawer or toy case, but please make sure they aren't touching other toys. Some materials can react with others, so wrap your stroker in a clean cloth, or tuck it in a storage pouch or bag.
Sprinkle On A Little Cornstarch Powder to Preserve Softness
Some types of pocket strokers require a little extra consideration when storing. If your stroker is made of an elastomer or a TPR material, you may want to sprinkle some pure, plain cornstarch powder over the sleeve, inside and out before tucking it away. This can help maintain the soft, supple texture of your beloved sex toys. There are also a few powders and products specifically designed to protect the texture of your toy. Please don't use a talcum based powder, it could damage your toys surface and even irritate your skin. 
Tips to Keep Your Pocket Pussy in Tip Top Shape
Ready to buy a pocket pussy? Great! It's an investment in your sexual happiness, so you will want to take good care of it. So, here are a few tips and tricks that may help you along the way.
1.
Purchase One with Open Ends
for Easy Cleaning
If you purchase a pocket pussy that has two open ends, it will be much easier to clean. You can even turn it inside out to completely clean it.
2.
Take Your Pocket Pussy Apart
If your pocket pussy can be disassembled, then you want to take it completely apart before cleaning it. Clean each part of it thoroughly and allow to dry before reassembling.
3.
Be Sure That Your Unit Completely Dries
You've done a great job cleaning your pocket pussy, now you need to ensure that it dries completely. Some pocket toys come with special racks or tools to help you clean them and allow them to dry properly. If there are electronics involved, always take out any batteries or unplug any charging cables before clean-up.
4. Always Inspect for Damage
While you're cleaning your stroker, check for any damage or issues. A good quality masturbator sex toy can last a long time, but eventually, it can start to show signs of wear and tear. If you notice any damage to surfaces, interiors or vibrating components, it may be time to retire your pocket pussy. 
5.
Never Use the Dishwasher
Your dishwasher is probably too powerful for your pocket pussy, and may damage it. Once again, read the directions to see what you can and cannot do. On that note, please don't immerse your toy into hot water (or any water, if it has electrical components) unless you're sure it's waterproof and can stand the heat.  Read through any instructions first.
Have Fun
& Stay
Clean
Let the fun begin! Now that you know how to properly take care of your pocket pussy, you're ready to make an investment in a great sex toy that will intensify your pleasure and maximize your stroking sessions.  Whether your stroker sleeve, male masturabtor, or pocket pussy looks like a vagina, a mouth or something else altogether, simply follow these basic cleaning instructions to prolong the life of your stoker.
 When it all comes down to it, just remember that you need to be extremely hygienic, no matter what. The cleaner you keep your adult toys, the longer they will last and the more pleasure-filled your erotic experiences with them will be – over and over again!
Related Content: