Orgasms are so beneficial to our bodies that frequently having them is practically a form of self-care. Reaching an orgasm makes our brains release feel-good chemicals which make us happier, less stressed, and less anxious. Orgasms increase blood flow and lower blood pressure. So, it's no wonder that we're all taking our orgasms seriously.
However, although the destination (the city of Big O) is what matters most, we should also be mindful of the journey. How you get where you're going is also important, so picking the best sex toy for you is vital. 
Bullet vibrators are some of the most popular sex toys among women. From the simple, sleek-looking ones like the Bougie Bullet to the differently-shaped ones like the Je Joue Clitoral Rabbit Vibrator to luxury ones such as the We-Vibe Tango, bullet vibrators come in all shapes and sizes. But why do so many women opt for these toys? And more importantly, how do you pick the best one? 
Let's unpack this, shall we?
What Is a Bullet Vibrator?
As it's usually the case, the clue is in the name. A bullet vibrator is a small and discreet toy that closely (or loosely) resembles a bullet vibe. People usually use it for targeted clitoral stimulation during solo play or partnered sex. Because it's so tiny and compact, the bullet vibe can also be used to stimulate other erogenous zones like the breasts and nipples, inner thighs, perineum, penis, etc.
The beauty of bullet vibrators is that, although small, they are mighty. Depending on which bullet vibe you pick, you'll have various features at your disposal. 
The selection is so vast that you'll also have your pick of the materials. From body-safe silicone to metal vibes, the bullet vibrator and sex toy market is massive. 
But it can also get a bit overwhelming. Making the optimal choice is not an easy task. Sure, you want a body-safe material, but which one should you go for? Furthermore, which features do you pick? Do you choose the vibe that offers precise stimulation of the clitoris or the waterproof remote control bullet? 
The options might seem endless, but there is a way to narrow down your choices. 
Why Even Opt for a Bullet Vibrator?
The sex toy industry is one of the fastest-growing ones on the planet. Research shows that, by the year 2026, the sex toy market will be worth 52.7 billion dollars. With the stigma surrounding sex toys slowly lessening and people becoming more willing to experiment, sex toys are no longer something we buy our friends as a gag gift. Instead, they are a staple sex aid in almost every other home in America. 
So, with the market growing so fast, the selection we have to choose from is also expanding. Companies are constantly inventing new sex toys and modifying the ones we already know and love. With so many options and new toys to try out, why even opt for a bullet vibrator?
A Bullet Vibrator Is Discreet
There's no such thing as a universal toy that fits everyone's needs. Therefore, picking a sex toy comes down to your preferences. However, bullet vibes have a massive advantage over other sex toys because they are discreet and small. 
That means they offer superb clitoral stimulation. Any sex educator will tell you that the clitoris plays a vital role in female orgasms. The Kinsey Institute research shows that women orgasm during intercourse between 30 and 40% of the time. However, that number dramatically increases when direct clitoral stimulation is involved (50-60%). 
So, it's clear that involving the clitoris during intercourse (and masturbation, of course) is vital for frequent orgasms. That's why bullet vibrators are the perfect toys. 
Clitoral Stimulation and Female Orgasm [Infographic]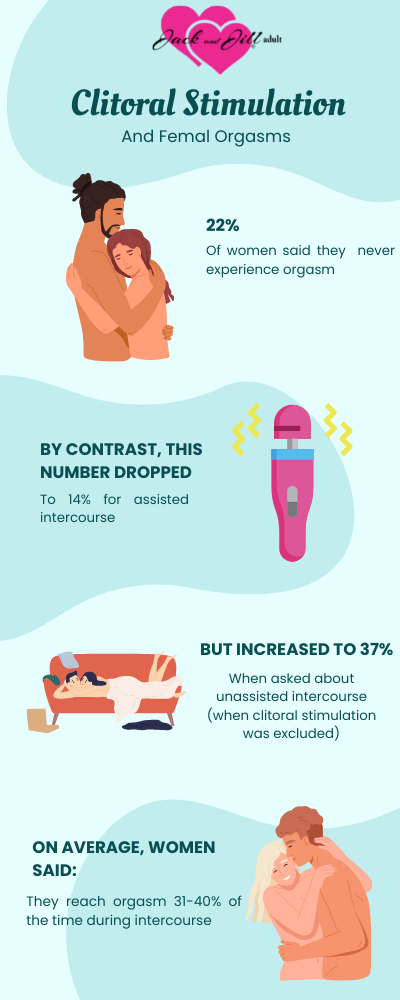 It's Compact but Packs a Punch
By definition, bullet vibes are smaller than regular vibrators. However, that doesn't mean they are less powerful. The best bullet vibrators like Jill's Lil' Bullet or the Je Joue Mimi Soft offer intense stimulation and various vibration settings. Between different speeds and patterns, one bullet vibe can offer dozens of vibration combinations that will blow your mind.
Suppose you're looking for a small vibrator that's virtually silent and offers various intensity settings and pulsation modes that will make you orgasm harder than ever before. In that case, a bullet vibrator is an excellent option for you. 
A Bullet Vibrator Can Have Various Features
Just because a bullet vibrator doesn't offer penetration doesn't mean it's a one-trick pony. Instead, you can find a bullet vibrator that has dozens of different vibration modes and several additional features.
When it comes to picking a vibrating bullet that will do more than pulsate, you can opt for those that also: 
offer internal stimulation
have an angled silicone tip that allows you better access to the clitoris
have a tapered tip for more precise stimulation
can stimulate the G-spot
offer various features (such as tip fluttering or rotating)
have the option for remote control
have more than one vibrating part (with plenty of vibration patterns)
It's Easily Transportable
The compact size of a bullet vibrator also has a fringe benefit because it makes the toy easily transportable. A bullet vibrator can fit into your purse (without making it obvious that you're carrying a sex toy). In addition, it's only a few inches long, so it won't take up more space than a lipstick would. Opt for a battery-operated compact vibe. You won't have to carry around anything else (such as a charger or a remote).
Of course, a USB rechargeable vibrator with a wireless remote control option has its advantages. 
How to Pick the Right Bullet Vibrator for You?
When it comes to picking the best bullet vibrator, you should consider a few factors. The best bullet vibrators are usually an excellent fit for everyone (which is why they are also best-sellers). However, if you're picking your first bullet vibrator, you should look beyond popularity. After all, what works for you, won't necessarily work for someone else (and vice versa). 
Since masturbation and orgasms are so individual, you should consider your wants, needs, and habits and factor them into your decision. But to do that, you need to know what's out there and what your choices are. 
There are a few features that most bullet vibrators have, such as vibration and compact size. In other words, no matter which bullet you opt for, it will be small (only a couple of inches long), and it will vibrate. But which vibration settings do you want? Do you want an angled tip or a pointed tip? Are seven vibration patterns enough, or do you want more?
These are just some of the questions you should ask yourself before clicking on that "add to cart" button. If you're overwhelmed, don't worry; we're here to help.
So, What Are My Options?
The best bullet vibrators are the ones that are made from a body-safe material and have an outstanding balance of features and usability. Unfortunately, that balance isn't that easy to achieve. It would be best to look for a bullet that offers enough features to make your me-time pleasurable and fun without overwhelming you. 
For example, the rose gold Le Wand Double Vibe has 15 vibration modes and six intensity levels. For such a compact vibe, that's a lot of vibration patterns. Add the general, bunny-eared shape of the toy (that makes it a clit cuddler), and you have yourself a perfect toy! 
However, clicking through all the combinations you have at your disposal (as fun as it is) might be difficult (because you have to list them all to find the ones that work for you). So, Le Wand Double Vibe might not be everyone's first pick.
That's precisely why research is vital. You have to know what the toy offers to see if it will be helpful for you or not. So, let's see which options you have before you.
A Battery-Operated Bullet Vibrator
Battery-operated bullet vibrators are tried and true toys that women have been using for decades. Back when the vibrators evolved enough to change shape and size (and the bullet vibrators were born), battery-operated sex toys were the only options on the market. 
That might make you think they are outdated. In reality, it means battery-operated vibes have been perfected. They have a longer battery life than ever before. One set of batteries can give you one or two hours of playtime. 
Luxury toys such as the Je Joue and We-Vibe bullets usually use a USB charging option. However, that doesn't mean that battery-operated toys are "less-than."
There are plenty of benefits to battery-operated toys. As mentioned before, you don't have to worry about whether you've brought a cable with you or not. You can just buy a new set of batteries and go to town (on yourself).
Rechargeable Bullet Vibrator
USB rechargeable toys are all the rage now. They make it easier always to have your bullet vibrator ready for playtime. Plus, the charging time of USB rechargeable toys is relatively short (which means you don't have to wait long before you can start having fun). 
For example, the famous We-Vibe Tango offers up to two hours of play on a single charge, and it takes around an hour and a half to fully charge the toy. Similarly, the Je Joue Mimi offers two hours of play for two hours of charging. 
So if you're looking for something that will last you for more than one play session (or for one extra-long session), you should opt for a rechargeable bullet vibrator. Here's a hint: the Jackie Love Rechargeable Bullet vibrator has seven vibration speeds and thirteen vibration patterns!
Remote Controlled Bullet Vibrator
If you're looking for a rechargeable bullet vibrator with a nice bonus, you can opt for a remote-controlled one. This type of bullet vibe gives you the option to either have some hands-free fun or play with a partner.
A vibrating bullet with a wireless remote is a great toy that you can use for private or public play, by yourself or with someone else. It's much easier to control than regular vibrators. You don't have to click the buttons on the actual vibrator. Instead, you can have the remote in your hand and click through all your options and vibration patterns quickly and easily.
A Bullet Vibrator With Rotating Or Fluttering Features
As mentioned before, all bullet vibrators have the vibrating feature. The levels of intensity and vibration patterns available vary between different types and brands. 
For example, some toys will have three vibration speeds and seven pulsation patterns, while others will have a more extensive selection of vibration modes and patterns.
However, there are toys on the market that offer even more. For example, the Je Joue Clitoral Rabbit Vibrator, previously mentioned, has a particular shape that makes it a clit cuddler (the rabbit ears go around the clitoris, providing a more well-rounded clitoral stimulation). Others, such as the Maude Vibe, have additional features you might be interested in.
Usually, bullet vibrators have one motor that makes the toy vibrate. The Maude Vibe and some other exclusive toys (like the Je Joue and We-Vibe luxury items) have motors that control the very tip of the toy and make it rotate or flutter.
Those particular features offer a different type of sensation. For example, the flutter feature that the Maude Vibe offers simulates the "come-hit-er" motion that some women adore, while the rotating feature some other sex toys have provides the circular stimulation that many women find necessary for orgasms. 
A Suction Bullet Vibrator
If you're looking for a bullet vibe that goes the extra mile, consider getting a suction bullet vibrator. That type of bullet vibrator has a suction feature that simulates oral sex.
The suction feature provides an entirely different experience than any other bullet vibrator could. Most suction bullet vibes use air-pulse technology to emulate the sucking motion. That forms a vacuum between your clitoris and the bullet vibrator, which creates the same sensations oral sex does.
There are plenty of suction vibes on the market. Some offer just the sucking feature (like the We-Vibe Melt), while others, like the Inmi Bloomgasm, also allow you to use them as a regular bullet vibrator. The Bloomgasm has three vibration speeds and seven pulsation patterns, which, combined with the suction feature, will make the toy well worth the money.
Multiple Vibes
If you think that it's a shame you have so many erogenous zones but only one bullet vibrator, then multiple vibes toys are the right pick for you. 
These toys have more than one bullet connected to the same controller. That allows you to stimulate more than one erogenous zone simultaneously. For example, you can put one bullet vibrator directly on your clitoris. At the same time, the other can stimulate your vaginal opening or even your butt. 
Toys like the Inter-Actives Trio bullet vibrator are an excellent pick for those who want a discreet bullet vibrator that stimulates more than one spot. 
G-Spot Bullet Vibrators
Just because a bullet vibrator is small doesn't mean it can't be used for internal stimulation. You don't need a ten-inch monster to reach your G-spot. 
Most women don't particularly like to use a huge toy every time they masturbate. They do, however, enjoy both internal and external stimulation, which is why a G-spot bullet vibrator is a fantastic solution here.
Extra Discreet
If you're looking for a mini bullet vibrator that offers both intense vibrations and absolute discretion, then something like the Blush Rose Lipstick Vibe is the right toy for you.
Fashioned to look exactly like an actual lipstick, this toy is entirely inconspicuous. However, it's also a powerful vibrator. 
It looks like it belongs in your makeup kit, which means that even if someone does dare to snoop through your things, they'll never know that you have a naughty addition in your bag.
An extra discreet bullet vibe also makes for a great gift. In addition, they are tasteful and elegant. What more could a woman want? 
The only downside of this excellent bullet vibe is that it is so realistic that you might pull it out by mistake when trying to fix your makeup. But don't worry; no one will know what you do with it when alone!
Vibrating Panty Bullet
A compact vibrator that isn't visible when it's in your panties is a great tool for public play. If you're looking for the best bullet vibrators that allow you to wear them, consider vibrating panty bullets. 
This type of bullet vibrator comes with panties or straps to keep the toy secured to your body while you're out and about. But, of course, you don't have to use these toys just for public play. If that's not your jam, you can also wear them in the privacy of your own home and make your days infinitely more fun.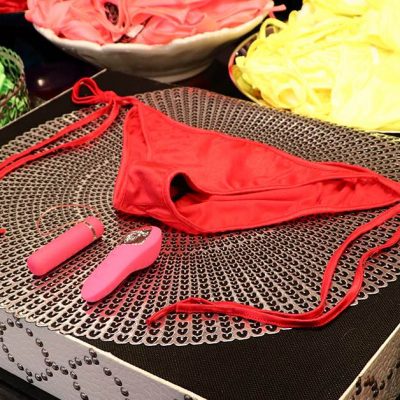 Other Factors to Consider When Picking the Best Bullet Vibrator
As mentioned, the type is only one factor that you should consider. When it comes to finding the best bullet vibrators on the market, you have to consider every toy feature. That includes the following:
material
size
features
control type
shape
price
what you'll use it for
Finding the best bullet vibrators is no easy task, so here's a quick buying guide that you can consult while doing your research.
The Material
The material is the most important factor you need to consider while looking for your new toy. The best bullet vibrators will always be body-safe. They will be made out of phthalate-free silicone or other body-safe materials such as TPE, glass, or metal. 
There are also plastic and jelly vibrating bullets on the market. However, those materials aren't as body-safe as silicone is. Like Jack and Jill, We-Vibe, Lovehoney, Je Joue, and others, the biggest brands out there use medical-grade silicone for their toys because it's the safest option. 
Considering that a bullet vibrator will come close to some of your most intimate parts, you want to pick a toy that won't compromise your vagina's natural flora.
If you opt for a silicone bullet vibrator (which we recommend), make sure you get the right lube. Silicone-based lubricants don't mix well with silicone toys since they can eat through the material. So instead, get a water-based lube.
The Size
Although a bullet vibrator is small by nature (or, better said, design), that doesn't mean they are all the same in size. Instead, the best bullet vibrators will be small enough to be discreet and big enough to stimulate you the way you need. 
So, when picking a toy for yourself, always consider the size. Something more on the smaller side is acceptable if you don't need a lot of stimulation (or are looking for precise stimulation). Still, if you're more of a "give me all" type of a woman, you might need a bigger bullet vibrator. 
The Features
Of course, we've already mentioned that a bullet vibrator can have more than one feature. So, while picking the right one for you, check how many vibration speeds, intensities, and patterns it has. Some bullet vibrators have only a few (for example, four speeds and three intensities), while others can have plenty.
If you don't need that many options, you can find a bullet vibrator that hits your sweet spot. For example, a toy with five speeds and five vibration patterns offers plenty of fun combinations, but not so many that you get overwhelmed.
Aside from vibration combos, you should also check out additional features the toy might have. For example, does it pulsate at the tip, has a fluttering or a suction feature, is it insertable, etc.?
The Control Type
We've already gone over the different control options when it comes to bullet vibrators. Depending on what type of toy you need, you can opt for regular or remote control toys. The latter is an excellent option for those who plan to use the toy with a partner.
The Shape
The best thing about bullet vibrators is that they are versatile. They don't necessarily have to look like bullets. These toys come in various shapes. Why? Because different forms provide different sensations. 
Not every woman will enjoy the direct clitoral stimulation that a typical bullet vibrator offers. Some women prefer their entire clitoral area to be stimulated, which is why bullet vibrators like the Red Hot Fuego are so popular.
Alternatively, some bullet vibrators are clit cuddlers, which means they have two prongs (or rabbit ears, if you prefer) that go around the clitoris and provide stimulation from all sides. 
So, there's something for everyone, so you have to figure out which type of sensations and stimulation you prefer and then pick the right shape for yourself.
The Price
Although an affordable bullet vibrator might seem tempting, sometimes it's better to invest in a high-end toy. Those are generally better designed, offer more features, and are made from body-safe materials. We-Vibe Tango, for example, is an expensive toy, but it offers so much that it's worth the money.
On the other hand, just because a toy is expensive doesn't mean it's also high-quality. What's more, a costly toy might not have what you're looking for. So, don't let the price be the determining factor. 
The Brand
There are some bullet vibrator brands out there that dominate the market. They do so by consistently delivering outstanding products to their clients. So, picking a toy based on the brand isn't necessarily bad. 
However, just like with the price, the brand shouldn't be the only factor you consider. Some brands might seem high-quality, but in reality, they just have a good marketing department that makes their toys seem like excellent choices. 
It's best to do some research on your own, even if the brand is well-known. Nothing speaks more highly of a brand than five-star reviews from happy customers, so keep an eye out for that.
Anything Else to Consider?
Yes! You've probably narrowed down your search to a couple of options by now. That's great, but you still have a long way to go before finding the "one bullet to rule them all."
Single vs. Dual Bullets
First of all, you should decide whether you need more than one point of stimulation. You can move along merrily if you're happy with just the one. But if you're looking for more than one, consider whether the dual (or triple) bullet you picked is worth your time (and money).
For example, figure out whether the two different bullets provide different sensations and if so, does that work for you? Ideally, the two or three bullets will be the same size and offer the same features (and vibration intensities). However, it's also good if you have more options to choose from simply because you might not want the same sensations (or the same intensity of stimulation) in various erogenous zones.
If this seems more complicated, you can just pick a couple of different single bullet vibrators and call it a day.
Short vs. Long-Distance Control
Remote-controlled bullets are great toys, but not all offer the same features. Some work via Bluetooth and provide short-range control, while others allow you to connect them to a wireless remote.
The latter also offers the option of long-distance lovemaking. This is a great feature for couples in long-distance relationships. Wireless remote toys usually connect via an app that one or more people can control.
Special Shapes
Not every special shape will work for you. The Red Hot Fuego we mentioned is an excellent option for women who prefer stimulation that isn't as direct. Still, some women might not find that fun. Try out what kind of stimulation you like, lest you end up with a bullet vibrator that can never quite hit the right spot.
How Do I Use My Bullet Vibrator?
You can use a bullet vibrator in pretty much any way you want. Of course, the toy is designed with solo play in mind, but that doesn't mean you're the only one who can play with it. 
If you ask any sexual health educator, they'll tell you that experimenting and exploring your body is an excellent way to get more comfortable with your sexuality and increase overall satisfaction. The great news is that a bullet vibrator can significantly help with that. 
It's a versatile toy that you can use by yourself or with a partner. What's more, you don't have to keep your play confined to the bedroom. You can use a bullet vibrator:
In the bath (provided you get the waterproof type)
In public (with or without a partner) — imagine not knowing when your partner will click through one of five speeds or increase the intensity!
With your partner who isn't in the same room with you — depending on the range of your toy, you can use the bullet vibrator to play with someone in the other room or on another continent. The options are endless!
To spice things up during oral sex, providing extra clitoral stimulation with the bullet vibrator will make it easier for you to reach an orgasm. You can also place the vibrating bullet inside of yourself. The thin walls of your vagina will allow the vibrations to permeate throughout your entire pelvic area, making the whole experience much more pleasurable for you.
During penetrative sex — as we already mentioned, many women can't orgasm from penetrative sex alone. However, suppose you place a bullet vibrator onto your clit while having sex with your partner. In that case, you'll increase your odds of actually orgasming during it.
A Few Parting Words
Buying a bullet vibrator is a great move. Bullet vibrators are discreet but powerful toys that can enhance both your solo play and partnered sex. Who would have thought that a toy that small could impact people's sex lives? 
Well, now you know that and how to pick the best bullet vibrator for you! Happy shopping!