If you've ever looked at a sex swing and thought, "That looks fun, but I wouldn't know where to begin," you're not alone. While sex swings add an element of fun and kinkiness to any sexual encounter, all the straps plus the set-up can be intimidating for some people.
You're in luck because we're here to help. With a few tips, you'll be swinging and having sex at the same time in no time at all. Here's what you need to know.
Figure Out What Kind of Sex Swing You Want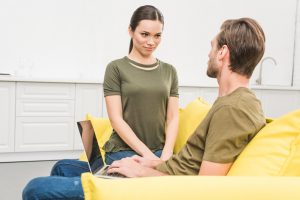 Not all sex swings are the same, and the room you'll use it in often determines the type of swing you can buy. Two questions to ask before buying a swing are: How will you mount it and what are the weight limitations? You want a sex swing that you can put up easily and use safely.
Doorway mounted sex swings are great for beginners because they don't require a lot of hardware. All you need is a sturdy, solid door —

not

a

hollow-core door

.

For full mobility and access on a sex swing, you can choose one that mounts to the ceiling and hangs in the center of the room. Make sure you mount it to the

correct ceiling beam

so it doesn't come crashing down in the middle of your good time.

You can also purchase a sex swing with a stand, but you'll need plenty of room to use it, and the material matters — you don't want anything too flimsy that could bend or break.
Shop for Comfort and Support
Some sex swings are little more than a bunch of straps to keep you suspended in the air. Others include padded seats, grips, stirrups, and more. Look for a sex swing that makes it easy for you or your partner to sit and stay in for any length of time. As a beginner, the more padding in your swing the better until you get used to using it. If you've used sex swings in the past and only need something to add leverage and movement, you may do well with less padding. Until you know for certain, err on the side of comfort.
Start Slow
Using a sex swing can be intimidating at first. There's the fear of falling or of not "doing it" right. There is no right or wrong on a sex swing, as long as it's mounted safely. Before you and a partner dive in, though, take your time and get comfortable with all the parts of your swing.
Sit down and find your center of gravity. With a door mount or a sex swing stand, it should be as easy as sitting down.

Put your feet in the stirrups and decide how that feels. Once you're comfortable, you can put your thighs in the stirrups instead. You don't have to decide which you like better right now but note which one is most comfortable for you.

Grab the straps or handles. Does that make you feel more secure and steady? If not, try grabbing lower down than the handles which may be placed well over your head.

Adjust the straps as needed so that your feet and hands can reach comfortably.

Once you're comfortable, try standing in the stirrups or placing your stomach in the seat (instead of your butt). Now is the time to try different positions to figure out what you want to try later.
Do all of this as a way to "test" your sex swing before you're ready for sex. Think like a kid again and move around on the swing to find positions you enjoy and to get more comfortable.
Experiment with Positions
Once you're comfortable sitting on and moving with your sex swing, it's time to get naked and play! The different positions you can try are only limited to your own mobility and comfort level on the swing. Many people start out with oral or penetrative sex positions from a seated position.
But once you've mastered that, the sky's the limit. You can try oral from behind, anal and vaginal penetration from multiple angles, full 360-degree access to touch multiple erogenous zones, and even fun with multiple partners. There's no single right way to enjoy a sex swing, only what sounds fun to you and your partner.
Conclusion
If you're ready for a wild ride in your sex life, a sex swing may be the perfect addition to your bedroom. You can kink up your pleasure or use it for sex positions that have become impossible due to mobility issues. Try oral or penetrative sex or enjoy a kinky spanking or a threesome on it.
At Jack and Jill Adult we believe that there is no limit to what you can do on the right sex swing. Don't let the straps and all the possibilities intimidate you. Start slowly and do what feels good to you. In no time, you'll be swinging from it like a pro!
Have you ever bought a sex swing? What tips do you think others need to know? Share your thoughts down in the comments below!