Like every other sex toy, buying a dildo is an extremely personal decision. What works for someone else might not be the best one for you. You have to think about how you want to play, what feels good to you, and what you enjoy. Trying to find the perfect toy can feel a bit overwhelming at times.
Here's what you need to know to buy the perfect-for-you dildo.
What to Consider When You Buy a Dildo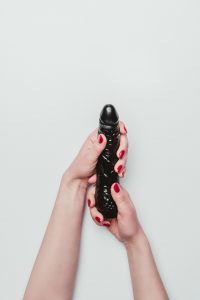 Not all dildos are created equal, and not all dildos can provide the same pleasure. When you're considering which toy to get, it's important to think about how you intend to use it and what you want to feel. Ask yourself these questions to find a dildo you'll love.
What Do You Want to Do With Your New Dildo?
The goal of using any sex toy is supposed to be pleasure, but beyond that, think of what you want. Do you need penetration? Are you ready to try something bigger? Do you want to be fisted but can't handle the full size yet? What you want to do matters when you buy any sex toy, not just a dildo.
Do You Want to Hit a Certain Spot?
Every sex toy stimulates a part of your body, internal or external. That's kind of the point. Since we're talking about dildos, let's look internal. Curved dildos, whether curved in the middle or at the tip, are better for hitting the g-spot or the p-spot during penetration. For people who get off on this kind of stimulation, the right dildo can make all the difference, during masturbation or partnered sex.
Are You Looking for New Sensations?
Sensations are the name of the game with sex toys, in general. Sometimes you want a familiar sensation, and sometimes you crave a new one. The questions to consider here are: What do you want to feel now and what have you used previously? If the majority of your experience with penetration is a specific type of dildo or penises of a similar shape, it might be time to go with a new shape or size. But if you know what you like, and you want to stick with it, there's nothing wrong with going with what you know.
What Turns You On?
In the quest for the perfect-for-you dildo, there is no right or wrong answer to this. Ultimately, you should choose whatever appeals to you most. If you crave a small, hot pink dildo, buy it. If you really want a thick, long dong, get that instead. Buy a dildo based on your mood, your sexual preferences, or because it looks cool. All that matters is that it turns you on so much you want to use it.
Where Will You Use Your Dildo?
This question refers directly to where you want to stick your new dildo. Are you using it for vaginal penetration or anal, maybe some deepthroat practice? It doesn't matter how you want to play, but knowing where it's going can help determine what size, shape, and even material you choose. For anal, you might want something small — especially if you're a newbie. To stretch your limits, choose something bigger than usual. And if you want something average, look for a five to six inch dildo.
Will You Play Solo or With a Partner?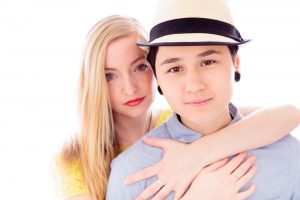 Masturbating with a dildo is a common way to play. This means you need something that's easy to hold or something that lets you go hands-free. That's where a strong suction cup becomes important. If you play with a partner, though, it's important to think about how you'll play — who's penetrating who. You can hold it in your hand or you can use a strapon harness, which means you'll need a dildo that's compatible with a harness.
Will You Need Lube?
In general, the answer to this question is always yes. The type of lube depends on which dildo you get. Rubber, jelly, TPE/TPR, and some silicone dildos required water-based lubricant. These lubes wear off after a while so you typically need to re-apply them as you play. Metal, glass, plastic, and some silicone dildos can handle silicone lube. This is a thicker lube that lasts longer but can sometimes stain the sheets, so be careful.
Understanding Dildo Material
Sex toy materials can be very confusing when you're shopping. What's best? What's safe? How will it feel? It's okay if you have a lot of questions. Here's what you do need to know:
Silicone
Higher-end, luxury sex toys tend to be made from silicone, but you can also find affordable dildos made from it, too. Silicone offers a slight give and squishiness while still being firm enough for penetration. These dildos can be smooth with none of the "realistic" texture of veins or ridges, while others are extremely realistic. Dildos made of silicone come in almost any color you can imagine from flesh tones to neon colors.
Use a water-based lubricant unless the manufacturer states otherwise.
Glass
Glass dildos are fun and popular for many reasons. They tend to look beautiful, almost like works of art. These dildos also come in fun shapes and designs while adding in splashes of color. Even better, if you like to play with different sensations, glass is perfect for this. Warm it up or pop it in the freezer and then drive yourself or a partner wild with the difference in temperature against your skin.
Glass dildos are safe for any kind of lube, and because of the glass used to make them, won't break or shatter. 
TPR/TPE
TPR/TPE is one of the most common dildo materials because the softness of it means your dong can feel very lifelike. It also means they tend to be less expensive, too. These dildos come in different colors, are soft to the touch, and are often phthalate free. It's definitely going to give you a more realistic sensation during penetration. TPR/TPE dildos aren't perfect even if they are affordable. You can't sterilize them because of the porous material. You can use a toy cleaner to keep them clean, but it's not foolproof.
Only use water-based lubricants with these dildos as silicone or oil lubes can break down the material.
Metal
Another body safe material, metal dildos let you play with temperature like a glass dildo. Unlike glass with fun designs, metal tends to be sleek, smooth, and fairly simple — but oh so pleasurable. You can clean metal with toy cleaners or by throwing it in the top rack of your dishwasher for a thorough cleaning.
Metal dildos can use any kind of lubricant so use whatever you like best.
Ceramic and Wood
Both ceramic and wood dildos deserve a mention. Generally these dildos will be custom made with no two being identical. It's important that both are made to be body safe. Ceramic must be fired in a kiln with a specific glaze, while wood dildos should be finished with a non-toxic, food safe finish. These dildos tend to look like works of art, much like glass and are great for new sensations and as a fun addition to any dildo collection.
It's always best to use water-based lube unless the manufacturer tells you other lubricants are safe, as well.
Why Size Matters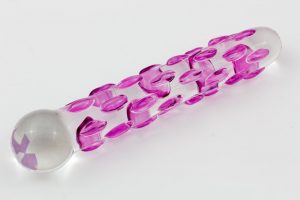 Penis size doesn't really matter, but dildo size does. A bigger dildo may not be what you want. Depending on how you want to play with your dildo, smaller may be best. As you consider different dildos, it's important to think about the size.
Bigger isn't Always Better
Being too big can cause serious discomfort to a person with a vulva especially if it's long enough to hit the cervix (ouch!). The vagina can also expand to handle larger and wider sizes but not without pain if you're not careful. That's why it hurts so much to have a baby. A willing vagina can handle bigger sizes but not without time, patience, and a lot of lube. 
Too big isn't just for vulvas, though. A too-big dildo will make anal sex a very short, painful experience. Like the vagina, with enough time, patience, and yes, lube, anal doesn't have to hurt but it's important to start with the right size dildo first.
Too Small Doesn't Always Work Either
"Too small" isn't the most accurate term. A dildo can be too short causing it to miss the all-important g-spot. A dildo might be long enough but slender so it doesn't give you (or your partner) a full or stretched feeling you want during penetration. 
For dildo newbies, starting with an "average" size tends to work most often. Look for dildos measuring five to six inches in length with a 1.5 inch diameter. This size should be fine for most vaginas, though it may be much too big for anal sex newbies.
When You Want a Big D
Some people want a massive dildo. They might be size queens or kings or long-time players looking to stretch the limits of what they can handle, especially in kinky play. If this is you, giant dildos can be perfect for fisting or finding out just how much you can shove inside your body. As with anything you do with a dildo, you need time, patience, and lots of lube. With a big dildo, you can't have enough lube.
When You Want a Little D
There are times when a small dildo is the best option. As we mentioned earlier, anal sex is an easy one. Always start small. Look for slender dildos. But that's not the only time smaller is better. If you experience discomfort during vaginal penetration, you may want to try something smaller than "average." And if you're trying double penetration for the first time, you'll definitely need a small dildo — either for your vagina or anus.
Conclusion
It doesn't matter if you're buying your first dildo or your hundredth. You need something that feels good in your hand and in your body. The cheapest dildo or the brightest colors might not be right for you. Size definitely matters as does the material your new dildo is made from. Take a little time and look through all your options. You may find that one dildo isn't enough to satisfy you, and that's okay, too. We can all use more dildos in our life!
Are you ready to go out and buy your next dildo? Do you have any other questions about finding the perfect-for-you toy? Let us know down in the comments!