Even when we're not dealing with a pandemic, virtual sex over video chat is a very real way for couples to connect when apart. But when social distancing, lockdowns, and quarantines impact our lives, the only way for some horny people to get it on with your significant other might be through video chat.
Log in to your preferred platform, grab your favorite couples' sex toy, and use these tips to make sure you both feel satisfied after your virtual hook-up.
Virtual Sex is a Shared Experience, Even When Apart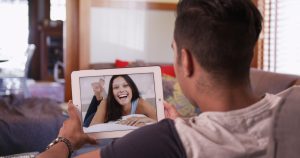 "It goes without saying that our modern digital era has allowed us to develop a new genre of physical intimacy through the issue of the internet," states Jolene Caufield, Senior Advisor for Healthy Howard.
"Advancements in computer technology have sparked a revolution in our ways of sexual interactions and it's not surprising that many find it exciting while being viewed as a new territory with unexplored terrains. While most would rather have the real thing, virtual sex is more fun than masturbating alone, and it still allows for a shared and special experience even when apart during a pandemic."
Limit Virtual and In-Person Distractions
Every virtual meeting space is a little different, but if you plan to get hot and heavy with a partner, choose the option with the fewest distractions.
"Doing virtual sex via messaging apps like Skype, messenger, and Facetime can be a bit inconvenient," says Caulfield. "There's a high chance you'll get interrupted whenever a new message badge appears. Zoom and other private meeting apps are your best choice as it offers an added layer of security for you and your partner. Not only will it allow you to easily see all the audiences, but will also only allow people with unique codes to enter the call."
"Additionally, in the matter of distraction, you should always take precautionary measures to ensure an uninterrupted time by doing your business in the privacy of your own room," advises Caulfield.&
The Initial Discomfort is Typical
Feel awkward just thinking about virtual sex? You're definitely not alone. A certain amount of discomfort is typical, though you can overcome much of it.
"Virtual sex isn't necessarily easy, and it's okay if you or your partner isn't completely up for it especially during the first time," states Caulfield. "But the discomfort can be easily be overcome by starting your video calls by talking about what you want to do to each other. Foreplay is as important in virtual sex as it is in physical sex and it is the first step in overcoming camera shyness among couples."
Don't Jump Straight Into Sex
"Newbies to virtual sex should first start with phone sex and sexting and slowly advance to video calling," advises Nikolina Jeric, founder of 2Date4Love.com. "We shouldn't be explicit right away, but rather build the tension slowly, which will help us relax and prepare us for "the great finale."
Not sure where to begin? Talk about previous encounters says Jeric. "Virtual sex can start with reminiscing about past encounters. You can send your partner a message "Remember that time when we were in a cottage house?" and start slowly describing what you did. You can progress from texts to voice messages, sending one message at a time, building tension slowly."
Try a Long Distance Couples' Sex Toy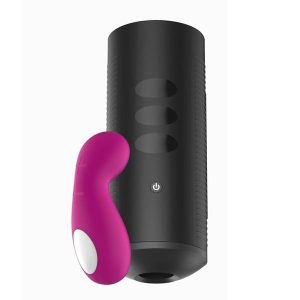 Once you're ready to get down and dirty on video chat, whether you're using Zoom on your laptop or a video chat app on your phone, it's time to figure out how you want to do it. There's nothing wrong with using your hand, but the right interactive sex toy gives you a unique way to connect.
Brands like We-Vibe allow partners to connect through a mobile app, so one partner controls the other partner's app. If you each have a We-Vibe toy (like a We-Vibe Touch and a We-Vibe Verge), you can double your fun through the vibrations you feel and the app you use.
Kiiroo takes the interactive experience to a different level. You can connect your sex toy, whether a masturbator such as the Titan or a vibrator such as the Cliona to each other and "feel" your partner when you play across the distance. Not only do you get to watch or hear your partner, but you also get to experience their movements, too.
Conclusion
Not unlike in-person sex, virtual sex takes a bit of time, comfort, and sometimes a sex toy or two to be good for both of you. Finding the right platform is a lot like finding the right location (your place or theirs?). Easing into things and taking your time gives both of you a chance to get in the mood. Adding a couple's sex toy enhances every sensation and creates a satisfying experience for everyone.
Virtual sex isn't the same as in-person, It can't completely replace physical touch, but until you can be together again, it's a great way to connect and get off together.
Have you tried virtual sex before? Do you have any tips or advice that we didn't list here? Share your experience in the comments below!