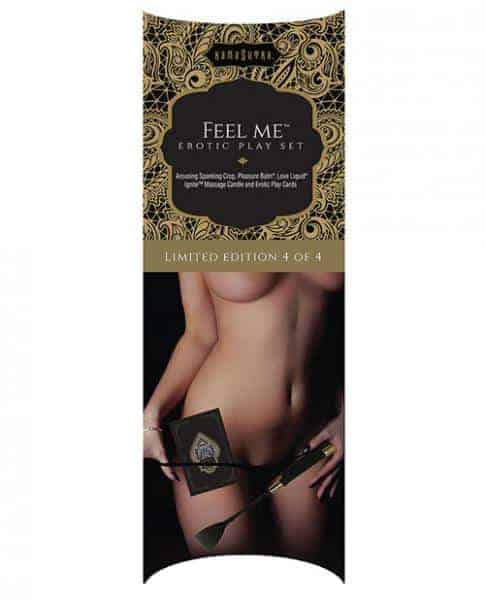 There's no time of year more stressful or monetarily consuming than the holidays. For these few months, life becomes unbelievably hectic as we scramble to get all our affairs in order and get the important people in our life presents that they'll most likely forget about by January. Exciting, no? When life gets this tense, you need a release. And there's no better way of achieving this by giving the gift of sex. Because we care about the effectiveness of your libido as much as you do, Jack and Jill Adult is offering some prime gift packages to spice things up under the mistletoe. 
Gifts for the Grabby (and Grabbed)
Kama Sutra Feel Me Playset $37 While the term 'playset' might be synonymous with the toys you had as a child, these are for grownups! The Kama Sutra is one of the most revered books in the world, and proof that love was wild and alive in the ancient world. Now you and your partner can embrace these venerable traditions (and one another) as you unwrap things by the tree. Also available—
Kama Sutra Arouse Me Playset $41
Kama Sutra Trust Me Playset $41
Kama Sutra Surprise Me Playset $37
Earthly Body Hemp Seed Tasty Travel Collection – Strawberry $20
Sexual chemistry excites the senses. Now you have the chance to give your partner something that will thrill touch and taste. The holidays only come around once a year, may it be your blessing to make it a more exciting time. 
Shunga Fruity Kisses Collection $48
A treat from the far east makes its way to the wild west. Break out the mistletoe and pucker up, this set, which also comes with aphrodisiac oil will stimulate the senses and give you an evening of sensual delight. Things will heat up like chestnuts on an open fire. 
For more wonderful (and stimulating) gift ideas visit www.Jackandjilladult.com. We offer free shipping on orders over $60 and offer complete and total discretion to our customers. We would also like to wish all of our clientele a very Merry Christmas and even happier New Year.