Valentine's Day is just around the corner, a day of gifts and gestures in the name of romantic love. For many it's a stressful holiday known for unmet expectations, disappointment and unnecessary costs. But with most of the world still in one degree of COVID-19 lockdown or another, it's safe to say that Valentine's Day 2021 is going to be unlike any we've had before. And is that really such a bad thing? 
Lingerie has entered the chat…
Now, I know what you're thinking: Lingerie? For Valentine's Day? How …expected. And you're not wrong! Lingerie is a classic V-Day gift, but if we are re-imagining this Valentine's, then we can re-imagine lingerie's role in intimacy on February 14. It may seem like a hackneyed trope, but there are many ways to look at lingerie more creatively. And in ways that just might re-kindle your Valentine's fire.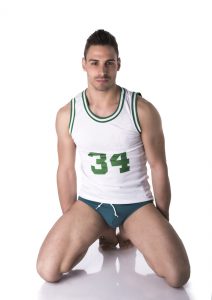 What if lingerie was for … everyone?
Lingerie doesn't have to be just for cisgender women. Anyone who wishes to wear it can, and should, regardless of gender identity or expression. The lingerie industry has begun to bridge the gaps by creating men's lingerie and lingerie for a more diverse group of wearers. What could be sexier and more intimate than experimenting with who wears the lingerie? If it helps you relax and get into it, role play and costumes are a great way to incorporate lingerie in the bedroom.
No slut-shaming allowed
Lingerie often falls into two categories: pretty/sexy and sexy/slutty. The former is lovely and can be provocative in its own right, but we all know the naughtier kind. Bodystockings, fishnet everything, and little crotchless numbers that are not for the faint of heart. Chances are you've thought about wearing it or wanted your partner to wear it, even just once. So why not this year? Let's drop the prim and demure facade when it comes to lingerie. I say, if there was ever a year to dress in the lewd and tawdry stuff you'd usually overlook, this is it!  
Express your kinky side
While you're at it, why not dip your toe into the kink and fetishwear end of the lingerie spectrum? Fashion your own looks with little more than rope or bondage tape and add some pasties and you're ready for a hot night in. Don't forget to accessorize with some kinky toys! 
Buy them a gift they might actually enjoy wearing
The trouble with lingerie as a gift is that often the buyer is not the intended wearer, and therefore they buy something they want to see on their partner, not something they know their partner will love and feel sexy in. If you have taken it upon yourself to buy your love something lacy or racy for this Valentine's Day, I implore you: just get them a Jack and Jill Gift Card and be done with it. Otherwise, do a lot of reconnaissance so you are really confident in the size and style that they will enjoy. The best idea is shop for it together online.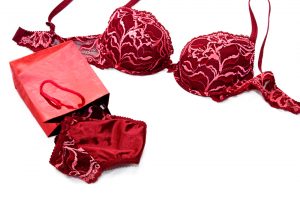 Make a night of it. Order take-out for dinner, pick indulgent for dessert, and then cuddle up and order sexy lingerie together. Not only will you both get what you want, but Valentine's won't end until that package arrives and its contents have been put on, and almost immediately taken off. Ooh la la! 
Spoil yourself
What becomes of the single folks on Valentine's Day? A tub of Ben and Jerry's? Sobbing through My Best Friend's Wedding for the 37th time? Live-Tweeting your slow descent into madness, rage, or indifference? Again, if ever there was a time to indulge yourself, this is it. Spending V-Day by yourself, with no expectations, no pressure and no one to impress, is kind of ideal. Kick your self-care into high gear and buy yourself some sexy lingerie and some toys for playing solo. Treat yourself this year, because I guarantee you, you have earned it.  
Conclusion
A definite plus of a mostly stay-home Valentine's Day is that expectations are immediately lowered. When the expectations of elaborate dates and fancy restaurants fall away you have room to look at things a bit differently, to get creative and reinterpret things. We have the opportunity to redefine Valentine's Day, to get down to what really matters: intimacy. Lingerie has a unique role to play in that intimacy this year; nostalgic in its symbolism while being a vehicle for new expressions, new passions and new moments of love. 
This year, make lingerie a new tradition, one that takes the potency of love from Valentine's Day and slow-releases it throughout the year every time it is worn. Whether you give it as a gift, buy it for yourself or slip into it to knock your lover's socks off, lingerie has the ability to connect us to intimacy, to sensuality, and to love. And these days, we could all use a little more love.
Will you incorporate lingerie into your Valentine's Day celebration this year? Share with us in the comments below!