Feel like your sex life is lacking, and you're not sure what to do about it? Whether you're single or in a relationship, there are plenty of things you can do — with and without using sex toys.
We asked several experts for their advice on to improve your sex life. Here's what they had to say.
Focus on Self Pleasure
"It's important to remember every sexual experience begins within ourselves, and masturbation embodies this journey," states Mia Sabat, a sex therapist with Emjoy. "Beyond stimulating our sex drive, self-pleasure allows us to connect with our minds and bodies within a context we often aren't able to explore. It can help us really focus on what we enjoy, without worrying about anyone else. This can be excellent for both our own wellbeing and our sex life as a whole.
Change the Way You Masturbate
Already masturbating? Wonderful! Still think there's room for improvement? It can be as simple as changing the way you masturbate, says Kate W., co-founder of PleasureBetter.com. "Changing how you masturbate can help keep masturbation novel and exciting – and it can teach you a lot about your body and what you enjoy!"
Why Masturbation?
According to Sabat, "Masturbation gives people the opportunity to understand their bodies, their preferences, their reactions, and their sexuality, so they can try out new habits and ways to touch themselves when alone. This is crucial because when individuals get to know their bodies better, they are better able to communicate their needs and preferences, which allows them to engage in a more fulfilling sexual experience, both with their partners and with themselves."
Use Porn and Erotica to Unlock Desires
Sabat highly recommends the use of porn and erotica as a way to improve your sex life. "Start by engaging both your mind and body in all sexual experiences, whether you're single or in a relationship. Try exploring different forms of erotica that appeal to your desires and sexuality. The majority of pornography to date has unfortunately been created for the male market, but that is changing."
Before you write off porn as not for you, especially if you're a woman, Sabat wants you to rethink that. "The world has been slow to wake up to female sexuality but increasingly, erotica of all forms is being made by women, for women, and is designed to excite both men and women alike. Do your research and work out the kind of porn that you might be interested in experimenting with. I often recommend that women engage with porn that is going to engage their mind first and foremost so that their pleasure, preferences, and fantasies are able to come to life."
You don't have to watch videos if that's not what you're into, says Sabat. "Erotic literature and audio erotica are excellent places to start because they go beyond sexual stimulation by bridging the gap between wellness and sexuality. These forms of pornography encourage our minds to be the first part of our being that feels stimulation, and allows our bodies to gently follow suit without pressure or time constraints."
Don't Forget Sex Toys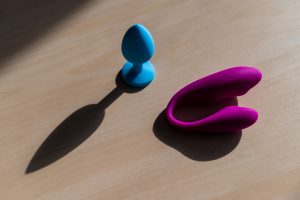 You knew we would bring this up, right? Of course, sex toys have a place in improving your sex life.
For single people, the time has never been better for spending a little time and money on yourself to explore your sexual pleasure and desires. Browse online from the comfort and privacy of your home internet connection and take your time picking an option or two that you're curious about.
For couples, adding sex toys into the mix can be a lot of fun. Playing together helps create a level of intimacy that can do amazing things for your sex life. If connection is what you crave, start building it before you add a sex toy to the mix.
"Try gazing into each other's eyes for a few minutes; breathing together three to five minutes, and trying five-senses adventures," says Tia Evagelou, sex and relationship coach. "Blindfold the other and use something to stimulate sensation that gets mixed in with massage."
FYI: Some of those sensations could come from a new sex toy, too.
When Sex Toys Intimidate Your Partner
The conversation about adding sex toys to your sex life with a partner can be fraught with insecurities and questions about how good they are in bed. But it doesn't have to be. Author and sex therapist, Dr. Diana Wiley, says as much in her book Love in the Time of Corona: Advice from a Sex Therapist for Couples in Quarantine (excerpt quoted with permission).
"For men in a heterosexual relationship, I have some pertinent advice: Make friends with the toys….[The] thinking goes something like: "Why do you want or need a sex toy except to masturbate? When we are together, shouldn't I be enough?"
If you choose to view sex toys as competition, you're missing out on some great opportunities to increase your partner's pleasure. Instead, learn how to use different toys, especially in combination with other ways to stimulate her with your mouth, your hands, and your penis…She is likely to be very grateful for your willingness to practice and develop your new skills with sex toys. You'll get satisfaction from evoking her pleasure and receiving acknowledgment of your talents."
Conclusion
Masturbating and using sex toys might seem like a simple answer, but sometimes all you need are simple solutions. The real solution is to focus on yourself and what you want. It's both as simple and as complicated as that. When you do, you'll figure out what you want — and what you don't want — in your sex life.
Have you tried any of these tips to improve your sex life? Did it work? Let us know in the comments below!