If you look through a sex toy site you might find a number of toys that look like something out of science fiction movies. They have nozzles or openings that look more like mouths. Don't let the look of these toys freak you out. These are typically described as air pressure or suction vibrators that mimic the feeling of oral sex.
These toys can look kind of intimidating since they're not what we're used to. But there's a reason that these vibrators get rave reviews.
They provide intense and even multiple orgasms at times, stimulating the nearly 8,000 nerve endings in the clitoris.
What Do Clit Suction Vibrators Do?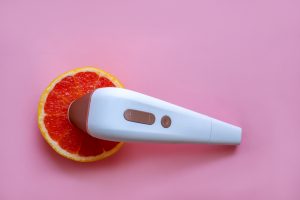 These toys use a "suction cup" at the tip to surround the clitoris and stimulates it via air pressure waves. That isn't to say that it provides intense suction, but rather it mimics the feeling of oral sex.
To get very technical, CNET's case study on one brand says that once the silicone head encircles the clit, "…there is a constant change between vacuum and overpressure, which helps blood circulation."
The design of these toys means that orgasms are typically described as "touch-free." This part of the design allows for multiple orgasms since your anatomy won't get used to one specific feeling.
Most clit suckers also respond to pressure. Press the opening harder against your clit, and the sensations become more powerful. Pull it away from your clit, and the sensation decreases. When it really starts to feel good, you might want to push it against your body even more.
What Toys Are Out There?
This type of vibrator has been out for years and has been reproduced, duped, and copied many times over. Still, there two sex toys get the most attention from users and curious people alike.
The first is the original Womanizer brand. They patented their air pleasure technology and became a leader in this type of adult toy.
While their original models are no longer available, they continue to innovate. With recent additions, such as The Womanizer Premium offering as many as 12 settings. It's also made with Smart Silence technology so it only engages when it comes in contact with the human body.
Others that have come out include the Satisfyer brand. The model you hear about most, The Satisfyer Pro 2, has 11 intensity levels at a lower price point.
They're not the only options in town with We-Vibe, LELO, and other brands getting in on the clit sucker game, too.
How Is It Different Than a Traditional Clit Vibrator?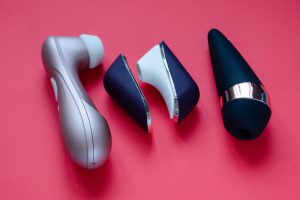 There's no denying that air pressure or suction toy is a remarkably different sensation, so your body will respond differently.
When you go through the reviews on product pages, you'll see claims about how quickly air pressure toys have made them come. This is because this sex stimulates a clitoris completely different than a typical clit vibe. The air pressure pulses against the clit in a gentle way, while surround the entire clitoris. Instead of a direct assault like a traditional vibrator, think of this as surround-sound pleasure.
One Satisfyer Pro 2 review described the orgasms this way: "The orgasms feel different—as if they're starting deeper down. And unlike with a lot of other sex toys, once you feel yourself getting close, you go over the edge immediately rather than building up gradually."
Should I Try One?
You are the only person who can decide if a particular vibrator is right for you, and the only way to know is to experiment.
While quick and intense orgasms can be great, they aren't for everyone. At the same time, the functionality of some air pressure vibrators leaves room for users to experiment and find an ideal intensity for them.
Other things to keep in mind include that not everyone will experience vibrators the same way, a particular brand's technology might not work for you, or you may find you don't like the feeling.
Conclusion
At the end of the day, pleasure means different things to different people, but if you want to try something different and you're tired of the vibration, then an air pressure sex toy may be right for you.
Have you tried a clit sucker vibrator yet? Which brand was it, and what did you think? Feel free to share with us in the comments below!