Toys—you enjoyed them as a child and they allowed you to take playtime to new heights of enjoyment. Now, you're an adult. Just because you're a little too big for the sandbox doesn't mean you can't enjoy playtime of a different variety. Welcome to the wonderful and often wild world of sex toys! You and your partner have a new playground called the bedroom, so why not maximize the enjoyment with a few choice items? Surrender to your inhibitions as we take you down the river Styx and into the realms of pleasure!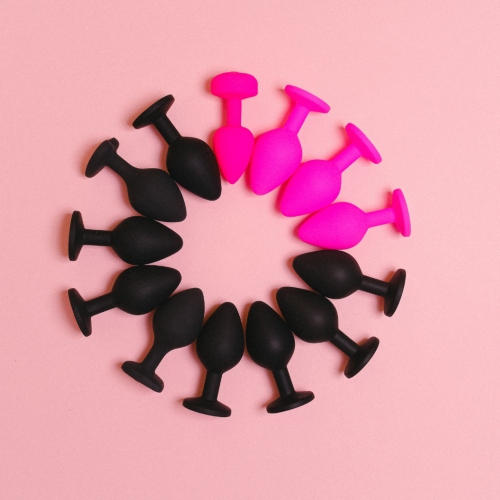 Suit Up!
Remember your favorite costumes from when you were a kid? The princess dress and Ghostbusters jumpsuit that allowed you to become someone else entirely? That concept exists in the adult world as well, and donning the right gear can open the floodgates of your libido. 
Bondage & BDSM Gear The Marquis de Sade once stated that "sex without pain is like food without taste." Crossing the boundaries between pleasure and pain might not be for everyone, but just some slight experimentation can elevate what happens in the bedroom to new heights. S&M is a great way to reinforce trust with your partner and starting out small with blindfolds and ball gags can help open the doors for more daring situations. 
Lingerie It's a fair assumption that whatever you're wearing will hit the floor once the bedroom door closes and the lights go out. The right outer wear can accentuate the intimacy of the situation and be the perfect way to introduce foreplay. Lingerie is a great way to tease and titillate and show off just enough of your curves to get him (or her) hot under the collar. 
Toys for Playtime 
Naturally, playtime isn't complete without toys. But which one is ideal? There are a wide variety of toys that can make any situation a night to never forget. Strap yourselves in, we're about to show you the proper way to accessorize. 
Dildos One of the oldest sex toys to exist is the dildo. (And we're not kidding, either.) These phallus shaped objects come in a wide variety of sizes for various uses, be it for anal or vaginal penetration. Picking the right one depends on the size of your libido. For beginners, it's recommended to start with a smaller size. For those with larger cravings, size will end up mattering. 
Vibrators As far as sex toy are concerned, vibrators tend to be the most popular and cover a wide variety of items. While the most popular are geared towards female pleasure, there also exists a fair amount for the boys as well in the form of cock rings and strokers. Vibrators are great for self-love or pairings with your partner. 
Butt Plugs Much like BDSM, anal sex isn't an activity for everyone. For those who are interested in experimentation, butt plugs can intensify many situations. While the plug stimulates the anal cavity, more focus can be placed on providing pleasure to other various areas on the body. 
Anal Beads If butt plugs seem like too much to take in, and you're still looking to experiment with anal sex, beads are excellent for beginners. Beads can be inserted gradually, one at a time until you or your partner discover the threshold that you both are comfortable with. 
Jack and Jill Adult
When you're ready to take pleasures in the bedroom to the next level, Jack and Jill Adult is your one-stop-pleasure-shop. Our inventory, much like libido, is always growing and we're constantly selling top notch products at a discounted rate. We ship all orders with discretion and all orders over $60 include free shipping. Visit our site at jackandjilladult.com/ for all of your needs.