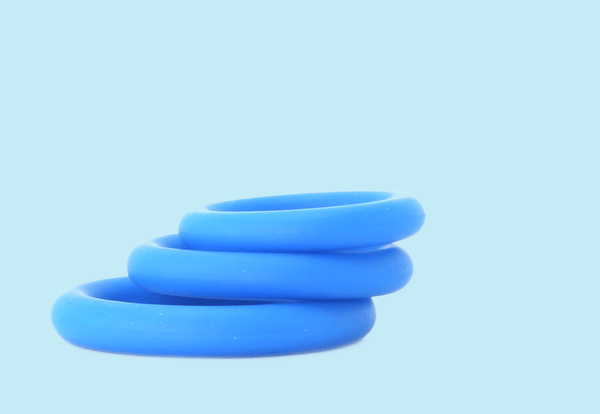 Cock ring – it just has a ring to it, now, doesn't it? Cock rings are one of the more popular sex toys on the market today, for a number of reasons. They are so popular that manufacturers have been creating different types of cock rings, different styles, and tons of exciting options. But how do they work? And can they actually make you last longer?
Like the answer to many other questions, the answer, as always, is, "it depends," on your body, how you use the ring, and the ring itself. Before you buy a cock ring, you may want to educate yourself on the different options, how cock rings work, and how to properly use them.
At the end of the day, it is a lot of fun for both partners (or for someone getting busy solo) to wear a cock ring and see how long they can last!
How Do Cock Rings Work?
Cock rings fit snugly around the base of the penis. This causes the arteries that lead into the penis to dilate, keeping the penis hard and making it more difficult (if not nearly impossible) for the wearer to reach an orgasm.
During dilation of the arteries, veins leading away from the penis also constrict and trap blood in the shaft leading to an erection. The erection is often harder and stays harder, making this a great option for people who have a difficult time staying fully hard. Erections feel more intense, partly from the actual physical fit and partly from the mental aspect of wearing the ring.
Are Cock Rings Safe?
We have good news – YES, cock rings are almost always safe. In order to use them in the safest possible way, be sure to follow these steps when buying and trying your cock ring:
1. Make Sure It Fits Properly
If you have never worn a cock ring before, start with an adjustable or stretch cock ring. They are easier to adjust to your size. If something is pinching, pulling, or just doesn't feel right, you may need to move on to a different option.
2. Don't Leave It on Too Long
All good things must come to an end! Your next step is to take it off after 15-20 minutes. The penis is a sensitive organ, and it can be damaged if left on too long. If you feel any numbness, pain, or your penis changes color before that time is up, remove your cock ring immediately.
Give your body some time to go back to normal before you try to put it on again.
3. Avoid Allergens
If you are allergic to something like latex or silicone, be sure to avoid those materials in your cock ring. You can never be too safe when it comes to sex toys because they are made out of different materials. If you have an allergen and you don't see the materials listed, try to reach out to support.
4. Reduce Friction by Manscaping
A little trim never hurt anyone! We don't like to tell anyone what to do with their body hair, but if you are going to wear a cock ring, you might benefit from maintaining your manscaping. Keep your pubic hair trimmed or shaved before you try a toy. Your hair can get pulled when you have a cock ring on, and that is very likely to ruin the mood.
5. Use Lube
Want to take the cock ring off quickly? Don't just rip it off. That could lead to some pretty significant pain. Be sure to use lube to gently slide your cock ring off your penis. Since you are going to be lasting longer with your partner, you'll want to use plenty of lube anyway because there's a chance that they may dry up a bit from all of the movement.
6. Wash Your Ring Like A Pro
Sometimes, people think that just because the cock ring isn't near the tip of the penis, it doesn't need to be cleaned properly. But this isn't true at all. You want to clean your cock ring to eliminate any lube, vaginal secretions, bacteria, and more. It shouldn't take long to clean, but you want to do it after every use to avoid any skin problems or infections.
Cock rings are safe as long as you follow the steps above.
When Do People Wear Cock Rings?
People often use cock rings during partnered sex, but they can also add extra sensation and pleasure during solo sex and assist folks who might be experiencing erectile dysfunction. It is important to note that wearing a penis ring will not stop premature ejaculation, but a tight-fitting band will help "slow your roll" and likely give you a few extra minutes of fun before that big pop. Only the tightest fitting rings will have the effect of slowing ejaculation, a loose or soft ring will not affect the timing of ejaculation much or at all. 
If you're flying solo, you can also use a cock ring to help you last a little bit longer. Want to last even longer? Try the game of tease and denial (or edging) with yourself, either with or without a cock ring playing with yourself until you are just on the verge of ejaculation and then stopping or slowing the action and ramping back up and repeating this cycle can not only make you last longer.  In general, it can also increase the intensity and pleasure experienced once you do finally let yourself orgasm.
So, we'll be honest – a cock ring isn't going to solve all of your sex-related issues, but it sure can make your night a little more fun and fancy-free!
Types of Cock Rings
Just like with other sex toys, there are a few different types of cock rings that will help you have a little more fun in the bedroom. These types are designed for different situations and different people, and most will have a lot of fun with multiple varieties.
Vibrating Cock Rings: Cock rings with vibrating components can add extra stimulation for you or a partner. It is best to start with lighter vibrations and then move your way to more intense ones, especially for your partner.
Adjustable Cock Rings: These rings will use different types of adjusters, so you can tighten and loosen the ring. This type is great for someone who doesn't have a lot of dexterity because you can adjust them with even one hand.
Stretchy Cock Rings: These rings are one solid piece made out of soft silicone. You stretch it and roll it up your penis, much like you would a condom.
Solid Cock Rings: These rings are best for someone who has a little more experience using cock rings. They are worn at the base of the penis, and then behind the scrotum. You have to be careful about the size you wear because they can cause damage if they are too tight. These are designed to be worn all day, largely as part of a BDSM relationship.
Cock and Ball Rings: This is actually a two-fer. It wraps around the base of your penis and around your testicles. If you have trouble with cumming too quickly, these are the best option to stunt that.
Cock Ring & Butt Plug: Can you say amazing? If so, you may be interested in the cock ring that attaches to a butt plug. These can take some time to get used to, but they are great for different types of men, including those who are on the smaller side.
The Grand Finale: Cock Rings Amp Up the Fun Factor In The Bedroom
Cock rings really bring the fun factor when it all comes down to it! A cock ring can help you get and maintain an erection, or it can just add a little bit of spice to your sex life. They can be worn every time you have sex, or you can just use them occasionally. Remember, your sex life is up to you, and you can use whatever toys you like to make it hotter between the sheets.
Long erections aren't everything, though it can certainly make you feel more confident to know you understand your body and how it functions – and how to optimize your magic stick action. So, why not have fun a little erotic fun training yourself? We totally encourage it!