Do you want a bigger penis? Are you struggling to get an erection? The right penis pump could make a big difference in your sex life.
Check out these two popular penis pumps to find the right one for you.
Pump Workx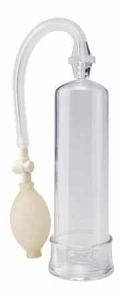 The Pump Workx Beginners Power Pump is perfect if you're new to penis pumps. It's simple design means you won't be intimidated when you put your penis inside the vacuum tube. The basic mechanisms makes it effective and easy to use from the first pump. Slide your flaccid penis into the cylinder and start pumping.
The clear cylinder allows you to watch your penis get bigger and longer while you squeeze the medicine-style pump ball. The smooth, flexible PVC opening is designed for your comfort while you use it. If the pressure gets too much, use the quick release valve with the push of a button. The Pump Worx also includes a penis ring so you can keep your bigger erection for longer.
Max Results Pump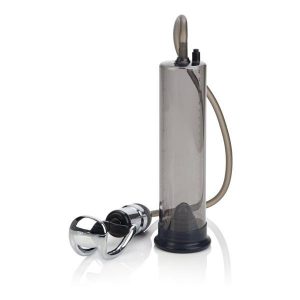 If you've used penis pumps for a while, you might be ready to move up to the Max Results Pump. While the mechanism is similar to other basic penis pumps, the Max comes with a few upgrades.
The handle has been redesigned to include a finger-pull hand pump, allowing greater control as you pump.

Enjoy the sensations without needing to watch the show with the transparent smoked vacuum tube.

The flexible hose and soft, silicone donut make this pump easier to use and more comfortable.

Use the included flange base with or without the silicone tapered sleeve.
Once you've gotten the hang of more basic penis pumps, it may be time to upgrade to the Max Results Pump. It still works on your own power, and it still has the quick release purge valve if you need it. But the extra features will take your pleasure and your erection to a new level.
Which Penis Pump is Better?
Both the Pump Worx Beginner Power Pump and the Max Results Pump are excellent pumps. Which one you'll want to buy will depend on your previous experience with pumping. If you're a complete newbie, start with the Pump Worx. And if you've experimented with penis pumps in the past, the Max Results is worth a look. After you've used that for a while, you may be ready for a mechanized penis pump, but start here first.
Using Penis Pumps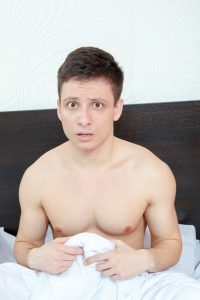 Before you buy a penis pump, make sure you keep certain things in mind, for your safety, comfort, and ease of use.
Use Lube
Always add lube where the tube will sit on your penis. As you pump, there will be some rubbing against your shaft. Without lube, you could have the equivalent of a rug burn when you're done.
Don't Pump Too Long
You should always stop pumping if you feel uncomfortable or too tightly squeezed in the tube. But in case neither of those things happens, always stop pumping after 10 to 15 minutes. More than that could result in injury.
Use the Quick Release Valve
Don't think you have to "be a man" and accept any discomfort you feel. Penis injuries are a real thing. If you begin to feel discomfort or pain, use the quick release valve. No matter what kind of penis pump you buy, it should always include this safety feature.
Results are Temporary
Whether you're dealing with erectile dysfunction (ED) or you just want a bigger penis for sex, penis pumps are a great option. Remember, though, that results are temporary. Once your erection is over, you'll be back to your usual size. Good news, though, if you have ED, sometimes you can help correct the condition with regular erections, masturbation, and orgasms so in that way a penis pump might help long term. Consult your doctor, though, and follow their advice.
Conclusion
Penis pumps serve as a medical device and a sex toy — and sometimes both at the same time. It all depends on what you need and want. Finding the right pump for you is key to having a good experience. Whether you're a beginner or not, either the Pump Worx Beginner Power Pump or the Max Results Pump are great options to try. Once you discover the power of a good penis pump, you may never go back to your old way of getting hard and having sex again.
Would you try either of these penis pumps? Which one would you prefer? Let us know below!