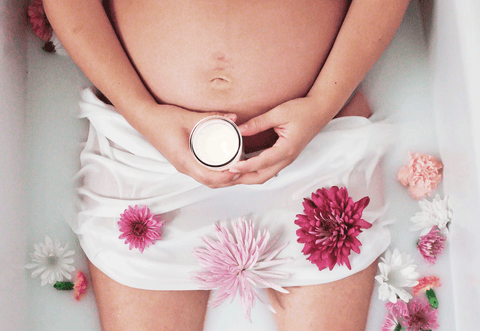 When it comes to pregnancy, it seems there's a whole lot of stuff– from booze to sushi to brie– that is off limits. This can leave folks who are expecting to wonder what exactly is safe and those questions absolutely extend to sex stuff! Even if you know you pregnancy is low risk and your OB-GYN has said pregnancy sex is A-Ok, you may still have questions. One that comes up a lot is "can I use a vibrator?" so, let's talk about it.  Read on to learn about vibrator use– as well as other sexual activity– during pregnancy!
Is it safe to use a vibrator when pregnant?
Let's cut right to the chase: Yes. For most pregnant folks vibrator use is perfectly safe.
In fact for most folks who are having what is referred to as a "low risk" pregnancy (as opposed to a high risk pregnancy which can come with significantly more restrictions), sex and masturbation, including using a vibrator externally or internally, is safe. Additionally, some folks find that sexual activity during pregnancy provides them with a much-need opportunity to connect with and learn about their pregnant body while also relieving stress and providing a much-needed distraction from some of the discomforts that can come with growing a human inside your body.
During pregnancy, the baby is protected and kept safe by the amniotic sac as well as the muscles of the uterus, while the mucus plug seals the cervix helping to guard against vaginal infection.  All of this means that your baby is safe inside your body, even if you engage in penetrative sexually activities with a sex toy or a penis. To be perfectly clear, there is no chance of a vibrator, a dildo, or a penis coming into contact with the fetus during pregnancy.
Things to remember when using a vibrator when pregnant
Now, as with anything really, there are some things it is helpful to keep in mind when it comes to using a vibrator while pregnant:
If you are in doubt as to what sexual sexual activities are safe for you specifically definitely talk to your OB-GYN. If nothing else, this will put your mind at ease. 
Be aware that your body is different right now. During pregnancy the body experiences hormonal shifts and that might mean you need to use more lubricant than usual. Additionally, the physical realities of life in a pregnant body might lead to trying different positions to find one that is both comfortable and effective.
Keep your adult sex toys clean (that's always a good idea anyway), and consider using sex toys made of a nonporous material like silicone, ABS plastic, steel, or glass, as these have no little pores in which bacteria can hide.
If you experience any discomfort or vaginal bleeding, stop what you are doing. Listen to your body.
Perhaps obviously, you should discontinue all vibrator (or any other toy) use if your doctor recommends avoiding sexual activity.
Perhaps less obviously, you also want to discontinue toy use if your water has broken.  
What about other sex acts during pregnancy?
So your OB-GYN has given you the green light for sex stuff during your pregnancy, great! Are there things you should keep in mind to keep everything safe and comfortable? Absolutely! Truth be told, some of this is stuff that could (and often should) be applied to any type of sexual intercourse at any point in your life, but it's valuable to address it when we talk about sex during pregnancy. That said, some of this is stuff you might never have thought of that is important to know before getting busy while there's a bun in your oven!
In the last section we talked about how if you are concerned, you should talk to your OB-GYN to put your mind at ease, well when it comes to partnered sex, the same may be true for your partner! Some partners worry about hurting the baby by having sex and for them, it can be helpful to accompany their partner on an OB-GYN visit and ask any questions they have. 
Be aware that your interest in sex as well as the specific activities you are excited about may shift during pregnancy and that's okay. Just be sure to communicate with your partner so you can be on the same page and create mutually enjoyable experiences. 
A couple of years back, the popular sitcom Superstore saw two characters, Amy and Jonah, hook up while one of them was pregnant. When Jonah asked if they needed a condom, Amy replied, "no, I'm already pregnant." DO NOT follow their example. Any sexually transmitted infection is still a risk during pregnancy and some of those infections can harm your fetus or put your pregnancy at risk. So, if you explore with a new partner or someone you are not exclusive of yet, please use protection like condoms or dental dams.
Speaking of dental dams, if you are pregnant and receiving clitoral stimulation, there's a very rare potentially fatal complication to look out for: If your partner blows air into the vagina while performing any type of clitoral stimulation, it can result in an embolism. To avoid this, instruct partners to refrain from blowing air into the vagina.
You may need to adjust the sex position you use as your pregnancy progresses. After the 4-month mark, anytime where the pregnant person is on their back can put pressure on major blood vessels, which isn't great. Additionally, as that belly bump gets bigger, it might require a bit of finesse to accommodate it comfortably.  Have fun experimenting, and maybe consider incorporating some cushions or sex furniture.
Do not be alarmed if you feel contractions during and after sex. This is pretty normal and like Braxton-Hicks contractions, they will not trigger the cervical changes that lead to childbirth. Contractions after sex typically go away in a couple of hours. 
If your doctor is concerned about the possibility of preterm labor, they may ask you to avoid sexual activity in general and penis-in-vagina intercourse specifically as sperm can actually act as a cervical softener. 
All that said, many find that they can have sex throughout their pregnancy, and some even use it to try and naturally induce labor when the time is right.
There's a lot of stuff pregnant people are told to avoid but for many, sex and masturbation don't have to be on that list. Unless an OB-GYN advises you otherwise, it's generally safe to engage in sexual activities when pregnant. You may find that your level of interest rises and falls or that the specific things that sound pleasurable might change a bit during your pregnancy. That said, for low-risk pregnancies as long as you pay attention to your body, make sure any toys you use are super clean, and stay safe, most sexual activities– including vibrator use– are just fine! 
Now that you know it's safe, maybe it's time to shop for a new vibe? Pink Cherry has you covered with an absolutely huge selection of vibrators!