Buying a sex toy, especially your first, can be daunting. How do you know what feels good? Should you spend a lot of money or stick to cheap options? Which one will do what you want it to do?
The right toy for you — whether vibrator, dildo, penis ring, or masturbator — will be unique to your needs, desires, and body. If you're shopping for your first or your next sex toy, here's what you need to know.
It's Not You, It's the Sex Toy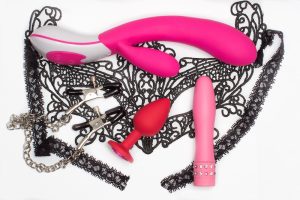 Not every sex toy works the same for everyone. People's bodies are extremely unique so you won't experience sensations or pleasure with a toy the same way someone else will. Take the rabbit vibrator for example. It's designed to stimulate both the clitoris and g-spot. But people's bodies come in all shapes and sizes, and one rabbit vibe might hit your g-spot and not your clit or it'll make your clit feel good and won't reach your g-spot.
When a sex toy doesn't work for you like it does for other people, you're not broken and there's nothing wrong with you. Break up with that sex toy and tell it, "It's not me. It's definitely you."
Masturbate With Your Hand First
Some people have never had an orgasm, and they buy a sex toy to get off. Sometimes this works, you find the perfect vibrator or dildo, and life is great. But sometimes, you buy a sex toy and still can't orgasm. Remember the first thing about buying sex toys — it's not you. Next, it's time to figure out what gets you off or what you need in your orgasm.
Masturbating with your hand is one way to figure this out. For people with vulvas, do you prefer clitoral stimulation, g-spot stimulation, or both? From there, you can search for vibrators and dildos that hit your favorite spot. If you have a penis, what do you want — new sensations all the way around your shaft? To last longer? Anal stimulation? Different sex toys will give you those sensations.
The Material Matters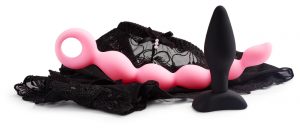 What your sex toy is made from matters a lot — for your experience, your health, and the longevity of your toy. Soft materials like rubber, jelly, CyberSkin, and others feel more lifelike, but they're hard to clean and can't be sterilized which means sharing with a new partner is out, unless you use a condom. Materials like glass and plastic are harder and feel good for some people but not others.
One of the best materials for penetrative sex toys — dildos, butt plugs, prostate massagers, etc — is silicone. It can be sterilized, comes in a variety of colors, and can be soft or firm. You'll spend more for your toy, but it will also last longer.
Lube Can Help
Penis rings, vibrators, dildos, anal toys, ben wa balls, and nearly every other sex toy available often feels better once you add lubricant. That's right, lube isn't just what you use for vaginal dryness or anal penetration. You won't need lubricant for every sex toy or every time you use it, but it's never a bad idea to have some handy.
If you're feeling friction you don't like or your toy isn't gliding across your skin, add lube. Make sure it's right for the material of your sex toy. Water-based is good for softer materials while silicone lube is great for glass, metal, plastic, and some (but not all) silicone sex toys.
Use Your Sex Toy Alone or With a Partner
Contrary to popular belief, sex toys aren't just for solo sex. Yes, of course, you can masturbate with your sex toy. But you can also bring it into bed with your partner. You can use your toys on yourself or them. Share your toys or use your own. Try new sensations or let them control your toy. There are zero limits on how to have fun with your sex toy.
One thing to remember is to always get consent. Your partner might not want to bring their sex toys to bed. They might have questions about why you want to use a vibrator or dildo. Don't spring this on them. Have a conversation about it before you get naked.
Any Toy Can Be Used By Any Body
A lot of sex toys are labelled "sex toys for men" or "sex toys for women." And yes, some sex toys are used primarily by one gender or another. But don't let that fool you. Any sex toy can be used by any body. People with penises enjoy dildos and vibrators just as much as people with vulvas. Gay and lesbian couples enjoy many of the same sex toys as straight couples. What matters most is what feels good to you.
Conclusion
The first sex toy you buy might not be a good fit for you. Don't give up! Use these tips to help you have a better experience as you explore the world of sex toys — alone or with a partner!
Are you ready to buy your first sex toy? What questions do you have about them? Let us know in the comments!