You've heard all about how amazing penis rings are and everything they can do for your sex life or your next orgasm. Now you're ready to buy one. Before you run out and buy the first ring that looks interesting, stop for a moment. Buy the wrong one, and you could end up with no extra pleasure. Worst case scenario, you could cut off the circulation to your penis.
Penis rings are fun, but there are a few things you need to know before you buy your first one.
Measure Yourself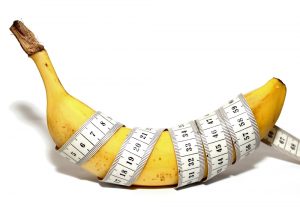 No one wants to admit they measure themselves, but right now it's important. You need to know the circumference of your penis so you can figure out the right c-ring for you. Why? Because too big, and it won't do its job. Too small, and you might end up in serious pain.
Get yourself hard. Measurements should be done when you're fully erect.

Use a soft tape around the base of your shaft or around the base of your penis and testicles.

Divide your measurement, in inches, by 3.14.

The number you get is the diameter of your shaft or the base of your penis.
That's the number you'll use to pick the right size for your penis ring.
Choose Your Material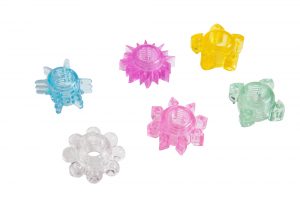 The most common and easiest to use c-rings are made of stretchy material that are either jelly, rubber, TPR/TPE, or silicone. Silicone will last longer and can be sterilized and is the best option if you can afford it. These can be placed over your penis whether you're hard or soft. For something different, you can choose hard materials like metal or wood. If you do this, you have to choose one that fits you perfectly. Knowing what material you want will help you pick the right size.
Pick a Size
Penis rings are meant to restrict blood flow to your penis once you're hard. Too big and too small are both bad. If you want a good solid squeeze, and you're choosing a stretchy c-ring, choose something slightly smaller than your diameter (the circumference of your penis divided by 3.14). If the diameter of your shaft is 2.4, you might want to choose something around 2.1 to 2.3 inches in diameter. As you become more experienced with penis rings, you can try smaller sizes to find what kind of squeeze you can handle. Remember, if you choose wood or metal, it must be an exact fit to avoid injury.
Add Lube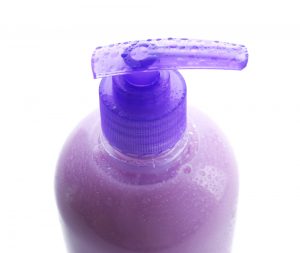 No matter what material you choose, lube makes everything better. Yes, the blood flow is supposed to be restricted and your shaft might feel tighter than you've ever experienced. But you shouldn't get a rug burn while wearing it, either. Add lube to the ring and to your penis before you put it on. This will keep you as comfortable as possible and make it easier to remove when you're done.
Extra Features
You can get a penis ring that looks like little more than a rubber band. If that's your thing, have fun! But if you want to try new sensations or let your partner feel something special, too, it's time to consider other possible features. The most popular option is the couples c-ring which includes a bullet vibe. During vaginal penetration, the bullet is meant to press against your partner's clitoris. Other options include penis rings that also give you a prostate massage or stimulate your testicles or even your anus. If all the bells and whistles make you nervous, start with the basics and work your way up.
Play Safe
Nothing kills a good time quicker than a sex toy mishap. Most sex toys are perfectly safe when used properly, but if you don't pay attention you could really hurt yourself.
Don't wear a penis ring for more than 20 to 30 minutes.

If you start to f

eel pain or your penis swells

beyond a normal erection, remove your penis ring.

If you use blood thinners, have diabetes, or you've been diagnosed with a nerve or blood disorder, talk to your doctor before you use one.

Avoid wearing a penis ring with a condom. The rubbing could cause tears and breakage.

Don't sleep in your c-ring.

Trim your pubic hair to prevent painful pulling. Ouch!
Conclusion
Now that you've got all the information, it's time to choose your first penis ring. You can buy a set with multiple c-rings so you can try different sizes. You might want to get a cheap set for the first one so you're less worried about the expense if you don't like them. Or you might want to choose a luxury c-ring, something with all the bells and whistles — high-quality silicone, remote-control, vibrations. The only thing it won't do is kiss you goodnight or call you in the morning. It doesn't matter what kind of penis ring you choose as long as it feels good on your body and when you get off.
Are there any tips you think first-timers need to know before they go shopping? Share them in the comments below!