The Big O Multi-Stage Reusable Vibrating Ring was chosen as the "Top Pick" of sex therapist Dr. Sue Johanson of Talk Sex with Sue in 2006 and it's been providing pleasure for a decade since! The Big O has a multi-function, multi-stage motor that teases or pleases, you can choose! This is the older brother to the original vibrating ring. The original one just vibrated, but this ring does much more than that!
The Big O Multi-Stage Reusable Vibrating Ring has nine different options. The motor pulses and teases in nine distinctly different patterns. It is made of soft, smooth silicone that is made to last. It is even waterproof, so use it in the shower!
Guys say their women love the Big O because it turns them into human vibrators and the vibrations are intense enough for two! And women say the multiple functions keep their men hard and ready to go! Men wear the ring at the base of their penis, and the bullet goes at the top, so when it is turned on, it will stimulate you both!
When you switch the ring to pulsation mode it will go through all nine functions, stimulating and teasing your partner. Then you can quickly switch the function to a steady vibration and bring your partner to a powerful "Big O" for which this ring is famous!
This ring is the mother of all reusable vibrating mutual pleasure rings; when left on the vibrating cycle, it will progress through all nine functions, for more than 80 minutes!
One Size Fits All
The Big O comes with a one-size-fits-all, thick silicone erection band that allows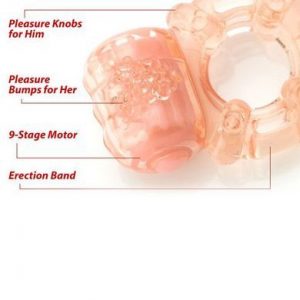 you to stay harder, longer and in great comfort! The soft silicone gel feels great for both of you.  
Reusable
Another great thing about this vibrating ring is the fact that it is reusable! You really get your money's worth because there's no more tossing out rings after one use. Use it again and again!
Batteries
The Big O comes with three button cell batteries. The replaceable batteries last about 90 minutes each, giving you a buzzing sensation for as long as you need. To replace the batteries, simply take the bullet out of the ring and twist open the battery compartment. It's that simple!
Conclusion
At Jack and Jill Adult Superstore, we understand that no one wants the postman to know their personal business, so we package our pleasurable products in discreet packaging. Take a chance on the Big O Multi-Stage Reusable Vibrating Ring. You and your partner will be glad you did!
We also carry a full range of everything you can think of for bedroom fun for women, men, and couples, including lingerie, toys, lubricants and more. Visit us online today!