Portable, easy to clean, and intensely pleasurable, Fleshlights are one of the best known male sex toys and the finest masturbators on the market. You might wonder, with so many options out there, which ones are the must-haves? Well, at Jack and Jill Adult Superstore, we know they're all great, but here are three of our favorite Fleshlights.
Fleshlight Girls
Who doesn't want to have a go with their favorite porn star? The Fleshlight Girls series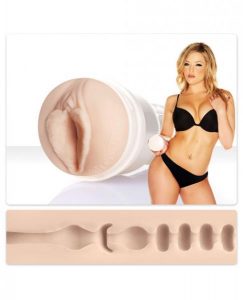 lets you get closer than you ever could before! These sleeves are made from molds of famous porn stars' vaginas, taking their signature Fleshlights to an even more realistic level. There have been a lot of girls on the roster over the years, but without a doubt, Alexis Texas takes the cake as far as Fleshlight sleeves are concerned.
You might be wondering why Alexis Texas, the queen of big butts, would be in the running for Fleshlight's best vagina. The answer is because hers is amazing. Her lips and clit are shapely and prominent, big enough to really feel them while you're going to town.
Best Accessory
There's nothing like having a good wank in the shower, especially that feeling when your legs give out just a little bit. However, soap and too much water can take all the slickness out of your skin, leaving you to rub yourself raw. Taking a Fleshlight into the shower with you solves that problem!
The shower mount has a lever-operated suction cup that can stand up to some serious thrusts, and a screw-post to which you can secure the back of your Fleshlight. You can even get an adapter for a Fleshlight Flight.
Best Texture
Fleshlights come in a variety of different textures, all well worth trying out. When the lotus was released, Fleshlight proclaimed that it was their most realistic texture yet, and it certainly feels great! The opening leads into a short, untextured section that leads to a narrow inner opening then a series of textured chambers. 
A lot of buyers complained that there was too much-untextured material between the opening and the lotus's signature texture. In response, they released the mini lotus, which shifts all the action right to the entrance, meaning your penis will experience the amazing lotus texture along its entire length! That sounds pretty great, doesn't it?
This mini lotus masturbator comes in an easy to hide and transport fake lager can. You can keep it pretty much anywhere discreetly, and the can-shaped cap helps keep the top of the sleeve clean.
Jack and Jill Adult Superstore
Last of all, you really don't have to overthink it. Fleshlights feel amazing regardless of which one you choose. Take the time to review all your options, because there are quite a few, or simply go with whichever girl is your favorite! Whatever you choose, you are going to love it.
Visit Jack and Jill Adult Superstore online for all your Fleshlight toy needs. We also carry a full line of other toys, lubes, lingerie and more – all to be enjoyed by women, men, and couples!
Do you use Fleshlight toys? What's your favorite so far? Let us know in the comments!