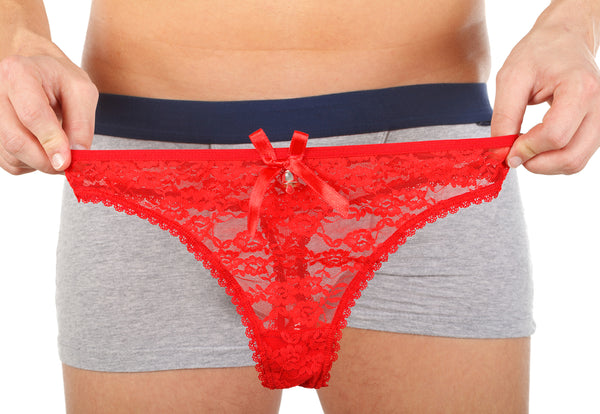 Whether you're a man looking to experiment or someone beyond the binary wanting to dress in a new way, there's nothing wrong with penis-owners checking out sexy panties that are traditionally made for women. When shopping for panties for men, know that lingerie styles and fits are different for everyone. The key is finding what works for you! If you're new to wearing women's underwear, keep reading to learn where to start.
Note: We'll be using "man" and "men" as a shorthand throughout this article, but we really just mean anyone with a penis.
1. Take Your Measurements
The first thing you'll want to do is to take your own measurements to make shopping for corset lingerie and panties for men that much easier. If possible, have someone help you take your measurements as they tend to be more accurate than if you were to take them yourself. 
To determine the right panty size, you'll typically only need your waist and hip measurements. But if you're branching out into other types of lingerie, you'll also need your chest, bust and height measurements. Remember to always stand straight and keep your tape measure parallel to the floor. 
Waist Measurement
Start by taking a tape measure and wrapping it around the natural indentation of your waist. If you're struggling to find your natural waist, bend to one side and find the crease that forms — that's the location of your waist. Usually, your waist is between the top of the hip bone and the lowest part of your rib cage.
Hip Measurement
For your hip measurement, you'll want to measure the fullest part of your hips and butt. Again, make sure the tape measure always stays parallel to the floor. 
Chest Measurement
For purchasing chemises or corsets for men, you'll also need your chest and bust measurements. When measuring your chest, keep the tape measure snugly under your arms at the fullest part of your chest. If you already have a bra, wear it when measuring and ensure the tape measure is above the cups of the bra to get the most accurate chest measurement. Don't puff or flex your chest.
Bust Measurement
When measuring your bust, you'll also want to wear a bra if you have one. Be sure to fill the bra in the same way you expect to be wearing it. Wrap the tape around the fullest part of your bra cups and keep it just snug enough to not slide down. 
If you're purchasing a bra, you'll also need your band measurement. Position the measuring tape just under the bottom of your breasts, adding another two inches to your measurement to account for the extra tissue women have at the sides of their breasts that men don't have. This will create a more realistic shape. Now, subtract the band measurement from your bust size to find your right cup size. Every inch equates to one cup size. Bra sizing isn't an exact science, so you may have to try on a few different sizes to get the best fit. 
Height Measurement
If you're looking to purchase lingerie stockings for men, you'll need to know your height as this is typically how stockings and hosiery are sized. You can have a friend help you measure your height or grab a pencil and mark the wall at the highest point on the top of your head. Then, simply measure the distance from the floor to the mark using a tape measure. If you're ever between two sizes when shopping for stockings for men, always size up to ensure maximum comfort. 
2. Understand How
Panties For Men
Should Fit
When shopping for lingerie or panties for men, it's important to know how they're supposed to fit. If you haven't tried different panty sizes for men or any form of men's lingerie before, you may not be used to the snugness. Know that there are always variations between manufacturers in terms of fit and sizing, so be sure to consult manufacturer-specific size charts for the most accurate fit. Consider the following to ensure your panties fit the way they're supposed to.
Panties for men

should fit naturally against your body and crotch. There shouldn't be any excessive fabric, but the panties also shouldn't be binding. If there is a front horizontal crotch seam, it should be visible from the front. 

The waistband of your panties should also be snug but not binding. If you find that the waistband continues to bunch or roll over in the front, you most likely have the wrong size. Try going down a size. 
The legs of your panties should be evenly arched on both legs and not cause bunching or twisting. If you feel your panties are binding or causing grooves along your thighs, opt for a panty with a higher-cut leg style.  
Most

panties for men

, not including thongs, should cup and support your butt. If it doesn't feel balanced, covered and symmetrical, you might need a bigger size. 
3. Consider Your Bedroom Style
Now that you're equipped with your measurements and you know how panties for men should fit, you can begin to think about your personal lingerie style. It doesn't have to mirror what you'd wear out and about. Take some time to reflect and think about your inner self. What have you always been drawn to? What would you feel comfortable in? What would make you feel confident and sexy? Panties typically come in the following four styles: 
You don't have to have one style. You're free to wear whatever you want, from frills and lace to studs and fishnets. Be your true, authentic self and embrace the many sides of you!
Shop Lingerie and
Panties for Men
at PinkCherry
At PinkCherry, we're proud to offer an inclusive selection of lingerie to fulfill every fantasy and desire. From lace and sheer styles to crotchless and leather, we have men's and women's lingerie for every facet of the true you. Discover the thrill and confidence in wearing women's underwear today.