Gone are the days when male masturbators were bland and one-dimensional. Enter the Arcwave Pow Stroker – the ultimate male masturbator that offers a unique, customizable experience. Let's have a look into what sets this innovative device apart from the rest, explore its cutting-edge features, and discuss user experiences. Prepare to elevate your pleasure game to new heights!
Short Summary
Discover the Arcwave Pow Stroker, a high-end male masturbator offering customizable pleasure with natural suction sensation and adjustable intensity settings.
Be mindful of potential allergies or sensitivities to silicone and ABS plastic when using the product.
User experiences have been overwhelmingly positive for its superior design features, secure grip, stimulating texture & realistic suction sensation.
Discover the Arcwave Pow Stroker
The Arcwave Pow Stroker is a high-end, premium manual stroker designed to offer a unique experience, combining natural suction sensation with customizable intensity. This sleek and sophisticated device is engineered to utilize natural air suction, featuring dual entries, textures, and snugness settings to cater to your every desire.
It is designed to give users the ultimate pleasure. It features suction control, textured CleanTech Silicone sleeves, and dual entry for a uniquely pleasurable experience. Its realistic suction sensation, adjustable intensity, and superior materials and design set it apart from other male masturbators on the market.
Natural Suction Sensation
Innovative in its design, the Arcwave Pow Stroker doesn't require batteries to generate a natural suction sensation. Instead, it relies on an air pressure release valve that creates a tight seal around the silicone sleeves, harnessing natural air suction to provide a totally natural feeling.
This controllable natural suction sensation is achieved by placing a finger over the air pressure release valve during use, allowing users to customize the suction intensity to their preference for an enjoyable, natural experience.
Customizable Intensity
it provides customizable suction intensity that can be adjusted to suit the user's preference, offering a personalized experience like no other. Regulating suction intensity is simple and intuitive – by covering the air pressure release valve with a finger during use, users can easily control the intensity to their liking.
High-Quality Material and Design of the Arcwave Pow Stroker
The Arcwave Pow Stroker is crafted with high-quality materials, ensuring a pleasurable experience and easy maintenance. The Quick Clean Helix structure in the inner sleeves is helpful for efficient cleaning. It also ensures that you can still enjoy the smooth sensations offered by the device after cleaning.
Arcwave's cutting-edge CleanTech Silicone, renowned for its smoothness, hygiene, and longevity, is used in the textured sleeves, making the Arcwave Pow Stroker an ideal choice for male masturbation.
[Strokers Or Hand Poll Infographic]
Jack And Jill Adult Instagram Poll On The Preference Of A Stroker Or A Hand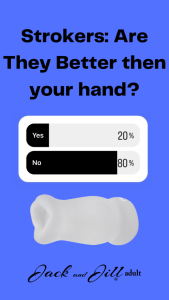 In The Know
Before diving into the world of pleasure that the Arcwave Pow Stroker offers, it's essential to be well-informed about proper use and care and potential allergies or sensitivities.
Let's delve into these important aspects to ensure a safe and enjoyable experience.
Proper Use and Care
To ensure optimal performance and longevity of your Arcwave Pow, following the recommended use and care guidelines is crucial. The premium manual stroker with suction control should be used with water-based lubricants and cleaned with water and antibacterial soap or a sex toy cleaner after every use.
The inner sleeves of the Pow feature a Quick Clean Helix structure. This creates efficient cleaning and drying while keeping the smooth sensations intact. The Quick-dry Ventilation Lids are uniquely designed to seal and protect the toy when not in use. At the same time, they provide increased airflow for fast and hygienic drying.
It's important to note that silicone lubes and other silicone toys should be avoided in combination with the Arcwave Pow to preserve the silicone sleeve. To maintain the sleeves, a renewing powder is recommended.
Potential Allergies or Sensitivities
When using the Arcwave, it's essential to be aware of any potential allergies or sensitivities you may have. The device is composed of silicone and ABS plastic, with textured sleeves crafted from CleanTech silicone.
Suppose you have any known allergies or sensitivities to silicone or ABS plastic. In that case, it's highly recommended to consult your doctor before using the Arcwave Pow Stroker to prevent any adverse reactions.
Arcwave Pow Stroker User Experiences and Testimonials
Now that we've covered the features and essential information about the Arcwave Pow Stroker let's delve into the experiences and testimonials of users who have tried this innovative male masturbator.
Users have reported that the Pow Stroker Black is incredibly easy to use and provides a unique sensation, unlike any other male masturbator. The device's ergonomic design ensures that it fits comfortably in the hand and is easy to maneuver. Additionally, the suction is adjustable.
Positive Reviews
Users have praised the Arcwave Pow Stroker for its effective texture, easy maintenance, and multiple ways to use it. The suction control and textured silicone bumps provide intense suction for an unparalleled climax, making it a popular choice among users.
Additionally, the stroker is discreet and not intimidating to use, making it a great addition to solo or partner play.
Constructive Feedback
While the Arcwave Pow has received mostly positive reviews, a few users have noted that it can be quite loud and does not provide as much suction as other male masturbators.
Despite these critiques, many users still appreciate the sleek design, effective texture, and ease of maintenance that the Arcwave Pow offers.
Overall Satisfaction Rating
User reviews indicate that it has a secure grip, stimulating texture, and is simple to maintain. Customers have reported positive experiences with the product, noting that it is user-friendly, provides a realistic suction sensation, and offers adjustable intensity, making it a worthwhile investment for those seeking a unique and customizable male masturbator.
Summary
In conclusion, the Arcwave Pow Stroker is a game-changer in the world of male masturbators. Its innovative design, customizable intensity, and high-quality materials set it apart from competitors, offering users a truly unique and pleasurable experience. With proper use and care, this premium device is a worthy addition to anyone's pleasure arsenal. So, are you ready to elevate your pleasure game to new heights with the Arcwave Pow Stroker?