There's so much kinky fun to try with when you get involved in BDSM but where do you start? What if you're not sure about what you can tolerate or what your partner might like? Maybe you want to make pretty marks on your partner's skin but they don't like certain kinks. You could try out a kinky practice that comes from Chinese medicine, made for relieving aches and pains.
It's called cupping. Here's what you need to know.
What is Cupping?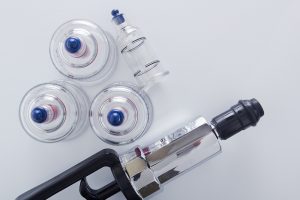 You might have heard about it because many Olympic athletes at Rio in 2016 had cupping marks on their backs after they used the therapy to relieve aches and pains and boost their performance. This was likely done through a method called hot cupping that involves the use of a flame to form the vacuum that attaches the glass cup to the skin. However, there is an easier way to do it.
Vacuum cups use a pump to pull the air out of the plastic cup and attach it to the skin. They're really easy to use and can be applied all over the body quite safely. You can pick up a kit like the Fetish Fantasy Series Beginner's Cupping Set which will contain everything you need.
How to Use Vacuum Cups
You don't need anything but what comes in your kit to get started. However if you want to slide the cups around on the skin, add some massage oil to allow the cups to move once attached to the skin.
It's best to start out on the back, but you can use the cups anywhere.
Precautions to take when you play:
Don't apply cups to broken skin, as it will be very painful and could open up healed wounds or cause new ones.
 Check for allergies before using any kind of oil for massage.
Try a cup on yourself so you know how it feels/how to release it before playing with someone else.
Start by attaching the pump to one of the cups with the little rubber attachment. Press the cup to the skin, and hold it down as you pump the hand pump. You might need to practice, but you'll be able to tell when the vacuum takes hold as the skin inside will lift up and turn into a little mound. Check in with the person you're cupping to make sure it's at a level they are happy with.
The flesh in the cup will turn red and in time will bruise. Keep an eye on these and release the cup if you have any concerns. You can always reapply the cup to the same position if everything is okay but it's always better to be safe than sorry!
If you need to release the cup just pull up on the little button on the top, it will break the vacuum immediately.
You can keep adding cups as long as the person is comfortable.
Cupping and Sensation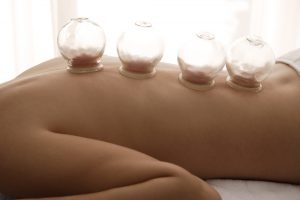 If you want to move the cups around, massage oil into the skin before applying the cups. Once they're attached, you'll be able to move them. This can be a gentle massage or more painful depending on the speed and force used.
The wonderful thing with cups is you can make it a gentle and sensual experience by adding in massage oil, gentle scratches, and body stroking, or you can ramp up the pain by adding more cups, pumping them more often, moving them roughly, or tapping at them.
There are different sizes in the set, as a general rule, the smaller the more intense the pain but you will find different people have different likes and pain tolerances.
Conclusion
There's lots of fun you can have with vacuum cups and the great thing is you don't need to be experienced in BDSM to try it. There's no need for lots of practice because it's something beginners can try out really easily. Not only that, but it grows with your kinkiness. You can add more to your cupping experience and add cupping into other BDSM play, too.
So what are you waiting for? Add a little cupping action to your kinky fun and find out just what kind of pleasure and pain you can get in a vacuum.
Have you ever tried cupping before? Was it for medicinal purposes or as a kink? Let us know in the comments below!