It's becoming more and more accepted – even expected – for women to own sex toys. And we think that's great! Unfortunately, there is still a stigma around sex toys for men. We really want to break that down and let everyone know that it's awesome for all genders to own and use sex toys. 
Toys for men have come on in leaps and bounds in recent years. And there are more product types on the market than you might think! That's why today we wanted to break down some of the categories of male sex toys and share a few of our favorite products with you. 
A note on language: while this guide is primarily addressed to cisgender men, we understand that genitals do not necessarily imply gender. The toys on this list are great for folks of any gender who happen to have a penis! 
Let's dive in.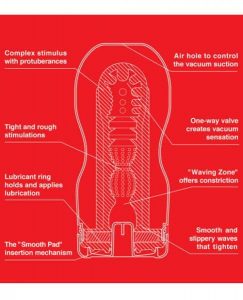 Masturbation Sleeves
When you think of masturbation sleeves, you probably think of brands like Fleshlight. We love Fleshlight, but they're far from the only brand doing amazing things in this space. 
Masturbation sleeves are toys that you insert your penis into while you're masturbating. They can mimic the sensation of having sex with a vagina, mouth, or butt, and some are even designed to look like the body part they're imitating. Prefer something a little less realistic? You can also get more abstract masturbation sleeves. 
Our favorite masturbation sleeves
Sex Dolls
Want to take your lifelike experience to the next level? Sex dolls are designed to look like real people (either part of the body or the whole body) and allow you to feel like you're actually having sex with a human partner. 
Sex dolls vary greatly in levels of detail and realism, from basic blow-up dolls to super-realistic robotic versions. In general, the more lifelike you're looking for, the more you can expect to pay. 
Our favorite sex dolls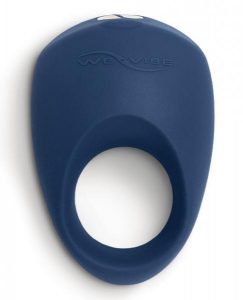 Penis Rings
Penis rings help blood to stay in your penis while you're erect. The result? Longer-lasting and more reliable erections. They can also feel amazing!
Penis rings are most commonly thought of as a toy for partnered sex, and they can be great for that. If your partner has a clitoris, a vibrating c-ring can give them some extra stimulation, too! But you can also use a ring while you masturbate. Doing so can heighten sensations, help you last longer, and enhance your orgasm. 
Our favorite penis rings
Vibrators
Yes, vibrators can also be for men!
Even though they're often marketed to women, many people with penises also find that vibrations can feel amazing on all their erogenous zones. So why not try using a powerful bullet vibrator on the shaft and head of your penis, your scrotum, or your perineum? 
Wand vibrators are also incredible whatever type of genitals you have. Men can try pressing a wand against their penis for intense, all-over vibrations. You can also get wand attachments for penises. 
Our favorite vibrators and attachments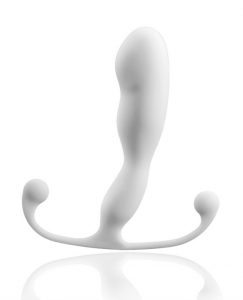 Prostate Massagers
The prostate, sometimes called the P-spot, is part of the male reproductive system and is located about two inches inside the rectum on the front wall (towards the belly button.) It is about the size of a walnut and can feel intensely pleasurable when stimulated. Some men are able to reach orgasm through prostate stimulation alone. 
Prostate massagers come in two main forms: vibrating and non-vibrating. A non-vibrating prostate massager delivers stimulation through pressure, while a vibrating massager typically has a range of power and pulse settings. 
Our favorite prostate massagers
Butt Plugs
If you're new to anal play, butt plugs are an amazing place to start. They come in a huge array of sizes, materials, and shapes, and once they're in you can safely leave them inside you for some time. 
Some anal play enthusiasts wear them for hours at a time, though you don't ever have to do that unless you want to. Just having a butt plug in while you masturbate can add a new type of sensation and intensify your orgasm. 
We recommend starting with a small plug and then working your way up if you want to. You can even get anal training kits that come with several plugs of different sizes. Even a small plug can feel quite intense, so start smaller than you think you need to. 
Our favorite butt plugs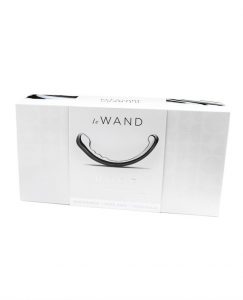 Dildos
That's right – dildos are for men, too! If you're into anal play, dildos are another option that you can use both by yourself and with a partner. 
Dildos come in a wide range of designs. You can get them in all different materials, shapes, sizes, and colors. Some men prefer realistic dildos that remind them of a real penis, while others prefer those in more abstract designs and bright colors. Materials like silicone provide a soft and squishy feeling with some give, while harder materials like glass and stainless steel offer an unyielding intensity. You can even play with temperature by putting your glass or steel dildo in the fridge or running it under warm water before you play. 
A very important safety note: any dildo you use for anal play must have a flared base. Otherwise, it can get sucked into your butt and get stuck. At worst, this can lead to a trip to the emergency room. Any dildo with balls or a suction cup is likely to be suitable. Some dildos also have handles for this purpose. 
Our favorite dildos
Penis Pumps
Unfortunately, despite what some advertisers would have you believe, a penis pump cannot permanently alter the size of your penis. But what they can do is help you get an erection, help you maintain that erection, and boost sensitivity immediately after you use them. 
A penis pump works by increasing blood flow to the area. They are generally safe as long as you follow the instructions and use them correctly. They can help with erectile dysfunction in the short term (and can be used alongside medication such as Viagra). 
But whether you suffer with ED or not, a penis pump can feel really good! Using one can give you increased sensation for both masturbation and partnered sex. Just don't expect miracles. 
Our favorite penis pump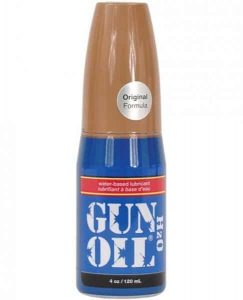 Lube Makes Everything Better!
If you're doing any kind of anal play, lube is essential. The butt isn't self-lubricating and trying to do anal play without lube can be both painful and dangerous. 
But lube isn't just for your butt! Adding lube can make all sexual activities, both partnered and solo, better and hotter. Try adding some lube to the inside of your masturbation sleeve or applying some to your penis before you use a vibrator. You'll be amazed at the difference it makes! 
Water-based lube is compatible with all sex toy materials, and is gentle and friendly for your body. Silicone and oil-based lubes can also feel great, but remember that some silicone-based lubes can damage silicone toys, and some oil-based lubes can damage barriers such as condoms. 
Check out our huge range of lubes to get started! 
Happy Shopping!
If you have any other questions about sex toys for men, our friendly team will be happy to help.
And we'd love to know…what's your favorite sex toy? Share with us in the comments below!