Strapless strap-ons are an advanced level sex toy for couples who enjoy strap-on sex. Instead of a harness holding a dildo in place, you (or your partner) must use strong pelvic muscles to keep it in. For long-time strap-on lovers, the strapless option is a great way to change up your mutual pleasure.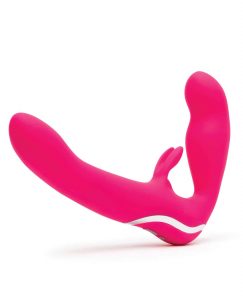 Look for a high-quality toy with a shape that feels good to both of you and all the functionality you crave. Start with this list to find a new strap-on that you'll love every inch of.
Happy Rabbit Strapless Strap On
It's a dildo! It's a strapless strap on! No, it's a rabbit vibrator! In fact, the Happy Rabbit Strapless Strap On is all three at the same time. On in one sex toy, you get the functionality of the strap-on experience you crave with the pleasure and orgasms of a rabbit vibrator for the one "wearing" this strap on. Once you're strapped in, enjoy 12 vibration modes, three speeds, and silky smooth silicone.
Fantasy for Her Ultimate Strapless Strap On
Want a powerful strapless strap-on with feels good in multiple ways? Try the Fantasy for Her Ultimate Strapless Strap On. This sleek toy comes with two motors that offer nine patterns of pleasure. Use the remote to easily move from one mode to the next, and recharge your new favorite toy when you finish playing.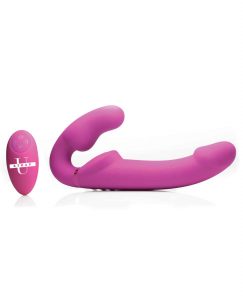 Strap U Evoke Ergo Fit
Enjoy extreme vibration for both partners and more vaginal pleasure for the "wearer" of the Strap U Evoke Ergo Fit strapless strap on. For both partners, enjoy three speeds and seven patterns of deep vibrating pleasure. For the wearer, enjoy more sensations with the ridged pad for clitoral stimulation and hold your strap-on in place with help from the inflatable vaginal bulb.
Shots Ouch Strapless Strap On
The Shots Ouch Strapless Strap On comes in pink or purple and includes a remote control for hands-free pleasure. You and your partner can enjoy 10 different speeds together. The partner pounding away gets the benefit of a short ribbed and curved probe perfect for hitting all your hot spots. The receiving partner can enjoy a longer ribbed shaft that feels oh-so-good.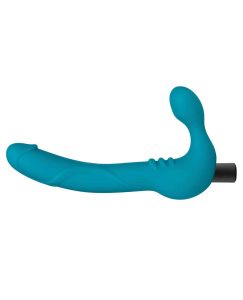 Blush Temptasia Luna
The Blush Temptasia Luna comes in a beautiful teal color with a gorgeous shape. It's elegantly curved for the receiving partner and offers a delicately rounded bulb for the wearer. The gently textured shaft feels good with each thrust while the slanted tip is ideal for intense, focused stimulation. The included bullet vibrator offers 10 functions of pleasure to take your strap-on experience to a new level.
Love Rider Rechargeable Strapless Strap On
The Love Rider Rechargeable Strapless Strap On gives you plenty of pleasure and choice of how to experience that pleasure. It begins with two color options: pink or purple. Next, use the dual motors for up to 30 functions of vibrations, pulsations, and escalations for both partners. Even better, the installed memory chip remembers the last function used so you can start where you left off every time you play.
Strap On Me Bendable Strapless Strap On
That's right, this strap-on bends. The Strap On Me Bendable Strapless Strap On comes in a variety of sizes, including the extra-large version here. The neck is bendable for your pleasure and comfort and is made with position memory for an easy fit the next time you play. It also includes three independent motors with three vibrations and three intensities per motor. When you finish, remember to recharge your strap-on so it's ready whenever you are.
Revolver II Strapless Strap On
This blue strapless strap-on may have fewer bells and whistles than other models, but it still packs a punch. The Revolver II Strapless Strap On is made from a smooth and rigid rubber and includes a removable bullet vibrator. Play with vibrations when you're in the mood or take it out and forget it when you're not in the mood.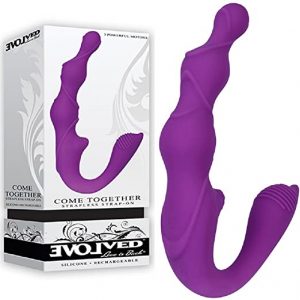 Evolved Come Together
Not all strap-on sex involves anal fun, but for those looking for some anal or pegging action, the Evolved Come Together offers a beaded effect reminiscent of anal beads. That's just the start of your mutual fun. The rest comes from the dual vibrator with three independent motors: shaft, bulb, and clitoral. Choose from six functions to find the sensations that feel best for both of you!
Conclusion
Take your time finding the perfect new strapless strap-on for you and your partner. Once you find it, take your time getting used to it. It's definitely a different experience than using a harness, but it feels amazing once you get used to it. And, as always, make sure you have plenty of lube to keep everything thrusting and moving with less friction.
Are you ready to upgrade your strap-on sex life to a strapless strap-on? Have you tried one in the past? Let us know what you think in the comments below!