June may be Pride Month but that doesn't mean representation and pride in your identity only deserve recognition one time a year. Give yourself a boost of pride and confidence all year long with the sex toys you choose to use! From butt plugs to vibrators and everything in between, there's something for everyone.
Here are nine options to get you started!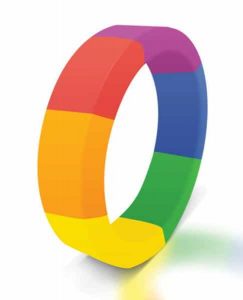 The Brawn Pride Ring
Love the idea of your penis wrapped in a rainbow? You're going to love the Brawn Pride Ring. This thick, silicone ring features all the colors of the Pride flag, and enough stretch to squeeze you in all directions. With 3X stretch capacity, you can wear it around your shaft, your balls, or both.
Pride Dildo
It might seem cliche, but if you love penetration and your Pride flag, you can have both in a single toy. The Pride Dildo is eight inches of soft, comfortable silicone that's sure to make a statement and make your sexy fun — alone or with a partner — sexier than ever! Even better, it's strap-on compatible for whatever kind of penetration you crave.
Bear Pride Dildo
Are you a proud Bear or do you plan on getting busy with one? Check out this realistic Bear Pride Dildo. For those who like the D to be thick and short, this could be your new favorite toy. Enjoy the suction cup for solo play or use it with a strap-on harness. Unlike other Pride-themed dildos, this toy is made to look and feel real with its curves, texture, and testicles.
Ace Butt Plug
Whoever said asexuals didn't use sex toys was mistaken. Not everyone in any group is into all the same things, and asexual people are no different. If you love butt fun — alone or with a partner — show your pride with your very own smooth, silicone Ace Butt Plug. The slim, tapered end provides plenty of comfort while the flared base keeps it in place.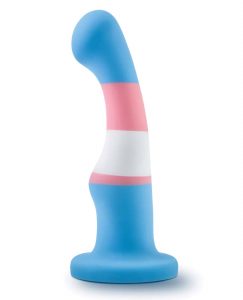 True Blue Silicone Plug
Is this a butt plug or is it a dildo? Why not both? The True Blue Silicone Plug lets you show off your trans pride any time. With five inches of insertable length, you can enjoy this toy in multiple ways, especially once the bumps and curves hit all your sensitive spots. Use it alone or in a strap-on harness with a partner.
Powerplay Butt Plug
Plenty of people think anal play is automatically kinky, and it can be. The Powerplay Butt Plug lets you show off your kinky pride while also enjoying your personal kinks. The plug is made of silicone, so it feels good sliding in. The tapered tip and flared base allow you to play safely and easily. As with any kinky play, don't forget the aftercare when you're done!
I Rub My Duckie 2.0
Insertables shouldn't have all the Pride fun, right? The I Rub My Duckie 2.0 is the second version of this popular and fun vibrator shaped like a rubber duck! It's meant to hide in plain sight, so yes, take it into the tub because it's completely waterproof. It has a stronger and quieter motor than the original and seven settings to choose from.
Prowler Pride Brief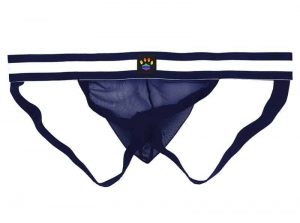 Okay, so underwear isn't a sex toy, but it can be sexy, and it's made to be taken off — or pushed to the side. The Prowler Pride Brief helps you show off your Pride in a variety of colors from sizes S to XL. Wear it under your clothes as your little secret or lounge around with your partner so there's no denying how proud you really are.
Prowler Pride Mesh Jock
Jockstraps might be popular at some Pride events, but they can (and should!) be worn all year long. The Prowler Pride Mesh Jock is meant to make you feel good, make you feel sexy, and give your partner a few ideas. That it lets you show off your pride in other ways is just a bonus. So no, it's not a sex toy, but it's definitely a good way to make sex more fun.
Conclusion
Whatever Pride flag you prefer, you don't have to wait for a specific time of year to show it off and let the world know who you are. Even better, with a sex toy, your sense of identity and pride in who you are can be celebrated in your most intimate moments, whether you're single or in a relationship. Sex toys are always about pleasure, but they can also be part of your self-expression, too.
Do you use sex toys that show of your pride? Which one is your favorite to use? Share with us in the comments below!