Wand massagers are known for being large, loud, and powerful vibrators. They can be great for fast orgasms and even multiple orgasms. But what do you do if you want the power of a massager without the size or the noise? Look for a miniature version, of course!
Before you swear off this style of vibrator forever, check out the list below of smaller, more discreet options that can still provide plenty of orgasms and pleasure. Remember, big things can come in small packages — and so can you.
XGen Bodywand Mini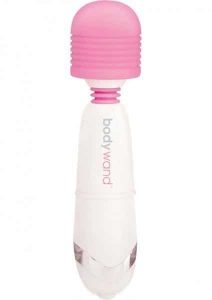 Bodywand is known for being a powerful vibrator in the full-size version. The Bodywand Mini takes all that goodness and puts it in a small package. Here you get five functions with one-finger control to make it easier and faster to find what turns you on and gets you off. It's also waterproof and multi-directional, so you can use it anywhere and in multiple ways.
Tiny Teasers Nubby
This dark purple wand massager looks innocent but brings it closer and the nubs of the Tiny Teasers Nubby will send you into orgasmic waves of pleasure. This easy-to-use vibrator is great for beginners, but it's powerful enough for long-time wand lovers. Choose from three speeds and control it with a single touch.
Eden Wand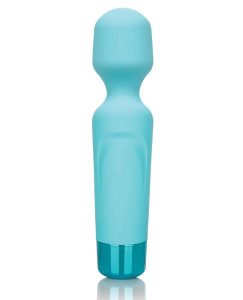 The entire Eden collection offers plenty of sexy fun for vibrator lovers, but the Eden Wand takes the power of a body massager and puts it into a smaller, more beautiful package. Choose from 10 functions and use the flexible neck to find the exact right angle and setting to get yourself off in the way you love best.
XGen Mini Bodywand 2.0
How do you make a great mini wand better than ever? The Mini Bodywand 2.0 is the proof — add a rechargeable battery, a sleeker head, and a quieter motor for discreet but powerful self-pleasure. The design is more sophisticated than other Bodywand Minis, but you still get everything you expect from this small but mighty vibrator.
OMG! Wands #Enjoy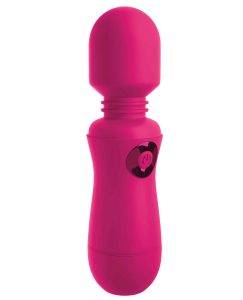 If you want a vibrator that's as excited for your orgasms as you are, check out the OMG! Wands #Enjoy, available in pink or purple. The silicone head features a flexible neck so you can hit the right angle in total comfort. Choose from three vibration levels and four patterns. Recharge in between uses and take it with you anywhere, because it's small and waterproof.
Miracle Massager Mini
Most body massagers have a distinct look, but the Miracle Massager Mini Multi-Speed changes things up a bit by making a slimmer, smaller version of the popular vibrator style. The soft, flexible PVC tip makes it easier to find your hotspots, and the high-intensity speeds give you plenty of options to find what gets you off best.
Fuzu Mini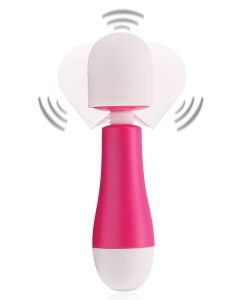 Coming in at under five inches tall, the Fuzu Mini Rechargeable Travel Size Wand genuinely is a mini body massager. It's sleek, slender, and lightweight, making it great for travel. Choose from 10 patterns to find the setting that gives you the most pleasure. The rounded head and flexible neck offer plenty of orgasms and comfort at the same time. Three hours of charge time gives you 2.5 hours of playtime.
Bodywand Mini Fashion
Tired of the same old pink, purple, or black colors for vibrators? The Bodywand Mini Fashion line gives you all the pleasure of a Bodywand toy with a bit of extra personality. Choose from a ladybug or hearts design and bring a smile to your face anytime you use it…for multiple reasons. It's quiet, cute, fun, and effective — everything you could want in a small vibrator.
Palm Power Pocket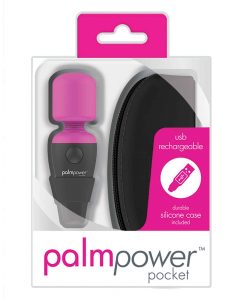 The Palm Power Pocket massager is perfect for travel and discreet orgasms. Get all the orgasms you could ever want with the 100 percent silicone vibrating head that's also removable. The flexible neck allows you to maneuver your massager exactly where you like it best. Recharge it between uses and store it in the silicone storage case to safeguard your privacy and your vibrator. The design makes clean-up and storage easier than ever, too.
Conclusion
If external stimulation is your favorite way to get off but you just can't handle the loud sounds and over stimulating pleasure of a standard-size wand massager, it may be time to think small. Bigger doesn't always mean better, so give these small vibrators a chance. You may be surprised at how much pleasure can be found in the smallest toys.
Have you used small wand massagers before or the big ones? Will you try one of the vibrators on this list? Comment below and let us know what you think!