A good dildo doesn't just feel good with each thrust. It also looks good sitting next to your bed (or in your hand). Glass dildos offer a lot of benefits from easy clean-up to fun with temperature play. But what makes them stand out the most is the beauty of the glass, texture, and added colors.
If you want a dildo that looks beautiful and feels even better than it looks, start with this list.
Icicles No. 29
Icicles is the go-to brand when you want a new glass dildo, so don't be surprised to see them on this list multiple times. That being said, some of their options are more beautiful than others. Take the Icicles No. 29. The tapered tip makes for easy insertion and the gentle curves allow for better stimulation. But it's the blue over the clear glass that makes it something to keep your eyes on.
Icicles No. 40
The name of the brand is on point with Icicles No. 40 because this beauty looks like it's made of pure ice. It's rare to find a glass dildo that's also realistic, but this one is done perfectly. You get every part of the D — testicles, shaft, and glans. And it's both unreal and amazingly realistic from the texture on the shaft to the folds of the tip. When you're not using it, you might just want to look at it and enjoy the view.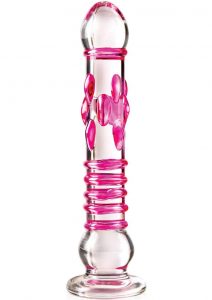 Icicles No. 6
Showcasing the more standard look of an Icicles dildo, the Icicles No. 6 offers a bright contrast to most clear glass toys. You get a bulbous tip and base for more stimulation, and the pretty pink ridges and rings offer plenty of sensation. This beauty is also a beast, measuring in at eight and a half inches long with a girth of almost five inches. You'll definitely feel this one, even as you admire how nice it looks.
Icicles No. 18
You can almost consider the Icicles No. 18 a double-sided dildo. Use one end with its curved tapered end for easy insertion for G-spot or p-spot fun. Use the flower-infused end for a fuller feeling. Note: The end with an embedded flower is considered the handle, so proceed with caution. That's right, you get a little extra beauty to go with your glass dildo covered in beautiful blue texture. Use it or stare at it, the choice is yours. Of course, you can always do both for twice the pleasure.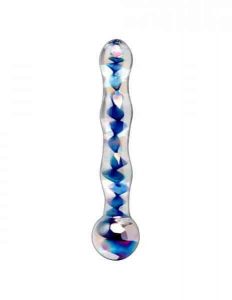 Icicles No. 8
The closest to "art" among all the Icicles options, the Icicles No. 8 looks like a kaleidoscope and prism combined. The blue swirls on the inside of the glass make it beautiful, while the undulating lines of the dildo make it an intense experience. At seven inches long with a three-inch girth, you'll definitely feel plenty of sensation with each thrust in and out.
Prisms Soma Twisted Dil
The Icicles brand isn't the only game in town, and the Prisms Soma Twisted Dil came to impress and play. The wispy blue streak up the middle of the dildo is only the beginning. The design makes it look like two dildos met and twisted together in serpentine pleasure. That gives you the benefit of a beautiful toy and a thick, textured shaft that offers exciting new sensations. The curved tip will hit your hotspots while the length (under six inches) won't intimidate too much.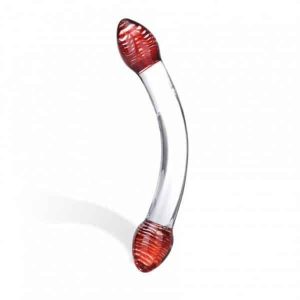 Glas Red Head
Any dildo can become fun for two, but double-ended dildos make the fun much more exciting. The Glas Red Head Double Glass Dildo is both beautiful and functional. The shaft measures in at nine inches, so there's plenty of room for both partners. Each tip is tapered for comfort and ringed in red to please the eye.
Chrystalino Elegance
When does a dildo not look like a dildo? When it looks like the Chrystalino Elegance, with a design inspired by the Venetian glassmakers of Murano. The handblown glass is a beautiful blue with a unique design and shape meant for pure viewing pleasure. The tapered tip and seven-inch length will provide all the penetrative pleasure you desire.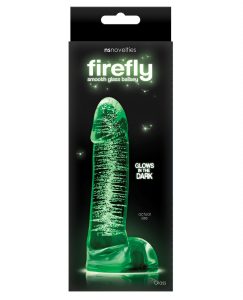 Firefly Smooth Ballsey
Want to add a bit of fun into the mix of beautiful and functional? Try the Firefly Smooth Ballsey. Not only is it made of glass and packed with realistic texture, but it also glows in the dark. You get the view of attractive clear glass during the day, and once the lights go out, it glows a shade of green! This small dildo is also perfect for multiple forms of penetration, as it measures in at only four inches long.
Conclusion
It's okay if you care more about function than form, but a beautiful dildo makes the experience even better. If you want a toy that's practically a work of art, start with a glass dildo!
Do you use glass dildos? Do you have a favorite one? Let us know in the comments below!