When it comes to kink and bondage, it's easy to focus on the rope, blindfolds, and paddles. But there as many ways to experience kink as there are kinky people in the world. One often overlooked kink is sensation play which includes many things, including electrostimulation.
If you're looking for new sensations and you're curious about adding a jolt of electricity to your kinky fun, check out this list.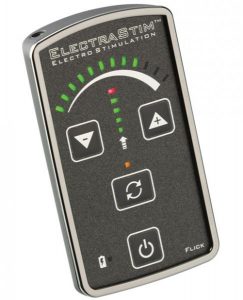 ElectraStim Flick Multi-Pack
Consider the ElectraStim Flick Multi-Pack the starter pack of great electrostimulation. With one kit, you get multiple ways to experience a shocking pleasure and it's easy to add more accessories and sex toys over time. The Multi-Pack includes a single-channel stimulator with wires and accessories, pads, a probe (anal or vaginal), and penis rings. The stimulator offers seven patterns and 24 intensities to find the sensation you enjoy most.
Mystim Tickling Truman Vibrator
Don't want to commit to a stimulator and all the accessories just yet? Try the Mystim Tickling Truman Vibrator, no stimulation kit required. You get vibration and electrical stimulation at the same time as you play with your vibrator. Plus, enjoy extra intensity from two motors — one at the tip and one in the shaft with eight patterns and five intensity levels.
Stinger Wand
Little feels kinkier than poking a partner when they least expect it and making it hurt or feel good, depending on your mood and their boundaries. The Stinger Wand simplifies electro play — it's a wand that tickles, tingles, or hurts when it touches the skin. The crackling sound you hear and the spark you see add to the fun, the intensity, and the kinky moment. You can tease or you can torture, depending on what works best for both of you.
Impulse Intimate Kegel Exerciser
This all-in-one kit comes with everything you need to strengthen pelvic floor muscles and feel amazing, inside and out. The Impulse Intimate Kegel Exerciser uses zinc-alloy pads to create gentle pulses inside the body. Choose from seven vibration functions and five intensity levels to find what feels good. When you're done, the flexible retrieval cord makes this kegel exerciser easy to remove.
Twilight Violet Wand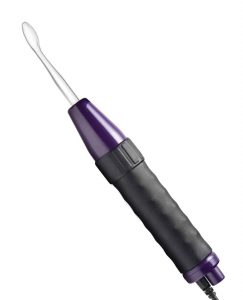 If you love the idea of a good zap as part of electrostimulation, you're going to love the Zeus Twilight Violet Wand. This version includes five glass accessories to change the contact sensation. Lightly touch the skin to create the jolt you desire most. Turn down the lights and watch how it sparks and lights up while you use it. It's called a "violet wand" for a reason!
Electro Nipple Suckers
For many, the nipples are one of the most sensitive parts of the body. Now imagine adding gentle pulses of electricity. The Electro Nipple Suckers can make that a reality for you or a partner. They're silicone suction cups that add pressure and stimulation once applied. Connect them to the stimulator, turn it on, and you can go from a gentle tingle to something much more intense quickly and easily. If you're curious about nipple torture, this is one way to explore!
ElectraStim Habanero Prostate Massager
Technically, the ElectraStim Habanero Prostate Massager can be used on its own without a stimulator. It's bendable so you can adjust it to fit your body and offers weight and heft to give you the full feeling you crave. Connect it to the Flick or another ElectraStim stimulator and that's when the fun really begins. As with all electro play, you can enjoy gentle pulses up to sharp jolts and everything in between — in your most sensitive erogenous zones.
Electroshock Handcuffs
Is it really kinky fun if you don't have handcuffs? Some people would say no. What if you could electrify those cuffs? Electroshock Handcuffs are your opportunity to take bondage and electrostimulation to entirely new levels. Use the remote control to find the best setting. The cuffs are adjustable to fit the majority of wearers. Just remember, they need to make good contact with the skin in order to feel the electric magic!
Electrosex Power Cage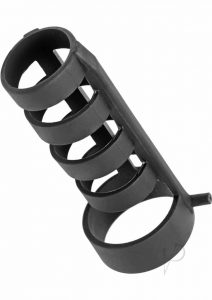 Whether you want to play with the power dynamics of a chastity cage or you want to be a living, breathing electro-dildo for your partner, the Electrosex Power Cage delivers. This silicone cage includes five retaining bands to keep you locked in place and two supporting bands to supply the jolt you crave. You will need a Zeus stimulator to make this chastity cage work as intended. But you can also unplug it and leave your favorite penis locked up for a while, too.
Conclusion
Once you find the electro play stimulation you crave most, an entire kinky world of possibility will open up for you. Buy one stimulator kit and slowly collect all the accessories or choose self-contained sex toys that don't require a bunch of extra parts. Just remember, any electrosex you explore can be gentle or painful or something in between — find what you like best and have fun!
Have you tried eletro-stimulation sex toys? What did you think? Share with us in the comments below!