Are you a size queen and proud of it? Never be ashamed of what you like. But the reality is that not everyone has the D you want most. Even a partner you really like might not quite have enough to keep you satisfied. You don't have to dump your partner to get the sex you want. You simply need a big, long, thick dildo.
Don't think you can find a dildo big enough to get you off? They're not all six or seven inches. Jack and Jill Adult got you covered. Check out these nine huge dildos to give yourself exactly what you crave most.
Bruno

Bruno is a big boy, and give you 14 inches of dong, and a full foot that you can do yourself with over and over again. The shaft is thick, veined, and realistic. Use the suction cup to play alone or put it in your harness for strapon fun. And if you're screaming Bruno's name by the end, we won't judge you for it.
King Cock
King Cock is a massive 14 inches long, with 12 inches that can do yourself with all night long. It's angled so it hits all the right spots. Choose from a variety of colors, including black, brown, and beige. The shaft has a realistic tip and veins running up and down it. Use it alone or with a partner, but do whatever feels good to you.
Big Boy
Not as big as some of the others on our list, Big Boy is still a stout 12 inches and ready whenever you are. Choose from multiple colors including black and beige. The base can be held onto by you or a partner while you're getting down on it. Don't be intimidated when you take it out of the box. It's meant to make you feel oh-so-good.
Kong the Realistic Dildo
How real does Kong the Realistic Dildo look? This 11.25 inch dildo is thick, veined, and even has a little tuft of pubic hair at the base. Kong is meant to go in deep and stretch you wide. Take your time and ease into it with your favorite lube. Before you know it, you'll be slamming it in and out and giving yourself big orgasms.
The Naturals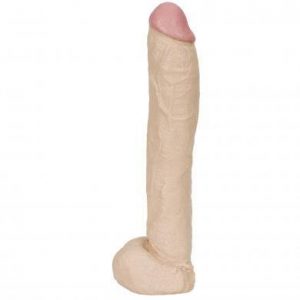 If you're looking for a big dildo that offers more of a realistic look and feel, check out the Naturals dildo. You get 12 inches of thick dong with a darker tip, plenty of veins, and tight balls at the base. This one is long and ready to give you every inch of what you crave most.
Star Scene Stealer
Dying for some of the big D you see in porn? Try the Star Scene Stealer instead. It might make you forget every other dildo or real guy you've ever known before. The insertable length is just under 10 inches with a two inch girth so not as big as some, but big enough to make you feel good. This is great if you're new to big dildos and bigger pleasure.
The Great American Challenge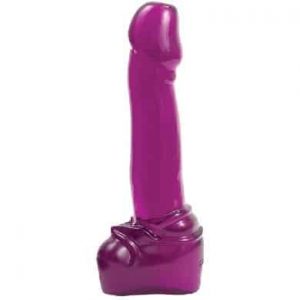 For once, the name isn't deceiving. If you want to challenge yourself with 15 inches of dong, you should try the Great American Challenge. Maybe you can't take every single inch at first, but give yourself plenty of time and lube. This dildo is one that keeps on giving and giving until you're screaming with pleasure.
Dick Rambone
Want to ram yourself with some bone? Try Dick Rambone, over 16 inches with just under 15 inches ready to pound you until you're coming like a freight train. This monster dildo is ready for hands-free play with the suction cup or put it into your favorite strap-on harness for serious fun with your partner. This dildo just keeps going and going and going.
Star Performer
If everything else in this list seems too small or not quite enough, it might be time to check out the Star Performer. You get a full 17 inches of pure pleasure. You can insert up to 13.25 inches, but if you like it thick, you also get three inches of pure girth. If you like not being able to wrap your hand around a dong, this may be the one for you.
Conclusion
There's nothing wrong with loving big, thick, long dongs — on your partner or in a dildo. When your partner can't give you what you need, buy yourself a huge dildo and enjoy. Remember to always use plenty of lube and take your time. If you're new to the bigger Ds, don't push yourself too quickly. What you want is to feel nothing but pleasure — which is the entire point.
Do you love using gigantic dildos? Let us know in the comments below!