Is having your penis locked up in a chastity cage one of your kinky fantasies? Are you ready to try this erotic form of bondage but don't know where to start or what to buy?
Check out this list of nine comfortable and pleasurable penis cages and bring your kinky desires to life.
Doctor Love's Vibrating Cock Cage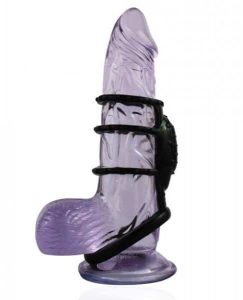 Want to start your chastity fantasies primarily with pleasure? If you want a softer (no pun intended) start to the chastity cage experience, look no further than Doctor Love's Vibrating Cock Cage. You're not locked into anything. Instead, slide the Zinger over your shaft and enjoy the super-slim micro-vibrations in your new pleasure cage.
Silicone Cock Blocker
Once you feel ready to increase your caged penis game, try the Fantasy C Ringz Hardcore Silicone Cock Blocker. Your partner can lock you up and hold the key, but the only discomfort you'll feel is when they tease and deny you. This silicone chastity cage is made for long-term wear and comfort thanks to the lightweight, flexible design and the vented cage. The stainless steel ring keeps you firmly in place.
Master Series Locking Chastity Cage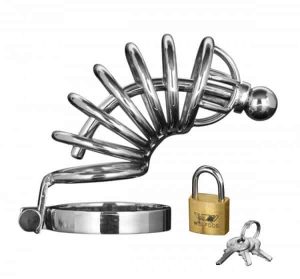 If what you want is to be pushed to the limits of your desires and your cage, go for the Master Series 6 Ring Locking Chastity Cage. This stainless cage gives just enough tantalizing access that you'll be writhing with pleasurable torture. The base ring goes around your testicles while the penis cage is made up of four rings and a comfort-hinge tube. You get three keys for safe and easy access. Even better, it has a removable plug for extra sensation while you're locked up.
Master Series Detained Chastity Cage
When you want more than simple caging, you can have it. The Master Series Detained Restrictive Chastity Cage with Nubs tortures you in the kinkiest possible way with internal nubs that rub against your shaft. The all-rubber cage features stiff walls so you're not going anywhere. It's also made with separate chambers for your penis and testicles. It's comfortable for long-term wear and travel-friendly, thanks to the rubber material.
The Vice Plus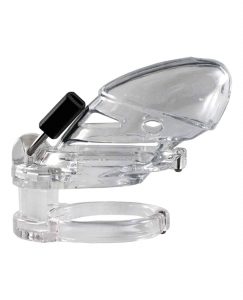 Don't want a lot of rings but want to make sure you're in full chastity? You might like Locked in Lust's The Vice Plus. It comes in four colors: clear, pink, chrome, and purple to suit your individual tastes. It's a comfortable fit while allowing room to grow. The cage length is 3.5 inches with a width of 1.4 inches. The base rings vary in size from small to extra-large so you can find a perfect fit. And yes, it includes a lock and key.
Malesation Penis Cage
Another nearly ringless option, the Malesation Silicone Penis Cage is available in either red/clear or black/clear. The majority of your penis is encased in comfortable silicone. Two silicone base rings are included to find your perfect fit. It also includes a brass security lock and five numbered plastic locks for easy travel.
Shots Man Cage Model 4
Looking for a lightweight, comfortable chastity cage? Try the Shots Man Cage Chastity Model 4 Cock Cage. You can choose from clear or black, but both are made from a high-grade polycarbonate to keep you locked and comfortable. Two guidance pins connect at the top while an oval taper pin connects the rings within the cage. The rings come in a variety of sizes so you can make your perfect fit. Tie-wrap locks are also included making this cage travel safe.
Shots Man Cage Model 10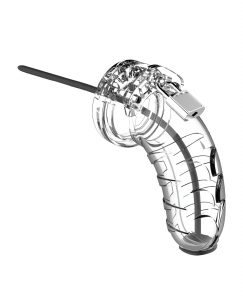 The Shots Man Cage Chastity Cock Cage Model 10 gives you everything you expect from Model 4 but with a little bit extra. What could that be? Try a small butt plug for added sensation while you're locked up. That's right, you'll be teased in the most deliciously cruel way with no option for relief until your keyholder lets you out. The plug is detachable so you can use the Model 10 without it. It also includes both a metal lock and a tie-wrap lock to keep you locked and plugged for any occasion.
Shots Man Cage with Urethral Sounding
Urethral sounding isn't for everyone, but if you love it and want to take it to a new level, try it with your chastity cage. The Shots Man Cage with Silicone Urethral Sounding locks you up and "tortures" you with pleasure inside and out. Even better, you get no relief until you're let out again. The Shots Man Cage is made with the same high-quality polycarbonate material you expect and comes with everything you expect in a Shots Man Cage.
Conclusion
Chastity and being locked up isn't for everyone. And finding the right penis cage can make or break the experience. Look for products made for comfort, discretion, and pleasure. Start with this list and keep exploring your kinky fantasies. You never know how kinky you really are until you try new things.
Have you worn a chastity cage before? What did you think of the experience? Feel free to share with us in the comments below!