If you've been buying sex toys for any amount of time, you've probably owned a Blush Novelties toy, whether you knew it or not. They make dildos, anal toys, vibrators, and so many other toys. Even better, they're all made to feel good and look nice, too.
If you want to get a new sex toy and you want it to look as good as it feels, start with these Blush products first!
Exposed Estelle Bullet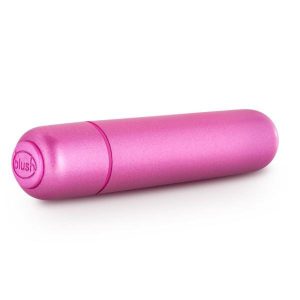 The Blush Exposed Estelle Bullet is a simple bullet vibrator available in raspberry or cherry (colors, not flavors). It's powerful but still discreet. You can enjoy it alone without worrying about who's going to catch you. It's also great for couples to add some vibrating goodness to your sex life. Use it on your clit or to tease other parts of your body (or your partner's!).
Aria Radiance Bullet Kit
Available in lime or fuschia, the brightly colored Blush Aria Radiance Bullet Kit functions both as a bullet vibe and a finger vibrator. It becomes a finger vibrator once you add one of the two attachments. Enjoy five speeds and five patterns to touch, tease, and tantalize yourself or your partner in every erogenous zone you can find. It's a great option whether you want to enhance your masturbation fun or add a good vibe (pun intended) to partnered sex.
Aria Mi Vibe Kit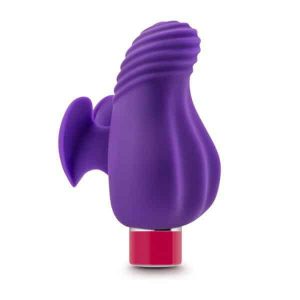 Another combination finger vibe and bullet vibe, the Blush Aria Mi Vibe Kit gives you plenty of options for pleasure. Use the bullet vibrator on its own or insert it into the textured, ribbed, and uniquely shaped silicone "head." Hold it between your fingers and explore your sensitive spots. The ridged tip is designed purely for pleasure. The Aria Mi is fully submersible so take this into the tub with you for a sensual and sinfully good time alone.
B Yours Sweet n Hard
Want a long dildo that can do you right and all night long? Look no further than the Blush B Yours Sweet n Hard. A gorgeous and realistic pink dildo with plenty of texture, you get more than nine inches of penetrative pleasure. It's harness compatible to use with a partner. Or take advantage of the super-strong suction cup for plenty of solo fun.
Avant D6 – Electra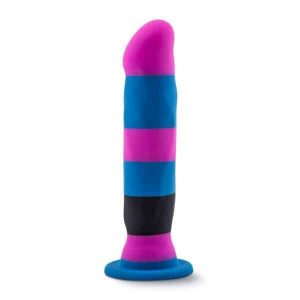 The Blush Avant D6 – Electra is part of a unique line of dildos hand-sculpted by primarily female designers. Made with a unique shape and color palette, the Electra is sure to catch your eye long before it hits all your hotspots the way you like best. This eight-inch dildo has a dark and sultry feel thanks to the colors and will fill you up just the way you want.
Avant D2 – Purple Rain
A gorgeous purple striped dildo, the Blush Avant D2 – Purple Rain, is sure to please. It's also hand-sculpted and includes a unique dip and curve to hit your G-spot just right. This six-inch dildo is harness compatible for partnered fun, but it's also got a strong suction cup so you can go at it alone all night long.
Luxe Wearable Vibra Plug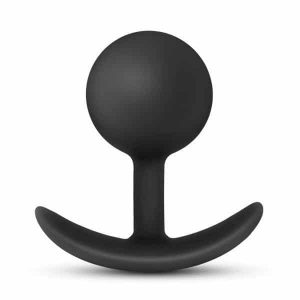 How can a toy vibrate without batteries? Try the Blush Luxe Wearable Vibra Plug and find out for yourself. This silicone butt plug comes in black or purple and features a narrow neck and wide base for maximum comfort and safety. The real star of this plug is the round, bulbous tip that vibrates with the movement of your body once it's inserted. Think of it almost like Ben wa balls for your butt.
Performance Prostimulator 02
The Blush Performance Prostimulator 02 is a soft, sleek silicone prostate massager designed to fit your most intimate curves and give you orgasms and pleasure you've never experienced before. Choose from one of 10 settings to find what feels best or remove the vibrating unit completely for a more manual kind of pleasure. If you love to tap your p-spot, you're going to love this toy.
Luxe Silicone Beads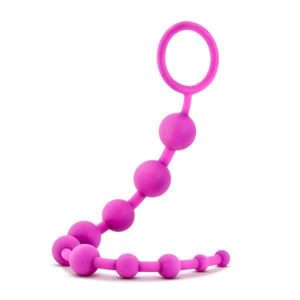 One of the simplest and yet most effective anal toys out there, anal beads are great for booty newbies and advanced anal players alike. The Blush Luxe Silicone Beads are available in pink or purple and feature 10 graduated beads for comfort, sensation, and exploration. The large loop on the back makes retrieval easy, comfortable, and safe. Start with the smallest bead and work your way up — and then in and out and in and out — until you're moaning with pleasure.
Conclusion
You can count on Blush Novelties to provide variety in sex toy styles and color, as well as plenty of pleasure. No matter what kind of sex toy you want, Blush has it.
Have you used a Blush Novelties sex toy before? What did you think of it? Let us know in the comments below!