For some people, the g-spot is a buried treasure almost impossible to find. X doesn't mark the spot, but G spot might, and the right sex toy helps you find it. Once you do, you might just fall in love. More powerful orgasms, squirting orgasms, and the kind of pleasure that has you speaking a language no one can possibly understand.
Want to make that experience even better? Or just get helping finding the g-spot? Check out these nine g-spot sex toys designed for one very specific kind of pleasure.
Gigi 2

The Gigi 2 from LELO has been called the world's most popular g-spot vibrator, and for good reason. The flattened head and the eight powerful settings can have your g-spot humming, thrumming, and coming in no time. It's made of soft silicone and is completely waterproof so feel free to take it into the bath or shower for some special alone time.
Slimline G
If the mini version is good, the full-size Slimline G is amazing. You get all the power of the little ones but in a larger size. It comes in multiple colors so you can choose the one you like the best. Let it's rounded head tap away until you're screaming for more. It's slim design allows for more exploration to find your exact perfect spot. X doesn't mark the spot but G does.
Slimline G 7X Minis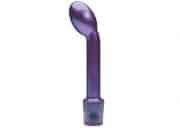 When you're looking for g-spot pleasure that's discreet but delicious, the Slimline G Mini is the one to try. It's made of hard plastic and slim for easy maneuvering. The bulbous tip that's curved at the end works well against your g-spot thanks to the seven different functions. Pack it in your bag for overnight travel because hotel sex and masturbation are hot. It's small but mighty.
Tantus Silk Small Dildo
Tantus is known for making freakishly wonderful dildos. The Silk is no difference. Small and slim, it won't intimidate a dildo newbie. Even better, it's curved to hit your g-spot. Mount it on a flat surface, hold it in your hand, or put it in a strap-on harness. No matter how you like to play, this soft, sleek, and gorgeous silicone dildo can give you exactly what you crave.
Icicles No. 8

A glass dildo needs to be in the toy box of anyone who enjoys penetration. They're beautifully designed, easy to clean, and great for sensation play. The Icicles No. 8 also has a thick tip that when angled right can slam into your g-spot in a way nothing else will. The glass has no give to it so you can have the bruising or not-so-bruising pounding you crave most. This seven inch beauty will go wherever you want it to.
Ella
Another beauty from LELO, the Ella dildo might make you forget all others. The design is simple and elegant, and the super soft silicone makes it a delight to hold in your hand. But the real reason to try it is the curved head and flat tip. Once you find the spot and the rhythm, you can tap-tap-tap against your g-spot all night long.
My Little Heaven

The My Little Heaven g-spot dildo isn't your typical sex toy. Designed by a woman with her own g-spot and a Master's Degree in product design, it's unique shape hits her g-spot perfectly. Which means it could be perfect for yours, too. It's kind of weird looking, but who cares as long as it works, right?
Posh Silicone Double Dancer
No g-spot toy list could be complete without a rabbit vibrator. Not all rabbits are good for your g-spot, though. Look for a curved or bulbous tip so you know it can reach you at the right angle. The Posh Silicone Double Dancer hits both your clitoris and your g-spot. You have three speeds to choose from, each one more powerful than the first.
G-Kiss Vibe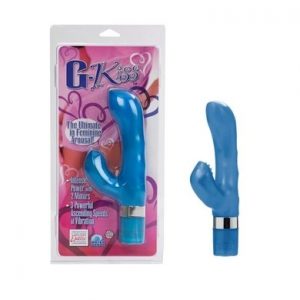 A top-rated rabbit, the G-Kiss Vibe does what it's name implies. Of course, if you want more than a kiss, play with any one of the three settings. It's a small, discreet vibrator so you can take it wherever you like. The flat tip on the clitoral side gives you the most stimulation against your vulva while the round tip takes care of you on the inside.
Conclusion
Using your hand to tap g-spot can be fun, but when you add a sex toy, you take your pleasure and fun to a new level. Finding the g-spot sex toy that feels the best to you is part of the fun. Experiment with vibrators, dildos, rabbits, and any other toy, and then spend your time with the one that feels best to you.
Is your G-spot your hot spot? Do you use a sex toy to get off? Let us know in the comments below!