Anal sex or "butt stuff" is an equal opportunity pleasure. It doesn't matter what gender or sexuality you are, if you've got a butt, you can try anal sex toys. But if you move too fast, you can hurt yourself.
If you're interested in anal but still new to it, here are nine beginner anal sex toys you can try.
Note: All anal play requires lubricant. Use more than you think you need, and be ready to reapply as needed!
Wendy Williams Anal Trainer Kit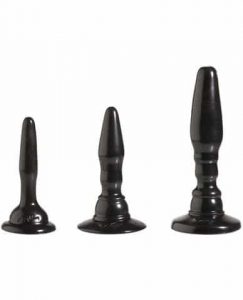 If you're completely new to anal play and especially penetration, starting with an anal training kit is a good way to go. The Wendy Williams Anal Trainer Kit gives you three butt plugs to choose from so if the smallest is too small or the biggest is too big, you've got choices. Each butt plug is a basic black with a smooth texture, tapered end, and wide base. You can move from size to size as slowly as you need to, taking your time getting used to the sensation.
Beginners Butt Plug
When you're new to anal play and butt stuff, you don't need anything intimidating. The Beginners Butt Plug is perfect for newbies. The soft material keeps you comfortable as you insert your plug and once it's in. The tip is tapered for easy entry, and the wide base means you don't have to worry about losing it. Yes, that can happen, so always choose an anal toy with a wide base or big handle.
Basic Anal Beads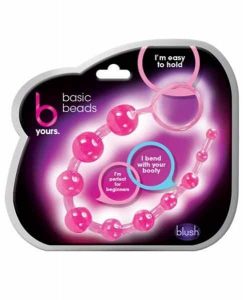 Anal beads offer a lot more sensation than butt plugs and other anal toys. The smallest bead might be where you begin, but in no time, you'll be up to the largest bead. Once you're comfortable with the entire length and want more stimulation, move the beads back and forth. Basic Anal Beads are your entry into completely new sensations. There are 10 beads to experience with an insertable length of over 10 inches. The retrieval loop handle makes it easy to move and remove.
Vibrating Anal Probe
An anal probe is a great beginner anal sex toy because they're small, thin, and very tapered. The Vibrating Anal Probe takes your fun up to a new level but adding vibrations. When you're new to butt stuff, any pleasurable stimulation you can add helps your body relax. If the buzzing against your bum feels good, it's easier for the probe to penetrate your butt. Once inside, those vibrations can hit spots you didn't even know existed.
Corked Vibrating Butt Plug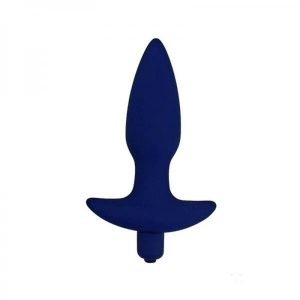 If anal probes feel good when they vibrate, imagine what a vibrating butt plug must feel like. The Corked Vibrating Butt Plug is a solid but not overly large plug that will definitely let you know it's there. Turn the vibrations on and you may need a bit of relief from all that stimulation. Masturbating at the front while a butt plug buzzes in the back is definitely a great way to get yourself off!
Jelly Rancher Pleasure Plug
Do you like your sex toys to be fun and brightly colored? The Jelly Rancher Pleasure Plug (in pink!) may be exactly what you need as you explore anal sex and play. It's small and soft with the typical tapered end and wide base. The color reminds you of candy but the sensations will have you thinking of sexier things.
Fifty Shades Anal Beads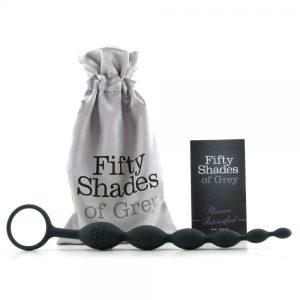 Did you get warm all over when you read about anal beads in Fifty Shades of Grey? You're not alone! Now you can recreate the experience for yourself with the Fifty Shades Anal Beads. Anal play doesn't have to be a kinky thing, but if that's what you want, these beads can deliver. The insertable length is just over seven inches long, and you can start as small as you need to and work your way up.
Icicles No. 2 Anal Beads
Glass sex toys are fun for all kinds of reasons, not just because they're beautiful to look at. If you like temperature or sensation play, the Icicles No. 2 Anal Beads is the toy for you. Warm them up or cool them down, and you're sure to make yourself feel something new. The solid nature of the glass means there's no give to this anal toy. You're going to feel every inch of this in your bum. Go slowly and have fun.
Anal Fantasy Beginners Kit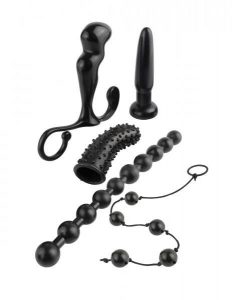 You know you want to try anal, but you don't know where to begin. The Anal Fantasy Beginners Kit is the perfect place to start because it gives you multiple options. You get five different anal toys to try: beaded anal probe, prostate stimulator, finger sleeve, butt plug, and anal beads on a string. You can mix and match, try new things, and find exactly the kind of anal stimulation you love best.
Conclusion
There is no single perfect anal sex toy, only what feels good to you. Remember to start small, take your time, add plenty of lube, and, most importantly, have fun. Experiment with different anal sex toys to find what you love best!
Are you curious about anal? Is there a toy you really want to try? Let us know down in the comments!