If you're curious about anal play, butt plugs are a great place to start. They can be worn for long periods of time and help your body adjust to new backdoor sensations. But the one thing that tends to make any form of anal penetration easier — and better — is extra stimulation. That's why vibrating butt plugs are a great way to reduce discomfort and maximize pleasure.
Choosing the Right Butt Plug
Before you buy your first plug, it's important to get something that's safe to use. A good butt plug is tapered at the end before widening out towards the bottom. They should have a narrow neck for your muscles to clench around and an extra wide base. The size of the base is important so your plug doesn't get stuck up your butt.
Now that you know what to look for, here are eight vibrating plugs you're going to love.
Anal Fantasy Ass Gasm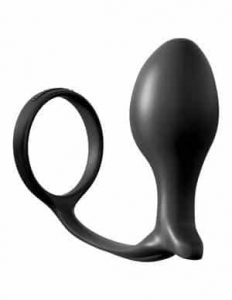 The Anal Fantasy Ass Gasm is really two toys in one — it's a penis ring and a vibrating butt plug. Use the ring to prolong your orgasm, and the plug to hit your prostate. By the time you're done you'll explode with pleasure. Be prepared for some of the most intense orgasms you've ever had before.
Pretty Love Vibrating Bulb
If you want something that will stretch your body so you can handle more stimulation and feel good going in, try the Pretty Loving Vibrating Bulb. It's a great option for beginners or more experienced booty-fun lovers. It includes a 12-function bullet vibrator at the base and comes with a remote control so you can put it in and play with the settings until you find exactly what you need.
Fifty Shades of Grey Delicious Fullness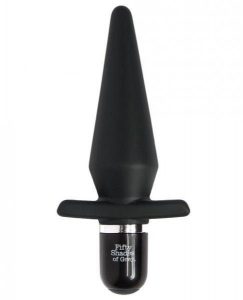 For anyone with your own Fifty Shades fantasy, the Fifty Shades of Grey Delicious Fullness will give you what you crave. This butt plug is made of smooth silicone so it feels good going in. You also get three speeds and seven patterns of stimulation so you can find the setting that feels best to you.
Pretty Love Vibrating Bead
Instead of a smooth butt plug, the Pretty Love Vibrating Bead looks more like traditional anal beads with a narrow, tapered end that bulges out as you move down the plug. Beads offer much more stimulation, so they're great for people who have enjoyed plugs for a while, too. The 12 function bullet vibrator works from a remote so put it in, lie back, and have fun.
Anal Fantasy Perfect Plug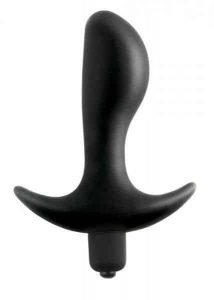 The Anal Fantasy Perfect Plug is smooth and tapered for comfortable entry. But the bulbous head is where the action is at. If you've got a prostate, you may love what this vibrating plug can do for you. Use it as a small prostate massager and enjoy some of the most intense pleasure you've ever experienced.
Sensuelle Mini Plug
This beautiful purple butt plug creates it's intense vibrations thanks to a quiet and discreet Joie Bullet. With the Sensuelle Mini Plug, you get 15 patterns and a remote control to experiment and play until you find exactly what you need to feel amazing. It's smooth, tapered at the top, and made of body-safe silicone.
Nexus Ace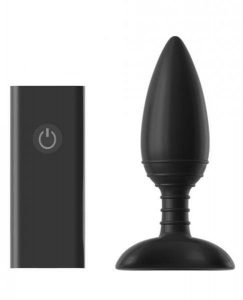 Looking for the classic style of butt plug but with a little something extra? You're going to love the Nexus Ace. It's a small plug that's perfect for beginners but offers the vibrations — six settings — that anal play experts will love. Hand the remote to your partner and let them tease you with pleasure.
We-Vibe Ditto
You can enjoy booty fun with your partner, whether you're in the same room or across the world from each other, thanks to the We-Vibe Ditto. This luxury butt plug provides 10 plus vibration modes and is 100 percent waterproof. You can control it with the remote or use the We-Vibe app for even more vibrating fun.
Don't Forget the Lube
No matter what kind of anal plug you enjoy, always use lots of lube. Silicone, glass, metal, and non-porous plugs can use a silicone-based lube that's thicker and comfortable for anal play. Porous materials like rubbers, TPE/TPR, and other soft materials that aren't pure silicone need water-based lubricant.
Conclusion
Butt plugs are a lot of fun for people who enjoy anal stimulation. VIbrating butt plugs take the fun to the next level and provide the stimulation your body needs to relax and enjoy the moment. Whether you're new to backdoor pleasure or you've been playing for years, a vibrating plug can get you off in an entirely new way.
Have you ever used a vibrating butt plug before? Do you think you will now? Comment below!