If you've ever stood in the "family planning" section of a store and wondered, "What kind of condom do I need?" you're not alone. Condoms might be great for protection, but that doesn't mean picking what to use is easy.
Check out eight different types of condoms you might need or want during nearly every kind of sex with your partner! You might be surprised at how many options you really have.
The Right Size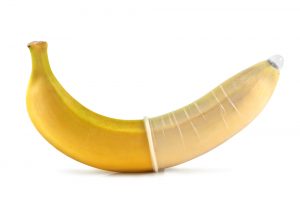 Everyone who wears a condom on their penis needs the right size. Too small, and it could break. Too big, and it might come off or not create the barrier you need. There's no shame in needing something other than the standard size. And you're not doing your partner or yourself any favors by buying XL when you don't really need them.
By the time you get naked, your partner isn't going to check the size on your condom wrapper. But they're definitely going to notice if there's a problem with the one you decide to use.
Latex-Free
Latex allergies are no joke for people who have them. You're not doomed to unprotected sex just because you're allergic to what most condoms are made of, either. Look for latex-free options instead. They're slightly less effective at 95 percent but that's due to a higher chance of breaking than latex condoms. Most latex-free condoms are made of polyurethane and are just as effective. Lambskin isn't recommended for protection from sexually transmitted infections (STIs) but it can help prevent pregnancy. Get the right size, and use a good lube, and the likeliness of a tear or rip goes down.
"Female" Condom
When we say "female" condom, we really mean a barrier for a vulva. This is an insertable condom that can be placed in the vagina up to eight hours prior to penetrative sex. It's not the easiest to use and can be more expensive than other condom options. Because it only has an 80 percent effectiveness rate, it's best to combine it with other forms of protection.
Dental Dam
Condoms are simply barriers for your body, but not all condoms fit over penises. For oral sex — on a vagina, penis, or anus — dental dams are a great option. Use a little lube on your partner's skin, place the dam over the area, and make them feel good with your tongue. Protection from STIs isn't the only reason to use a dental dam. Some people get squicked out about putting their mouth in certain areas but want their partner to feel good. A dental dam can be a good option for that, too.
Finger Cots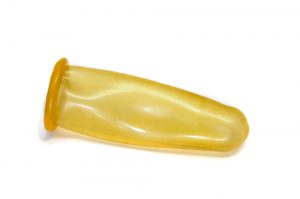 A finger cot is a condom for your finger. Like dental dams, it can be used to prevent the spread of an STI and to help a partner who doesn't want to touch certain areas of the body with a bare finger. Finger cots are placed over the finger before penetration — of the vagina or anus. This prevents open cuts or scrapes from being introduced to the body, but it also makes sure that your partner doesn't get cut or jabbed with a fingernail. (Trim your nails before anal play, even with a finger cot.)
If you want to try prostate massage or other anal penetration, a finger cot will keep your finger clean, too. Poop happens in butt play, and the idea of it bothers some people. Finger cots are a great way to stay clean and still have fun.
Lubricated
A lubricated condom is a more comfortable penetrative experience and a safer condom. Without lubrication, the chances of a tear or rip go up dramatically thanks to the friction created during sex. Buying condoms already lubricated makes them more comfortable and decreases the chances of using an incompatible lube.
Never use an oil-based lubricant (or coconut oil or baby oil) with a condom. The oil can cause the condom to break down and rip. If you need to add more lube, use a water or silicone based option instead.
Spermicide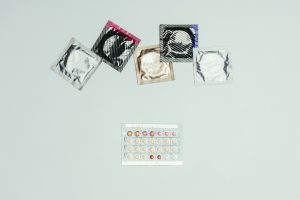 On its own, spermicide is only about 80 percent effective. When combined with a condom, it's effectiveness goes up to about 97 percent. Technically, condoms without spermicide are 98 percent effective because spermicide slightly increases the chance of breakage. Condoms with spermicide aren't for everyone because having an allergic reaction or being sensitive to the spermicide is a possibility.
"Fun" Condoms
When we say "fun" we mean anything other than your basic, smooth rubber. Glow-in-the-dark, flavored, textured, and ribbed condoms are all very common. Some condoms are textured on the inside for additional penis stimulation. Some condoms are sensory — creating a cold or warm feeling while in use. Always keep lubrication, spermicide, and the material in mind so that your condom isn't just fun. It has to work, too.
Conclusion
Condoms don't have to be a nuisance or a thing you wish you didn't need. When you find the right type of condom, you can experiment with sexual pleasure, try new things, and protect yourself and your partner all at the same time.
Feel like more people need condom knowledge? Share our infographic below!