Finding a good dildo that you want to use over and over again isn't always easy. For the dildo-lovers out there, you'll go through a lot of disappointment before finding the one that makes you want to get naked and stay that way.
Whether you're looking for something you can use alone or with a partner, these top-rated dildos are so good you'll never want to put them down. Start with this list to find the perfect new toy for you.
Mr. Swirly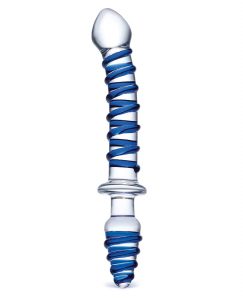 Glass dildos are a great (and popular) choice when you're looking for a safe way to penetrate yourself or a partner. The Mr. Swirly by Glas offers 10 inches of firm fun with blue swirls for added texture and pleasure. Warm it up or cool it off, and you'll have an easy way to try a bit of temperature play, too. Go heavy on the lube so this dildo slides in easily, and you'll discover for yourself why it's such a favorite.
Slimline G-Spot Glass Dildo
Another made by Glas, the Slimline G-Spot Glass Dildo offers the simple pleasures in life — by tapping your G-spot at the perfect angle and being hard enough to make sure you feel it. As with any other glass dildo, temperature and lube make a big difference in your experience. And if your G-spot is your best spot, the bent tip will hit you where you need it most.
Easy Rider
Want to ride 'em cowboy with a new dildo? Try the Easy Rider line from Blush Novelties. These realistic dildos come in multiple flesh tones from light to dark. They have the veins, ridges, and texture you need to feel like you're not quite alone. What sets these dildos apart from the rest is the soft flexible material that works with your body, not against it, to provide even more pleasure.
Blush Novelties Loverboy
If you've ever been stuck using the same old fantasy over and over again when you masturbate, you're not alone. Sometimes you need a little inspiration to get yourself off. The Loverboy line of dildos from Blush Novelties is here to please. Choose Derek the Bartender, Tony the Waiter, or Pierre the Chef and let these guys — and their firm, stacked peens — provide all the pleasure you crave.
King C*ck Clear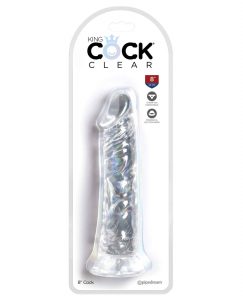 Want a dildo that feels like the D but doesn't look like it? The King C*ck clear series may be exactly what you need. You get the ridges, texture, and veins of typical dildos but in a clear material so no one can tell what it is at a glance. Your dildo can be literally anyone you imagine them to be thanks to your imagination and the lack of flesh tone. Choose from multiple lengths, girths, and styles to get exactly what you want.
Adam's Thrusting Dildo
If your hand or wrist ever get tired while you play with a dildo, you know the thrusting struggle is real. Skip the carpal tunnel and choose Adam's Thrusting Dildo instead. This realistic toy works from a wireless remote control (up to 50 feet away if you're into kinkier fun). You get 10 speeds of vibration and three speeds of thrusting action. This dildo thrusts half an inch so slide it in until it's comfortable and then turn it on. Lay back and enjoy the ride.
Temptasia Luna
Looking for a dildo that's fun for two? The Temptasia Luna is a strapless strap-on for anyone looking to up their strap-on game. The short end slips inside the vagina of the penetrating partner, and the dildo goes everywhere else — anus, vagina, or mouth. Turn up the volume on your pleasure by turning on the bullet vibrator included for additional stimulation. For couples who love to use dildos together, this silicone beauty may be exactly what you need.
Fantasy for Her
Another strapless strap-on designed with you and your partner in mind, the Fantasy for Her provides an elegant, smooth experience. Use the wireless remote control to find the perfect vibrations for both of you and let yourself go. If you're up for a sexy shower scene, it's waterproof so take it in with you. Enjoy the nine vibration functions and the silky silicone!
Conclusion
Not every dildo is perfect for everyone. But when you need something amazing and new, look to the toys other people love. Reviews and ratings help you narrow down your options and pick a new sex toy you're more likely to enjoy. Whether you know exactly what you love or you're open to new experiences, the dildos in this list won't disappoint. At Jack and Jill Adult Superstore, we so many sex toys that you're sure to find multiple new favorites whenever you shop!
Will you try one of these dildos? Do you have a favorite not on this list? Let us know below!