Do you hate having to pick between your g-spot and your clitoris when you want a good orgasm? Are you always looking for bigger, better, more explosive pleasure? If you love internal and external stimulation, the right rabbit vibrator gets you off in ways you might not be prepared for.
The right rabbit vibe for you needs to feel good against your g-spot and your clit. It also needs to give you the option of multiple speeds and functions to suit your unique desires. If you're looking for a new rabbit vibe, but don't know where to start, we can help!
Check out the highest customer-reviewed rabbit vibes we carry! One of these is sure to put a big smile on your face…after you finish screaming out your next orgasm.
Black Velvet
Maybe our age is showing, but Black Velvet brings a sexy, sensual song to mind. But this plastic rabbit vibe can make things sexy and sensual even if you don't know the song. It's short, dark, and designed for orgasms. The plastic keeps the shaft soft but firm. With two AA batteries, you'll get plenty of power in a small, discreet vibrator.
Thunder Cloud
Thunder Cloud doesn't have to mean stormy skies ahead. Instead, think about the big, deep boom of raw power you feel when thunder rumbles. That's what this rabbit could do to you. The shaft is only five inches long, but it's the thick tip that's designed to tap your g-spot in all the best ways. This elastomer toy has multiple speeds to choose from and the shaft changes colors when it's turned on.
Dream Maker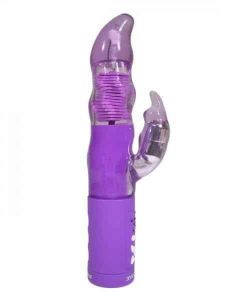 Want a rabbit that can make all your orgasmic dreams come true? Try the Dream Maker. The shaft isn't your typical vibrator shape. It has twists, curves, and no straight lines anywhere. It's also tapered at the end to hit your g-spot just right. Pop in four AAA batteries and play with the multiple speeds to find the setting that feels good and gets you off.
Black Magic
Ever had a sex toy so good you thought it had to be some kind of magic or voodoo? The Black Magic from Doc Johnson might be the rabbit vibrator that makes you wonder if it has magical powers. You have multiple speeds and settings to choose from, including reverse rotation. The metal beads offer a sensation without getting jammed. It takes your typical rabbit vibe and adds a bit of sensual magic to the mix.
Double Dancer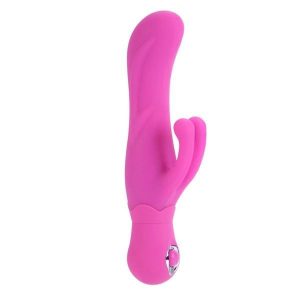 When you want a rabbit vibrator that makes you feel good inside and out, you want Double Dancer. Made from silicone, it feels smooth and soft with just enough firmness to let you know its there. It only needs one AA battery, but with three speeds, it offers enough power and variation to get you where you want to go.
G-Kiss
The G-Kiss does exactly what it sounds like — it kisses your g-spot. The tip is angled just right to tap your hotspot. Plus the clitoral stimulator is a solid piece — instead of two pointy rabbit ears — to provide complete stimulation and coverage. This silicone rabbit is waterproof and, with help from all the options, provides as much pleasure as you can handle. Two AAA batteries are required.
Embrace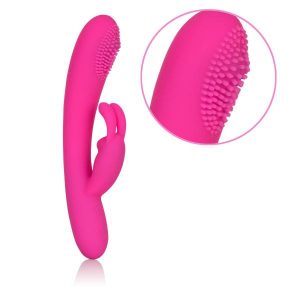 The Embrace offers what the name implies — an embrace of pure pleasure. You get seven functions of pulsations, vibrations, and escalations. Even better, the memory chip remembers your last setting so you can get to the good stuff when you turn it on again later. A three-speed rolling ball in the shaft offers extra stimulation. This silicone vibe is USB rechargeable and pure luxurious pleasure.
Jack Rabbit
Looking for a luxury rabbit vibrator that feels good and looks beautiful? Check out the Jack Rabbit, a silicone vibe that gives you three speeds and seven functions of orgasmic delight. It even thrusts in and out for even more pleasure. When you wear the batteries out — and as good as it feels, you just might — recharge it by USB so it's ready whenever you are.
Conclusion
Rabbit vibrators are one of the most popular sex toys on the market because they offer pleasure that hits all the right spots — at the same time. Sex toy manufacturers are constantly trying to find new ways to update this old favorite. That's good for you because it gives you even more options to find what gets you off best. These eight highly rated rabbit vibes from Jack and Jill are a great place to find your next favorite toy and giant orgasm.
Have you ever used a rabbit vibrator before? Do you have a favorite? Let us know down in the comments!