The Satisfyer brand is known for making a very specific type of vibrator, and yes it's on this list. But that's not all Satisfyer does. In fact, they make toys that not only feel amazing, but they look good, too. Some don't even look like vibrators.
Looking for discreet but powerful sensation and pleasure? Check out these Satisfyer vibrators to find your new favorite toy.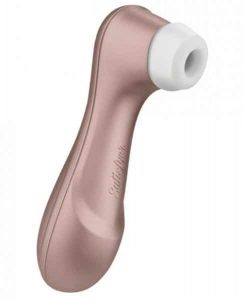 Satisfyer Pro 2
While not quite the true OG of the brand's range of vibrators the Satisfyer Pro 2 is a long-time favorite. Many people think of this toy when they think of the brand. The open nozzle fits over the clitoris for pressure wave stimulation, and you get 11 settings to find the sensations you love most. Once pressed against your clit, this vibrator becomes very quiet so the only thing giving you away is your cries of pleasure.
Satisfyer Pro Penguin
The Satisfyer Pro Penguin is the cousin to the Pro 2. They work the same way but this model is decidedly cuter. The black and white body give it the look of a penguin, hence the name, but the pink bow tie gives it personality. The nozzle opening on the Pro Penguin is larger than the Pro 2. Even though the sensations are similar, along with those 11 settings, this difference offers more stimulation.
Satisfyer Luxury Pret-a-porter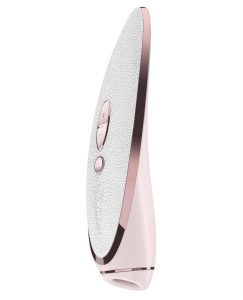 Craving the look and feel of luxury? If you like the finer things in life, you may love the Satisfyer Luxury Pret-a-porter. The basic design of this vibrator is similar to all the other pressure wave stimulators Satisfyer offers, but there are clear differences. Like the ultra-soft silicone in pink, the genuine leather detailing surrounding the buttons, and the rose gold details. You still get all the discreet pleasure and choices of other versions, but with a genuinely luxurious look and feel.
Satisfyer Pro Next Gen
Want the clitoral attention of unique pressure wave sensations but not a fan of the other models? The Satisfyer Pro Next Gen offers all the pleasure you crave with a discreet palm massager design. Pick from one of the 11 settings, press it against your vulva, and enjoy the experience. It looks elegant and simple, and at first glance, no one will ever know it's your vibrator. Like other models, you can play with this anywhere, including the tub because it's fully waterproof.
Satisfyer Partner Multifun 3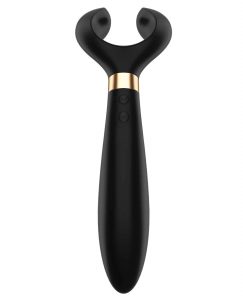 Looking for a vibrator you can easily use with your partner? Look no further than the Satisfyer Partner Multifun 3. Though it doesn't offer pressure wave stimulation, it's still got plenty of features to set it apart from standard couples' toys. Thanks to the vibrating silicone stems — and rotating head — the Multifun 3 is designed for almost any body part. Use it against a clit or G-spot. Play with your nipples, or your partner's. Use it as a penis ring or stroke yourself with it. With three motors, flexible stems, and 32 pleasure possibilities, you'll never get bored with this vibrator.
Satisfyer Wand-er Woman
If you'd rather have a more traditional vibrator for clitoral stimulation, the Satisfyer Wand-er Woman could be your new favorite. The large silicone head feels great against your vulva and you get all the power and pleasure you expect from a wand. With 10 vibration settings and five intensities, you have 50 combinations of stimulation and sensation to try. Even better, this wand is rechargeable so you don't have to deal with cords while you play.
Satisfyer Sweet Temptations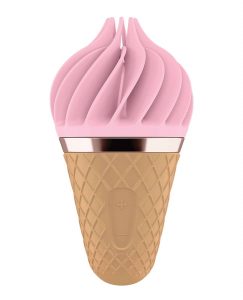 The Satisfyer Sweet Temptations looks sweet and feels amazing. The ice cream cone look makes you smile, and the rotating clitoral stimulating "blades" will make you moan with pleasure. This cute but powerful vibrator comes in three colors: pink, black, and white. It's super quiet so no one has to know what you're up to. With seven modes, you can find the setting that turns you on and gets you off in the way you love best.
Satisfyer Petting Hippo
For anyone who needs something other than clitoral stimulation, Satisfyer has you covered with the Satisfyer Petting Hippo vibrator. Yes, you can use it externally, but the little hippo feels amazing against your G-spot. The shaft is flexible to make hitting your hotspot easier than ever, and the tip curves at just the right angle. Choose from 12 settings and enjoy the ride. This pink vibrator will make you say, "Rabbit who?"
Conclusion
What sets Satsifyer apart from other brands is that they're not afraid to get weird with it. Pressure wave stimulation isn't exactly standard among vibrators. Rotating arms and ice-cream-cone vibrators aren't what most of us are used to seeing. The fact that they combine powerful stimulation with fun, quirky designs means Satisfyer is one to give a closer look at when you're bored with "typical" toys.
Have you tried a Satisfyer vibrator? Which one was it, and what did you think of it? Let us know what you think in the comments below!