When you buy a sex toy like a vibrator or a dildo, you want it to work and to make your body feel something new and exciting. Sometimes you want to add some spice to your relationship and make the sex you're having even better. There's nothing wrong with adding sex toys to your relationship. There's also nothing wrong with looking for toys in your favorite color. If your signature color is red, check out these eight red sex toys available from Jack and Jill.
Tongue Twister Red Vibrator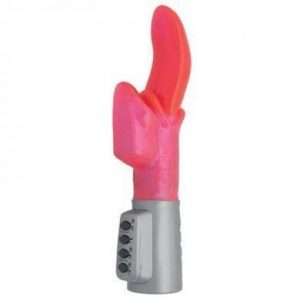 Who says you can't give yourself oral sex? With the Tongue Twister, you can. It's the tongue that never gets tired. In reality, you may have to call it quits long before the batteries die. This red vibrator is waterproof so take it into the tub or shower with you, sit back, and relax. With multiple speeds and settings, you can experiment until you find the right tongue action for you.
Ahhh Bullet Vibe
A bullet vibrator that calls itself "Ahhh" has a lot to live up to. This strong, quiet, and very discreet toy might make you say much more than that. It vibrates, pulsates, and escalates to drive you wilder and wilder the longer you play. With 10 settings and a remote-control, you can make this part of your solo masturbation session or some fun sexy time with a partner.
Frisky Finger Unisex Stimulator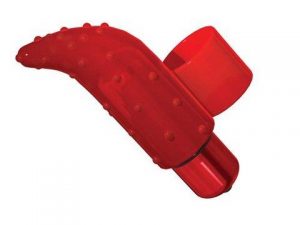 When your hand just isn't enough, the Frisky Finger vibrator can get you off while giving your fingers a break. This stimulator can go anywhere your finger can. Use it for g-spot, clitoral, or prostate stimulation. It can also help you if you're a little squeamish about touching certain parts of your own body – like your butt. It's waterproof and has multiple settings so you can play with it wherever and however you like. This is another sex toy that's great alone or with a partner.
Rosa Rouge Vibrator
The Rosa Rouge isn't your average red vibrator. Yes, it's waterproof, made of silicone, and vibrates. No big deal, right? Did you know it flexes and shifts thanks to two motors, and it heats up? It makes your sexiest moments even hotter. The Rosa vibe adjusts to your body for extra comfort while offering nine vibration modes and 12 speeds. Between that and the 104 degree temperature, things are about to get hot, hot, hot.
Red Rider Adjustable Strap-On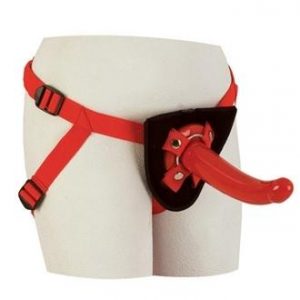 Of course you want your strap-on to work well, but it never hurts if it looks good, too. The Red Rider strap-on is all of that and more. It's completely adjustable at the waist and thigh straps so it fits most people. The harness itself is padded for your comfort. The seven inch curved dildo is also removable so you can use it separately and clean it more easily. Penetrating your partner has never felt or looked so good before.
Red Head Glass Double Dildo
What's better than one dildo? Try two, together and at the same time. The Red Head has a spiraled bulbous head on each end so both of you get a similar stimulating experience. It's a beautiful toy for an erotic moment. Glass is a sturdy material that can handle temperature play – hot or cold – as well as any type of lube you prefer. So play with it however and wherever you want. Mutual penetration has never been quite so pretty.
Diogol Anni R Clover Cristal Anal Plug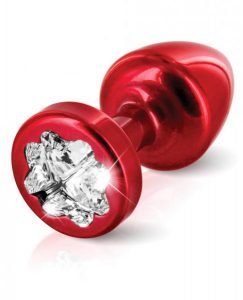 Butt plugs are primarily functional – stretching muscles, creating delicious stimulation in one of the most sensitive and private parts of the body, and "training" you for something bigger. But that doesn't mean they can't also be beautiful. The Diogal Anni R Clover is a gorgeous red color with a Swarovski crystal at the end, proving beauty and function don't have to compete.
PDX Elite EZ Grip Stroker
Sometimes your hand just won't cut it. You've stroked yourself until you've got callouses, and it's just not doing it for you. You want something tighter and with texture. The PDX Grip Stroker is the masturbation sleeve to try, especially if red is your color. It's studded, ribbed, and textured on the inside. It also provides a squeeze and suction feeling for your penis. The non-slip grip means you'll be able to hold on until you explode with pleasure. Cleanup is easy with warm water and sex toy cleaner.
Conclusion
If you can imagine a sex toy or a sensation for your erogenous zones, someone's created it by now. From vibrators to anal plugs, from pulses to heat, there are plenty of new ways to explore sexual pleasure. If you happen to like the color red, there's nothing wrong with making sure your sex toy looks good, too.
Know someone who loves the color red? Share the infographic below with them!