If you've got a penis, chances are you've heard of Fleshlight. These high-quality and popular masturbation sleeves are some of the most popular sex toys for men and other people with penises on the market. If you haven't tried one yet, you might wonder what all the hype is about.
Check out these eight reasons why so many people love their Fleshlight for solo sex and fun with a partner.
Lots of Options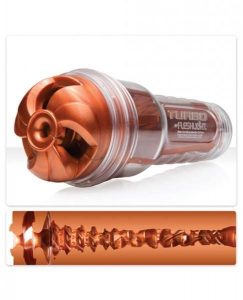 From porn stars to turbo models, you get a ton of options in styles and texture. Maybe you want to simulate the real thing which means you should choose a Fleshlight with realistic looking labia. Or maybe you want something that's extremely discreet. Try Turbo or Launch styles which look like they're straight out of a sci-fi, action flick. You can get sleeves with different canisters and internal texture.
Realistic Feel
The real problem with most masturbation sleeves is that even when they're better than your hand, they still don't feel real. Fleshlight uses a patented Real Feel Superskin material to make your experience even better. It's a body-safe material that's easy to clean and feels good wrapped around your shaft. No, it's not quite the same as a warm, willing body, but lots of people consider it a close second.
Pick Your Favorite Porn Star
Multiple Fleshlights are modeled after porn stars of different genders. Fleshlight Girls offers sleeves modeled from porn stars like Stoya, Alexis Texas, Jenna Jameson, Riley Reid, and more. But maybe you prefer a more masculine porn star. Fleshlight Guys and FleshJack give you the chance to bang your favorite male porn stars like Austin Wilde and Cody Cummings. No judgment here. Enjoy the Fleshlight of whoever gets you off the most. Depending on the model, you can find Fleshlights modeled from vulvas, butts, or mouths.
Go Hands-Free
The big drag about masturbation sleeves, even when it's as amazing as a Fleshlight, is that you've got to work to get yourself off. Your arm might get tired. Hell, it might even be boring. Fleshlight fixes that by offering a mount accessory. Position your mount at the right angle, hook in your Fleshlight, and pound away, hands-free. You'll be able to experience new sensations and enjoy different fantasies.
Be as Discreet as You Want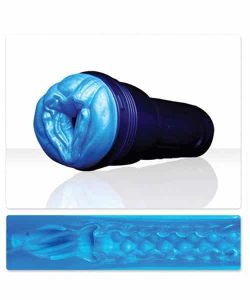 Everyone has a different preference in sex toys. Many people hide their toys and make sure no one knows they own one. And some people don't care who knows and just want a sex toy that works, regardless of what it looks like. With Fleshlight, take your pick. Some canisters look more like flashlights, while others are clearly a pussy or butt. If you really like something unique, you can also choose the Fleshlight Alien which definitely looks out of this world.
Fits Most Penises
Every penis is unique — we already know this. But not every shaft feels good in every masturbation sleeve, either. Fleshlights are designed to fit most bodies. The overall size of the typical Fleshlight is 10 inches long and three inches around. The insertable length is just over nine inches and can accommodate a girth of seven inches. Because of the way it's designed, smaller penises should still feel plenty of stimulation from the texturized tube, especially if you add the next option…
Suction Power
Adding a bit of suction to your masturbation fun is an option with some Fleshlights. You get extra sensation and avoid that raw, overly sensitive feeling that other sleeves can cause. It's definitely one feature that your hand just can't offer. Will it feel the same as a hot, wet mouth over your rod? Not quite, but with enough lube and imagination, it'll come (pun intended) close.
Long-Lasting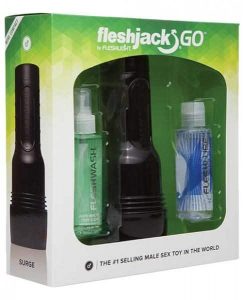 You might not always last as long as you'd like when you use your Fleshlight. No shame — it happens to everyone. But if you take care of your Fleshlight, it can last a long time. Use a water-based lubricant or the lube that comes with your Fleshlight. Clean it after each use and store it in a cool, dry place. You can use hot water and soap or an anti-bacterial toy cleaner. Fleshlights may cost more than your average masturbation sleeve, but they're also a higher quality than others, too. Take care of your Fleshlight, and it'll take care of you when you're ready to wank.
Conclusion
Not every sex toy feels the same for everyone, but the Fleshlight is loved for a reason. Look for the design, style, and texture that best suits you. Take care of your Fleshlight so that it lasts as long as possible. And don't be afraid to change things up and accessorize to keep your experience fresh and amazing.
Have you tried a Fleshlight before? Do you want to? Comment below!