No sex toy can guarantee multiple orgasms. But it is possible for cis men and other people with penises to experience more than one big O at a time. Prostate massagers help make that fantasy a reality.
How? Because, when stimulated, the prostate can help you orgasm — even if you don't ejaculate. Prostate massagers offer direct, intense, accurate stimulation to help get you to your big O, whether it's the first or one of several.
Check out these prostate toys to find the one that could provide you the multiple orgasms you crave.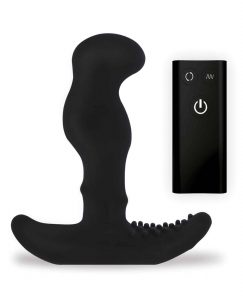 G Stroker
We're going in hot on this one. The Nexus G Stroker is a remote-controlled prostate massager made with tiny stroker beads in the shaft. As it sits in your rectum and against your prostate, the beads add extra sensation up and down your rectum. Find your perfect setting with six vibration modes and three speeds to choose from. And rock against it so your perineum gets a little love too, thanks to the ridged stimulator at the base of the massager.
Revo Stealth
Looking for something a step up from the G Stroker? Check out the Nexus Revo Stealth. This black prostate massager also includes a remote control and multiple settings. The key difference between this and the G Stroker is that this toy includes a two-speed bi-rotational shaft to twist and turn against your prostate. The perineum massager at the base also has six stimulating functions to choose from. Enjoy this in bed or in the shower, as it's waterproof.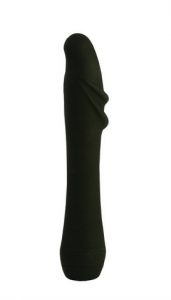 Dr. Joel Kaplan Prostate Stimulator
Dr. Joel Kaplan is known for his p-spot toys, and the 6.5" Prostate Stimulator is one of many in a long-line of prostate pleasure. In fact, it may be an upgrade to some of his most well-known options. Shaped like a vibrator, this prostate massager gives you the reach to find your prostate in a way that most other massagers can't. You can go as deep or as shallow as you need without sacrificing stimulation. The curved tip allow you to pinpoint your pleasure and the ridges offer extra sensation.
Pinpoint Probe
Don't be fooled by the name. The Pinpoint Probe doesn't just poke around up your butt. This elegant silicone prostate massager offers plenty of pleasure and fun. The rolling pleasure ball offers extra sensation. The 12 functions and three speeds give you more choices to find what feels amazing to you. Enjoy the stimulation, the speed, and the ridges as you get yourself off, perhaps more than once.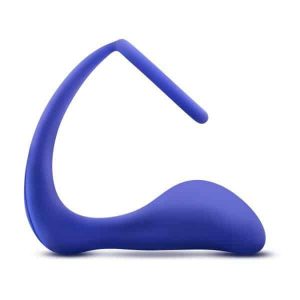 Cock Ring Plug
Prefer a sex toy that pulls double duty? The Blush Performance Cock Ring Plug helps keep you harder and prolong your orgasm with the penis ring. The added prostate massager makes that orgasm bigger and better. With each thrust, the plug massages your prostate, turning you on more and more. This simple toy is made of body-safe silicone and is completely waterproof so use it wherever the mood strikes.
Rocks Off O-Boy
The Rocks Off brand took the well-known power of their vibrators and put it in a prostate massager with the Rocks Off O-Boy. The shaft features plenty of ridges, curves, and bumps to add sensation. The vibrator offers seven speeds so you can get as intense as you like. You get all that power in both a prostate massager and a perineum stimulator. Will you be able to handle that much sensation? There's only one way to find out!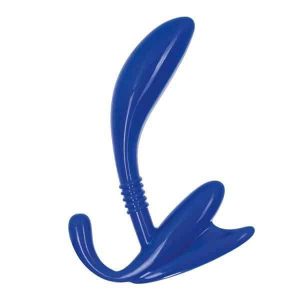 Apollo Prostate Probe
Looking for something simple, without all the bells and whistles? A prostate massager that fits comfortably in your body and hits the exact right spot? The Apollo Prostate Probe could be exactly what you need. It's smooth and sleek without the ridges of other toys. It's curved to reach your prostate easily, and it's slim so beginners feel maximum comfort.
P-Zone Plus
Maybe you don't want to go quite as simple as the Apollo, but you still don't need anything that vibrates, pulsates, or escalates. The 9's P-Zone Plus Prostate Massager is another great, easy option that hits all the right spots, including your perineum, without any complicated buttons or features. The easy-grip handle will give you the confidence to use it, while the curves and ridges hit your hot spots — both against your prostate and your perineum.
Conclusion
Not everyone can have multiple orgasms and not every prostate massager will make it happen. As with any sex toy, it's important to explore the sensations you crave and your own body to find what works for you. To make sure you have the best experience possible, always add plenty of lube and start slow with smaller prostate massagers as you explore prostate pleasure.
Have you ever used a sex toy to have multiple orgasms? Which one? Share with us in the comments below!