Not everyone has a favorite color, and when you pick out a sex toy, color isn't supposed to matter much. What the toy will make you feel is most important. That's okay. But some people care about the color of their sex toy. In an ongoing series for those who really want their sexy fun time to match their color preference, this month the color is pink.
If pink if your favorite color, check out some of these toys you might not have considered that really need to be in your sexy collection. Whether you're looking for a new vibe or you really want to do something kinky, chances are good you'll find it in pink.
Satisfyer Pro Penguin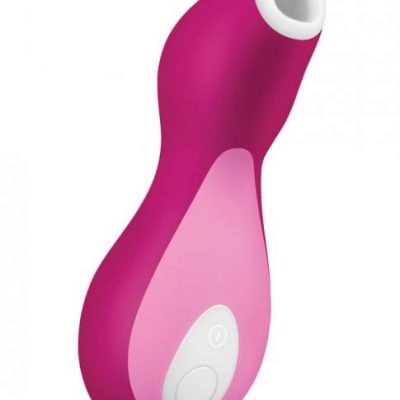 The Satisfyer line does something most other toys don't. Instead of rumbling against your clit, it creates pressure and suction for mind-blowing orgasms. You'll make your clitoris feel things you didn't even think were possible. The Satisfyer Pro Penguin is a small, handheld vibe with 11 different settings so finding what works for you shouldn't be too difficult. It's waterproof and USB rechargeable so it's ready to go when you are.
Gossip Rump Rockers
For those curious about anal play and like the idea of working your way up to something bigger, the Gossip Rump Rockers make that possible. This three piece anal training set is bright pink and lets you take your time adjusting to the feel of having something in your butt. The ergonomic base is meant to be comfortable while you wear it. These are non-vibrating plugs made from body-safe silicone.
Pink Dual Harness Strap-On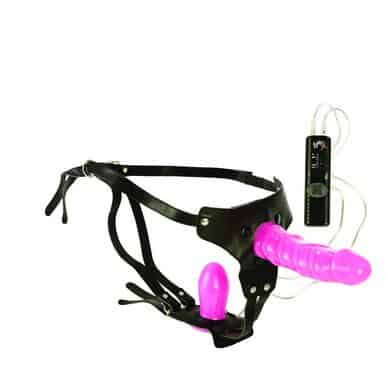 Who says only one of you gets to have any fun? Whether you're into pegging or your girlfriend wants to feel penetration, you don't have to be left out too. The small plugs fit nicely instead you while you pound away on your partner with the larger vibrating dildo. Both the plug and dildo are removable and battery-powered with three speeds for your mutual pleasure.
Double Dancer Vibrator
No pink toy collection is complete without a vibrator meant to hit multiple spots. Insert the Double Dancer for penetrative fun and place it against your clit for all kinds of stimulation. This silicone vibe has three speeds and runs on AA batteries. Get a quick thrill or take your time but make sure you hit all the right spots.
Purrfect Pet Cockring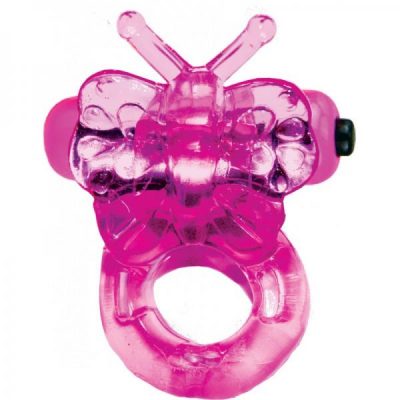 Everyone can have fun with pink toys with the Purrfect Pet Cockring. It vibrates for your pleasure and his. While it's wrapped around him, making him harder than ever, you'll feel good with every thrust as it taps against your clitoris. It feels good, and it looks cute, too. Now you'll have even more reason to tell him, "Harder! Faster!"
Crotchless Panties
If you're going to wear crotchless panties, make sure they're in your favorite color. Some are quite pretty and if you're feeling daring, you could wear them to work. No one will know unless you tell them. Wear them during roleplay so you can really be a bad girl. Wear them when you go out and let your partner know just what is (or isn't) under your skirt.
Anal Vibe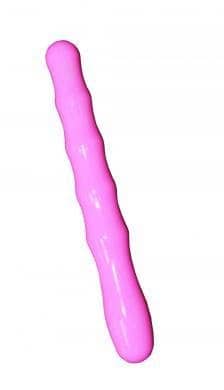 Anal vibrators come in a variety of colors, shapes, and sizes. This one is slim and ridged for beginners. The vibrations and the ridges will add to the already overpowering sensations you experience with anal play which may make you a fan for life. Because it's slim, it can be used vaginally, as well, but don't swap between anus and vagina without cleaning it first. It's waterproof so you can take this into the shower with you, too.
Pink Handcuffs
Who says kink is all black leather and seriousness? Put on these fuzzy pink handcuffs, and you're still just as restrained. But you're cute, too. Each pair comes with two keys, but if you lose them, don't worry. There's a quick release button so you can still play cops and robbers or surprise your partner with some restrained sensual pleasure or however you like to use your handcuffs.
Conclusion
Sex toys are supposed to be a fun addition to your most intimate moments, whether you're alone or with your partner. You should buy vibrators, dildos, plugs, and anything else because it looks interesting, has good reviews, is safe, and will let you feel new or great sensations. That doesn't mean you can't choose your favorite color, too. If pink if your go-to must-have color in the rest of your life, why not in your toy box, too?
Do you love the color pink? Do you have any pink sex toys? Let us know down in the comments!